THERE IS A DARKNESS at the heart of Peter Gizzi's new collection of poems, Artificial Heart, that is far from artificial. It is the all-too-natural darkness at the center of being-there: an originary absence that, as in the myth of Orpheus, cannot be rescued by representation.
    Yet it is precisely the poet's task to undertake this rescue: Gizzi's work here follows the Orphic path of Spicer and Rilke. At the end of the path, the poet is left holding the heart of a necessarily artificial representation.
    The title, Artificial Heart, is itself emblematic of this Orphic turn (where meaning is made to refuse its witness). At first, the phrase reads as an invocation of the cyborg, inspired by the headlines of a thoroughly technologized (and commodified) life-world. However, the book's range of reference defeats this expectation: the techno-quotidian is nowhere to be found within its pages. Instead, the title - abducted from a place in the "real" world, and exiled to the dim underworld of pure symbolism - accurately locates the site of writing as the "heart of artifice."
    At the same time, Gizzi's poems never lose sight of the vestigial trace of the "thing" within the "sign" (as the frozen face of Eurydice, vanishing under the Orphic gaze).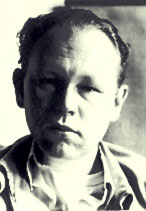 Jack Spicer
 
Photo: from the collection of Lewis Ellingham and Kevin Killian
 
 

Here, "things" are never completely reconciled to their status as signs, even if they are embedded within an elaborate armature of signification, a "renovated trobar," as Gizzi puts it. As revealed in his "Notes," Gizzi's texts are often crystallizations of a complex intertextuality, passing, like wheeling star-systems, through the systems of many other creators (including poets Spicer, Palmer, Creeley, Cadiot, Davidson, Shapiro, and Shelley; musicians David Thomas of Pere Ubu and David Byrne; and artists Manet, Trevor Winkfield, and Joseph Cornell). Thus, even the simple, concrete words used in poems like "Salt" and "Reed" do not point primarily to things but to previous signs (the poems in question are "mirror versions" of poems by Spicer). And yet, Gizzi's poems, even when they are most crowded by other signifying presences, seem also to be haunted - better, pierced - by something that absents itself, that can be signified only as a non-sign, or as the sign of nothing.
    In the long poem "Pierced," for example, Gizzi testifies that