Deguy believed that it was possible to be the servant of two masters, poetry and philosophy, but Bernardo demurred: "you are either master or poet my friend: you cannot claim droit de seigneur as both, nor make love to your employment". Knowing that Soares was due in Stockholm later that month, Deguy begged Bernardo to speak to the wily ciphers of the Nobel Commissariat, but again Bernardo grew tigerish: "if the company of Alfred Nobel gives either of us one of its baubles, cher ami, it is only because we were both once such good customers of theirs".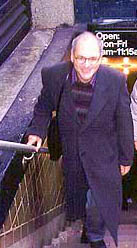 Like a modern-day Eurydice, Charles Bernstein emerges from the Underworld, New York, 1997
 
Photo: John Tranter
 
 
At this the Frenchman was thoughtful, and Bernardo reminded him of the lesson of his foe Prigent: that the noise of implosion is not the noise of explosion. "From point to nape and all around, techné becomes morality. What is written is the noise we hear, today and gone, the pathos of antipathos coasting sweetly on its own oil, like our dancer friend Moxalita (here Deguy's eyes misted over). What could be more parenthetical than the pasodobles of mechanical abreaction? Thus the least whining poesy is the most feigning of all: none weeps more closely than the machine. Does not my former pupil Bernstein now constantly mourn the Nature that he himself helps to erase?"
 
"Can we be saved?"asked Deguy humbly.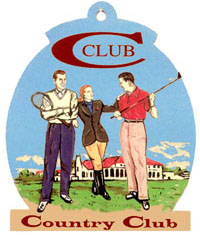 As the company of Frenchmen marshalled en masse for the reading next day, the answer was partly given, for their ranks glowed with the warm rich tones of legolfingweekend English tweeds, not smeared by any ort or merd.
 
The company of Major Thompson was out in force, its priestly gaze begged for re-endorsement and its prayers were answered not, for into the room roared Christian Prigent, enemy these decades of all that is Nobel and decent in the French soul, indeed the soul itself. My friend was astonished and filled with the most singular admiration: "Why, the man is a born soldier," he gasped, as the borborygms of the Frenchman recalled at once the Noh of old Kyoto and the lusty gurgles of my own dear Conchita as we once climaxed near the Rue de Menghas.
 
"Does he not hate his mother?"I ventured.
 
"Of course, as must any master of the easy paradox, who constantly disavows his materia in order to secure his prima. Truly, this is the world's soul."
 
"Then it is barbarism!" I splattered simply. But Soares moderated: "Here power turns on itself, like a mighty engine, the consequence of confusing poetry with economics - as my Serbian friends now discover".
 
His words rang as the starveling Tarkos took to the lectern delivering his queries like a thought-experiment none could pass, for the answer was owned by him alone. "And what is the answer?" I begged. "What else?" spat Soares, "For this young fellow poetry is the parental pons asinorum: at one entrance waiting for death stands the living father, whose selfsame sovereign spectre guards the bridge's other end".
 
"And the remedy?"
 
"Carpet bombing!" roared Bernardo. Then Andrés Ajens read, but since he was a native of our own dear Pulmana we greeted him as a brother, and led him away for further distraction. (Later my friend borrowed a considerable number of pesos from him and also a small gold watch which had belonged to his grandmother).



 
Michael Ayres
 
photo copyright © John Wilkinson, 1999
 


The last reciter was the other Canadian of the weekend, Erin Mouré, whose hoots of sapphic diversivolence appeared strongly to the taste of my Soares, who cautioned, though, that "since her ablatives lacked strategy, her strategies must lurch to the dative. She is having, in effect, a genetically modified cow".
 
What then did he think of all he had witnessed, my proud friend? For his old college he felt some sadness, observing how its cellar had declined in the years of his absence. "Six roses" he quipped, "only another eighteen to go". (And it is true that many around us seemed ruinaceous and mephitic). Of the poetry we had seen he thought variously, of the proceeding itself much less. "Truly the men who conduct this thing are bad, or must become so with time. They have neither authority nor spontaneity, and so they are in accord with their countrymen, who mistake the one for order, and the other for laughter. The ground must be razed above them, burned from below. Youth must saltate, then be mown down like a squad of pansies . . ."
 
But by now Cambridge was having its affect and eating it too; each quadlibet echoed another. We muchoed steadily on but was this the end or merely a festival? My friend was not sure, but promised to return, having been offered in the meantime - height restrictions disqualifying the favoured nonhibernian - the chair of Postcolonial America, whatevva hepatica rhapsodica. "By heaven I'll geld 'em all," he laughed. With a rough shake he dismissed the two young males seated on his knee and moved unsteadily towards the door, reminding me curtly that he was recalled to Lima for economic discussions. We took our leave, as from a nearby bookstall my friend availed himself, quickly, decisively, of a single volume, waving aside the cries of the attendant with a command in crude Pulmanese. He should have seemed happy, but as we stepped into the early evening rainmist, I saw that my friend's gaze had begun to turn inward; in the many sided mirror of his mind the audivarium was hearing itself once more, for (as we say in Pulmana) when the machine stops the parcel is returned. And I noticed the chapbook in his pocket, which shone as we breathed for this nearly-last time in the evening air. It was something by Stephen Rodefer.