Martin Corless-Smith's The Garden. A Theophany or Eccohome A Dialectical Lyric is a mask in 13 titled sections, some of the first dozen titles bearing repetitions of "Garden," "Death," and "Ecco Home," and a final section titled "Return to the Garden : ECCO HOME." The book fits squarely in the palm of one hand, a breviary of verse to earth and sky, past and future. Since this is a choral groundwork, "a field / meaning flowers," and a "rupturing of a habitual dwelling into a surprise," The Garden encircles matrices of wonder -- implementing near-homophones and neologisms to recoup antiquarian ceremony --
My darling notword planted in the sound
nutweed knotweeds
Heroic alphabet -- terrible of ants
My endless mying mind
-- sounding old-timey to submit the botanical and antique to present understanding --
A cloud of blood burst in it dazling [sic]
forth a salt taste to the elements
and earth it tasted, sun, wind, and
rain came down with it of it in it
Light wave particles it is that
which greens the plant
-- and substreaming archly poetic and "high abstracts," from a language-past, with more current, postlanguage prosody, as in
my impressions of movement
                              a late catching train
position in this
bark-rough, magnesium hued -- leaves which offer various
          edges
As a garden is school, shop sexual encounter
and
Event       is presence is presented
there must be things at growth
underneath stones in wet abysses
substances sustained --
ing recording silences between.
One might infer from the above that Corless-Smith's concerns are centered mostly on lyric hybridization. Not so. In The Garden we have the choral equivalent of a counterinsurgency whose agents' trained responses befuddle all captors in flexing a lyricism to argue and demonstrate against it: "The text is not secret / Part two / all manner of nones / your objects float before you / choice is jested and irrelevant." The sporter's choice Corless-Smith makes is to pray publicly in lyric's black underwear: "we must learn to be content / here-in-our mea-ning-less sentence." More austerely, "he experiences true sorrow," Corless-Smith says, "who knows and feels not only / what he is, but that he is." Abstracts here are indeed "high," pressing the key distinction between, on one hand, that which derives from a procedural understanding of what one is, how to behave and so forth and, on the other, "true sorrow" derived from a propositional understanding, knowing that one understands, for example, and knowing "the daff profusion" this entails. The Garden's profusion is less daff than stringently argumentative or "dialectical" as the poem's subtitle suggests. The argument fixes on The Tradition, having it and eating it, too.
 
Songs & Scores by Tina Celona features more than a dozen narratives, including seven from the series "22 Songs For The Moon." The narratives are really praise- and blame-metanarratives on poetry that come in different formats, prose, "Notes" of as few as two- and three-word lines in stanzas of five to 23 lines, and longer poems. Some long poems contain longer lines, and this explains the oblong shape of the book Songs & Scores; the pages need to be almost as wide as they are deep to set off the extended lines, such as these in the lead-off poem "Not Modern But The Modern World" --
i'm inspired by nick twemlow's poem in which he refers
and
i've been thinking about why i think its okay
to break a line every couple of words or sounds
and, one of my favorites,
a pig & yet interesting to my students, is this because.
This last line alludes to Charles Bukowski's poetry "which depresses me because he is such / a pig..." So, like Corless-Smith, Celona is arguing in and about The Tradition, but fixated on American texts and American poets. Celona singles out "jimmy schuyler" and his "a few days" for special praise status ("cute without being trivial"). In contrast, she discloses a shift in attention, admitting that she has a bone to pick with "a holy forest" by the unnamed Robin Blaser, that while "i cant read / the holy forest just now, i could / last year but now its just too / gay & too educated..." While Celona pushes a number of other poets' buttons -- Susan Howe, Frank O'Hara, Paul Blackburn, Bernadette Mayer, Louis Zukofsky and Katy Lederer, among others -- she stays with Schuyler's light strategy, exemplifying Schuyler's ability to go on about about oneself, one's life and the people who pass through, sensualizing everyday occurrence:
. . . suddenly i cough
and it tastes terrible and i remember realizing
with matt that marianne moore's real toads
are the same as billy the kid for jack spicer
The poets mentioned in "Not Modern But The Modern World" seem as much a part of her everyday life as "matt" and her students, everyone brought together by Celona's metanarratives, her referencing of poetry and writing poems as topics for composition: "the poem without the moon in it was a disaster"; "i thought i could write a poem without a camel..."; "the squirrel in this poem..." When Celona reports in "Spectacular Emotion" that "our poems are almost over / real life is coming on," we can feel her suppressing an obvious comeback, perhaps something like 'but my poems are real!' Yet the plain thing Celona is aiming for is pessimism down to the bone, doubt about poetry's worth and her own personal relevance. Eight stanzas after reading that the poetry is "almost over" we find
the world is stupid! i       hate       it
and myself in it poem after poem
i have no existence apart from. If
we could make our poems true
we could go back
to them.
Following two stanzas later, in the penultimate stanza, Celona's emotion is inscribed as "also spectacular / my tears have tears / and i wipe them off with poems." Toward the poem's end, brash words militate against our casually taking them in -- words of self-loathing, of world weariness, of tears. But in rereading the poem we go back to these words as Celona had to have -- notwithstanding her conditional claim to the contrary. Celona's poetry is imbued with the contrary, but to borrow a phrase from Emerson, it overflows from "latent conviction," giving us a life that's light and dark, with no existence apart from a succession of convictions and writing it down.
 
Juliana Spahr's Spiderwasp or Literary Criticism has its own bone or two to pick with The Tradition, doing this by "joining things," that is, unschooling poetry and, notably, telling stories of the pepsis wasp, of metaphor, of "powerful masses...brought down," and most notably, opening and flipping pages to practice telling the story of literary criticism.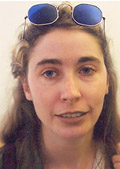 Juliana Spahr
 
You can read her article about
Bernadette Mayer's Sonnets in Jacket # 7
 
 


No sooner have you opened Spiderwasp's marbleized wrapper (drenched in whirlpools of loden, pink and gold pressed on off-white tissue) then you are extra disoriented by flipping to facing pages four and five -- the beginning of dual texts, left-page and right-page -- that carry the titles "Introduction" and "Addendum," respectively. And between left and right pages, yes! you are locked in as Spahr's third text, snagged within an alluring, triangulated web! Text One is the left-page Introduction, which continues on left pages throughout the book; the text could be "about contemporary poems and poetics" but "begins by telling a story," maintaining the appearance of 'poetry' in short stanzas and small blocks of prose. Text Two is the Addendum, which continues on right pages and starts "I want to begin this essay with two moments..."; this text comprises an analysis (contemporary poems) in essay form (footnotes in small font to the right). Text Three is you, the reader, who revolve inside and between the published texts, filling the surface of a third moment, your own, so to speak, with your own experience.
 
To read Spiderwasp triangularly you need to keep asking yourself questions, such as, what do you bring to the progression that is a "refusal of allegiance to any specific school" and how do you proceed from the idea that "Everything has flipped to the other side. / Like a page." The latter question might lead you to acknowledge the divide between prose and verse is arbitrary, not an original response, but an insight that Spahr amply illustrates. And while you keep questioning and formulating responses, you can't help but start tallying the more than 40 citations in the text on the right, which, no doubt, serve as evidence of (a) an appetite for poetry -- Spahr's and now yours, partially, because you've been brought into the metaphor of opening and flipping pages in the imagination, part of the rotation -- and (b) lots of literal open pages
. . . pages are always opening, opening. Its lines
are always ending and returning. It is always
broken open, broken open. It cries.
 
In relation one person takes a bit of another
person, takes a fragment of that person, and lets
it into that other person.
 
In literary criticism, the same thing happens.
 
Like a bridge that joins two things together. (20)
This feels seductive. Spahr touches your experience in situ reading her texts. As you open and flip through her texts of poetry about criticism and criticism about poetry, they and you co-encircle one another in that clothed form of attachment I alluded to at the outset. By 'clothing' I mean the temporal distance between Spahr's moments of composition and the now as you experience it. Under temporal apparel you're a poet yourself or a naked fan of poetry, and so you're at minimum a passive consumer of criticism as well. By reading Spiderwasp you and Spahr's texts fit together in a story whose "narrator is all these he or she things, all these animal things, all these ceramic things, all these pieces of things" (p. 15, on the right). Further,
He or she came home and he or she and he or
she were all confused.
 
He or she refused to tell certain things, making
certain other things, the gaps in the narrative,
more powerful.
 
He or she refused to tell certain things and
thus made certain imagined things all the more
real.
 
He or she came home. (p. 14, on the left)
This is seductive. You've been bridged.