THE POET EDWARD DORN died after a long struggle with pancreatic cancer at his home in Denver early on the evening of December 10, 1999.

Is this thing made
with the end built-in
the component of death hidden only
in the youthful machine...

ah news from the Great Manufacturer.

These lines come from "Wait by the door awhile Death, there are others," a poem written by Dorn in 1965. They foreshadow the engagement and interrogation of Ed's last poems as well. Along with unfinished long poems about two other longtime subjects of his, heresy and geography -- "Languedoc Variorum" and "Westward Haut" -- he left in "progress" a verse journal of his final chemotherapeutic nightmare-enlightenments, «Chemo Sabe», in which the poet's confrontation with techno-medicine serves as a kind of warrior's trial and induction to death. At the end of a section of that latter work, titled "Chemo du Jour: The Impeachment on Decadron," he narrates an infusion of Taxol, a drug produced from yew tree toxins, while watching Clinton's impeachment trial, among other dark comedies, on television in a Denver hospital:

And Lo now the Taxol infusion clears the atmosphere
where I see the Superbowl completely superseded
by the superblow, O yes, praise the Tree Lord,
now it is time to go.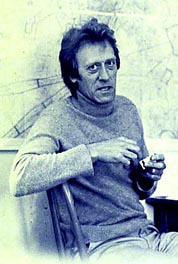 Ed was born and grew up in Eastern Illinois, on the banks of the river Embarrass (a tributary of the Wabash). He never knew his father. His mother was of French-Canadian ancestry, his maternal grandfather a half-Indian Quebecois railroad man ("master pipefitter in the age of steam"). He attended a one-room school, and while in high school played billiards with the local undertaker for a dime a point. "Brought up off and on during / the intensity of depression nomadism," he followed the wandering work-searches of his several "exodus relatives" down "bleak grit avenues" of a childhood whose anxious, difficult instruction, though he was always shy of speaking of it, never ceased to underlie and complicate the moral and historical vision of his work. Images of vulnerability and displacement in his poems project this. In a late poem called "Tribe" Dorn declares an explicit identification with the plight of refugee Kurds, relating their exposure before the imperial contingency of "wholesale helicopter gunships" to his own autobiographical family recollections: "My tribe was lowdown struggling day labor / Depression South Eastern / Illinois just before the southern hills start / to roll toward the coal country / where the east/west morainal ridges / of Wisconsin trash pile up / at the bottom of the prairie, socially / a far midwest recrudescence of Appalachia . . .  I'm as proud of my tribe as if I were a Kurd."