IT IS MY EXTRAORDINARY HONOR to say a few words about a poet whom I admire enormously and whose work has been an abiding presence for me throughout my writing life. A writer's achievement is not only measured in books but also in performances, encounters, exchanges, and in that hard-to-track aura that shapes our perception of the author's work as well as the literature of her time. In any case, a starting point for any response to Barbara Guest's work would have to start with this list:
The Location of Things (Tibor de Nagy, 1960)
Poems: The Location of Things, Archaics, The Open Skies (Doubleday & Company, 1962)
The Open Skies (1962)
The Blue Stairs (Corinth Books, 1968)
Moscow Mansions (Viking, 1973)
The Countess from Minneapolis (Burning Deck, 1976)
Seeking Air (fiction) (Black Sparrow, 1977)
The Türler Losses, (Montréal: Mansfield Book Mart, 1979)
Biography (Burning Deck, 1980)
Quilts (Vehicle Edition, 1981)
Herself Defined: The Poet H. D. and Her World (biography) (Doubleday & Company, 1984)
Fair Realism (Sun & Moon Press, 1989)
Musicality (1988)
Defensive Rapture (Sun & Moon Press, 1993)
Selected Poems (Sun & Moon Press, 1995)
Quill Solitary, Apparition (The Post-Apollo Press, 1996)
Seeking Air (reprint) (Sun & Moon Press, 1997)
Etruscan Reader VI (with Robin Blaser and Lee Harwood)(1998)
Rocks on a Platter (Wesleyan, 1999)
If So, Tell Me (Reality Street Editions, UK, 1999)
The Confetti Trees (Sun & Moon, 1999)

These works have become an integral part of the fabric of contemporary American poetry, touchstones crucial for understanding not just the poetry of the generation of poets born in the 1920s — but also for the understanding of the activity — I want to say the possibilities — of poetry in the postwar period. Guest was born in 1920, which means of course that she turns 80 next year, a fact that we celebrate here tonight.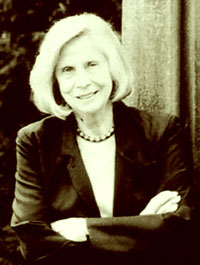 Barbara Guest, 1992





Yet I read Guest, and I think I share this with many of my contemporaries and also with a large number of younger poets, not as an historical figure whose achievement has been assimilated, but rather as a contemporary, a poet for whom each new poem seems to exist in that very difficult to define now. That is, Guest is not only an important influence on contemporary American poetry but also someone who is actively creating its present terms and tense.

In a period of American poetry in which the most visible and indeed much of the very best poetry has been written with hooks galore — whether outrageous or flamboyant or hip or morally uplifting, the arrogant or agonized or transcendent — Barbara Guest has used no hooks — and this has allowed her to create a textually saturated and satisfying poetry that embodies the transient, the ephemeral, the flickering in translucent surfaces that we call painterly for lack of a term to chart the refusal of a pseudo-depth of field that remains a ghostly presence in much of the poetry of our time. It would be easy to dwell on the exquisite surface refraction in Guest's work while eliding the significance of this insistently modulated diffusion and liminal warping and woofing that pervades her later work.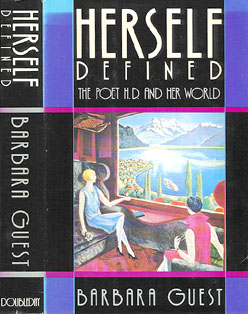 Barbara Guest is not a lyric poet, as least this is what she told me last week when I visited her at the apartment in which she was staying, just a half a block from where the Whitney Museum's "American Century in Art" was being installed. I take Guest's aversion to the lyric to mean that her work is not an extension of herself — herself expressed — that is, not a direct expression of her feelings or subjectivity, but rather is defined by the textual composition of an aesthetic space — herself (itself) defined. And while I would not call her an Objectivist (or in the parlance of another media "nonobjective") I think the link is there, both to the American Objectivist poets and to nonobjective painting.

At the Barnard poetry conference, just two weeks ago ["Where Lyric Tradition Meets Language Poetry: Innovation in Contemporary American Poetry by Women," April 8-10, 1999], Barbara Guest was an incandescent center, illuminating the entire proceedings. At a panel discussion at this milestone conference, Guest told a packed crowd that she had come to us unprepared. I want to thank Barbara Guest for a lifetime of poetry for which we have been unprepared, for continually testing the limits of form and stretching the bounds of beauty, for expanding the imagination and revisioning — both revisiting and recasting — the aesthetic.

As readers we have been unprepared for Guest: she has never quite fitted in to our pre-made categories, our expectations, our explanations. She has written her work as the world inscribes itself, processurally, without undue obligation to expectation, and with a constant, even serene, enfolding in which we find ourselves folded.

We are unprepared for Barbara Guest and for that we thank her, for this lifetime of work that is still unravelling before our eyes and ears, unraveling so that we may revel in it. It has taken so long to recognize Barbara Guest's work, to acknowledge it, perhaps because this work seeks neither recognition nor acknowledgement but that a fair realism may awake in us as we read, inspired not by the author but by the whirls and words and worlds that she enacts.

So let us now welcome Barbara Guest, congratulate her on her lifetime achievement and on her upcoming 80th birthday let us tell Barbara Guest that now at last, in 1999, we come prepared to celebrate her poems.