It is a quiet book with some rare achievements, all within his wonder vision. The cover included his 'Statement' of independence and a list of recent achievements. It also contained what might be his finest tribute. Henry Miller wrote it from Big Sur that March 8, of 1957: 'In my eyes Kenneth Patchen is now and will remain one of the outstanding figures in American letters. He represents all that a poet should represent, whether expressing himself in verse, in prose, in paint, or in action. By his example he has given courage, direction, and inspiration to more poets than anyone I know of on this continent. Patchen stands out like a shining warrior, a herald of peace and truth, endowed with invincible heart and integrity. No one can read him without being affected — and influenced in his own life and work. It is not only the youth who are indebted to him but all of us, unto the last and most fanatically ardent defender of the Word. ' Patchen was so moved by Miller's statement that he wrote him, 'What can I say — Your beautiful statement went to my heart. In the work I have ahead of me to do I hope you will find the best expression of my thanks' (UCLA March 10, 1957).
      Besides his continued work with poety-jazz, Patchen had developed a Jazz-Play in his Don't Look Now. He wrote to Laughlin suggesting it as a book, telling of how his 'Glory, Glory' segment from the play was the most requested piece at his performances. He also suggested plans for their next book of poems, Because It Is, and a selected love poems to go with a planned recording. He told Laughlin that Carl Smalley's animated version of The Journal of Albion Moonlight had been banned by the LA police for obscenity (New Directions Archives). Elsewhere composer Charles Hills had been working on several choral settings for Kenneth's lyrical pieces ( performed in NY in 1959). And James Boyer May had helped Patchen prepare a self-nomination for the Ford Foundation Award.
      In February and again in March, Patchen was back in Los Angeles performing at the Cabaret Concert Theatre, Los Angeles City College, and again at the Los Angeles Jazz Concert Hall. Most exciting, however, was an invitation they had received to perform at the Brussels World Fair that summer. The invitation came from the US Commissioner General's office and was made by the Coordinator of the Performing Arts Program. The person who had been instrumental in getting the invitation was Patchen's old patron, millionairess and jazz fan, Doris Duke. It came at the wrong time for the band, however, whose members were each considering splitting up. Fred Dutton and Tom Reynolds had found other work, and Allyn Ferguson was beginning to break through into Hollywood studio work and scoring (He would later work as musical conductor for singer Johnny Mathis as well as score many films). Nevertheless, a press release was sent out by New Directions announcing the invitation and the fact that a film-recording of Kenneth Patchen and the Chamber Jazz Sextet would be featured on the Bobby Troup's 'Stars of Jazz' ABC network. Yet, by June it was clear that the band had ceased to exist. Miriam attributes some of this to Duke's covert plans to include her jazzman boyfriend into the group. By June 4, 1958, Patchen wrote to James Boyer May of the group's demise complaining that Ferguson had left him 'holding a pretty damned soiled bag. . . to put it mildly! Amazing!' (Kenneth Patchen Archives).
      A further complication to the Los Angeles trip had been an injury that Kenneth suffered in slipping and bumping his head while getting out of the car. In August he reported to Henry Rago that he was wearing a brace for a sprained neck which they hoped hadn't also damaged his spine. He could not have made the trip to Brussels. His bigger concern was for Rago to understand his financial need and to solicit Rago's support of his Ford Foundation nomination. Ironically, Patchen feared that the attention that he had achieved around the poetry-jazz performances might throw off his chances for any kind of established award. He made it clear again that there was no big payment from the readings: 'I had not lost hope that one of these committees would one day take note of the fight I have put up to working in the face of everything — but now. . . What an irony that my own effort — against the advice of doctors — have probably closed the one door I had open to me!' (PAP Aug. 15, 1958).
      Patchen wrote to Jonathan Williams and to James Boyer May of the 'cervical strain' from his accident in getting out of the car and of the new wave of bills from the Palo Alto Clinic, ironically stating, 'This is a real blow to us, a real crippler' (Aug. 2, 1958, Kenneth Patchen Archives). He further explained to May on August 9 explaining that Miriam's illness and their financial insecurity were affecting him, 'Small wonder that I have moments of panic' and on August 26 he used a striking metaphor, 'The blows have come thick and fast and show no sign of falling off in either their number or impact' (Kenneth Patchen Archives). By October, all of his enthusiasm seemed drained as he reported to May, 'Things at lowest ebb with us. Miriam — who certainly shouldn't — has taken a clerk's job in a drug store. Very dangerous for her to get tired, etc. but what can I do. Painted Books don't sell; all reading tour — talk, and everything related — at an end. I could go on and on — no money for medicine; needed hospital treatment out of the question. Well, things have been bad before' (Kenneth Patchen Archives).
      The one poetry reading he was able to arrange involved his flying into the University of Pittsburgh where he read, visited Warren briefly, and returned home. In December he received a fan letter from poet Marianne Moore who had been in the Blackhawk audience with Ruth Witt-Diamont of the San Francisco Poetry Center. Moore praised the way Patchen 'managed the background instruments with unmistakable effectiveness — every word was audible against the music (or should I say 'with it'?)' (Kenneth Patchen Archives). But this mellowing out of the year proved only a temporary retreat before the storm of activity.
      Through the combined effort of their old friend, jazzman Johnny Wittwer (now back in Seattle) and another fan and jazz arranger John Grinnell from Vancouver, Canada, a new poetry-jazz tour of Washington and British Columbia was launched that February. Traveling without a jazz group, Patchen was met by John Grinnell in Vancouver on February 12th where he met the Alan Neil Quartet with whom he would be working. He dashed off a note to Miriam that night, 'Late yesterday afternoon Mike Jeffries, young last year law student and Alan Neil, the piano play leader of the quartet with which I'll appear, came around to motel and we had supper before proceeding to 'The Cellar' at 8:30 for a rehearsal which lasted until eleven. Worked out a lot of material, and things should pan out pretty well as far as readings-band combination is concerned. Neil is very versatile and quick, full of hero-worship of me; and the alto sax player (18 yrs. old) [Dave Hillary] is almost as talented as Modesto. Drums and bass [Bill Boyle and Lionel Chambers] complete quartet — all young kids. Have another rehearsal tonight at 7. As I say, things should be lively and smooth by time for first appearance' (Kenneth Patchen Archives). On Valentine's Day, he sent her a special delivery card expressing his love and this report, 'Afternoon reading at Victoria College was a standing room smash hit, much to surprise of sponsors, I thinks. Kids called me back three times — practically tore auditorium down in their enthusiasm. Hope to rest a bit now in hotel room before tonight's sessions: usual night club hours, start around 10:30, probably end about 2.'
      With only a few days rehearsal, Patchen and the Alan Neil Quartet had melded into a unit that would produce on February 18th, one of the best poetry-jazz recordings of all time, Kenneth Patchen Reads with Jazz in Canada (Folkways 1959) taken from their radio broadcast. They also performed at the Arts Club and University of British Columbia and for television on the Canadian Broadcasting Corporation that week. Patchen closed his note to Miriam that night after another performance at 'The Cellar,' with this Patchenesque note, 'Must improve the unshining hrs. now. Gray, rain-or-snow filled sky. I miss you so much — love, Kenneth' (Kenneth Patchen Archives).
      Alan Neil, who worked in the post office by day and played jazz by night, has provided a colorful written record of that CBC session in Vancouver when they made poetry-jazz history. 'We got to the studio expecting to wail. Behind us we had a good half dozen performances with Patchen — at colleges, couple of nightclubs, and on television: and today we could count on three hours rehearsal before doing the radio show. The band was in a mood to groove. '
      Patchen had chipped a tooth that day and had Alan Neil walk him over to the dental surgeon's office during a break in the rehearsal. 'Well, Patchen had a major tooth surgery right on the spot as I waited. . . . His jaw had to be chiseled away at, literally gouged out in an excruciatingly painful operation that took almost an hour. Finally, he emerged into the waiting room, his face drained of color, and those great tired eyes more tired than I had ever seen them. His mouth was bleeding through big cotton plugs — still he smiled and when the girl at the desk asked for his occupation he mumbled 'Writer, self-employed. '' Back in the cafeteria, Kenneth managed to eat a rare steak and coffee, when Neil noticed a change, 'In maybe ten minutes his face stopped being gray, and his eyes got back their straight look of seeing right through everything and everybody. . . . He had pulled out of it, was ready to get going. '
      Seated at a table across from them and speaking into the microphone, they began again, only the band was having trouble hearing Patchen and the lead horn. 'Then somebody (Kenneth, I think) hit on the idea of each of us having earphones. We put them on — and we had a scene! It was extremely exciting! Now we could aim our language, our feeling, at Patchen's — the thing had come to life! . . . In a couple of minutes I waved to the engineer to tape away. . . . just before 'Glory, Glory' — Kenneth drew on a cigarette, stretched his legs, refused coffee, and nodded that he was set. And during that last number I don't think that he looked down at the paper once. We had all been caught up in the reading from the start — we knew that something was happening, that this was 'something else' — but now he really went out for it, he wailed! With our nerves, our hearts, we heard him coming on, ringing the changes, threading and pulling us in and out of the light — the King Cat making his scene! And on his face we could see that what we had to say back to him was making the same kind of 'heart sense. ' It was there.' (Patchen Reads with Jazz in Canada liner notes).
      A lasting impression of Patchen — jazz-poet extraordinaire — was left on these fine young musicians and on others who carried on the poetry-jazz experiments with integrity. Neil, who argues for the free and spontaneous interplay of poet and jazzman, ultimately describes Patchen's gift: 'Kenneth's dignity — so easy and natural — his bigness and deep honesty, these things came through to us with added force that day. As I said, something happened. ' Patchen's ability to give himself to many by giving himself purely to his art deeply moved these young musicians who reportedly went around for months reciting his poems.
      Neil's account alludes to stories that the great jazz saxophonist Charlie Parker carried around Patchen's writing and even spoke them at times during the music. The analogy between Patchen and Parker is an interesting one, revealing larger parallels between contemporary poet and jazzman. Acting as a rebel and expressive force outside the cultural mainstream, poet and jazzman each blow messages back at the world — hot and cool, passionate and cerebral. Each debunks the restraints and myths of 'fine art' in favor of an immediate inner expression. As jazz critic Alvin L. Kershaw explains, 'Jazz helps us be sensitive to the whole range of existence. Far from offering us rose-colored glasses. . . it realistically speaks of sorrow and pain. . . it helps us relate and interpret the variety of experience we have had. . . jazz stimulates us to feel deeply and truthfully. . . jazz thunders a mighty 'yes'. . . it offers us an urgency to live fully' (in Stearns, The Story of Jazz 304). Like the jazzman, Patchen creates a sharp and intense response to the world he lives in and watches. His art is driven by his will to remain sane and whole. Like jazz itself, Patchen's art is open form, intuitive and spontaneous; based on understood forms, it manages to go beyond them into an expressionist response to and engagement with the world. Poet and music critic Al Young observes, 'Patchen operated very much in the jazz tradition, that is to take something — to take a form — and to go beyond it. To improvise, and to express your feelings and insights of the moment, superimposed over a given form. Patchen was a real master of that' (Kenneth Patchen: An Art of Engagement , 1989). It was in tribute that Patchen used a Charlie Parker composition for his 'Four Blues Poems' in the Vancouver recordings.
      Before returning to Miriam in Palo Alto, Kenneth had several more performances in the Seattle area, arranged by his friend Johnny Wittwer. Patchen arrived on a train wearing a neck brace on February 26th and was met by an enthusiastic Wittwer who still remembers his handshake, 'He had such a bearing, it was a little like shaking hands with a mountain, like returning to the womb. He had a wonderful handshake' (Interview 1991). Kenneth began practicing with Wittwer's own group the New Bed of Roses Chamber Jazz Group which included Lowell Richards, Bob Gilkeson, Floyd Standifer, and George Mulllaly. Wittwer was a bit bewildered about how the whole thing would come together, but Kenneth's self-assurance guided them. Wittwer explains, 'As a piano player, I usually see myself as an accompanist, but with Kenneth it seems it was the two things going on at once.' They were to be featured February 27 and 28 at Seattle's Musicians Auditorium on Third and Cedar along with a showing of Norman MacLaren's experimental jazz-film, 'Begone Dull Care. '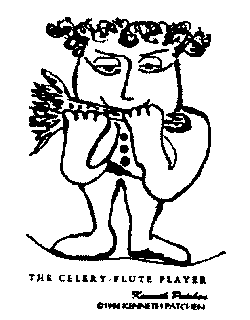 Wittwer had done his job of promoting the event by pulling together a four-page tabloid on Patchen entitled pomes penyeach 1959. Besides ten poems and three prose selections by Patchen with his comic drawing of the celery-flute player (also used on the tickets), it included reviews of his poetry-jazz performances and books. Wittwer remembers that Kenneth had him print an extra 1,000 copies to use for future promotions. The afternoon of the 26th Kenneth and Wittwer went around to the radio station KUOW at the University of Washington for an interview. On the televised six o'clock news he also did a performance of 'A Sigh Is Little Altered' ('It Is the Hour' in Hurrah for Anything), only this time Kenneth took the normal ending 'And we have not done/much that is beautiful' and, turning to the news anchor added another, 'No, we have not done much that is beautiful!' They switched back to a speechless news announcer and crew, and Wittwer remembers how that final line just resonated in the studio. Later when they performed with little rehearsal and scant notes, musicians and audience became caught up in the poetry-jazz event. Patchen received $150 for each performance. A few years later when Wittwer discovered a new Patchen book entitled Hallelujah Anyway, he remarked, 'It just summed up Kenneth Patchen. He just about summed up everything for everybody, right there... Hallelujah Anyway!' (Interview 1991).
      That afternoon at the KUOW radio interview at the University of Washington, Patchen was in rare form. His detailed comments ranged from the personal to the critical to the whole question of audience and the purpose of art. On the question of the poetry-jazz form, he verified his belief in the engagement thus formed, 'I've done it literally hundreds of times, and no time in my memory has it not been a living experience, a creative thing, an exploration of the evening of living substance, of things going on between human beings at a level, it seems to me, removed from the ordinary one of entertainment. It's possible, I think, to bring the immediacy of jazz to bear on the spoken word. An electric switch is thrown' (A Collection 64). He dismissed again any link with what he termed the 'synthetic bohemian spectacle' then going on, terming the San Francisco Beat scene as 'not my dish, and it's not the dish of any artist I know of, or any writer I admire. ' Finally pushed to acknowledge some proximity with these writers, he smiled and quipped, 'I breathe the same air as Liberace' (A Collection 64-65). Somehow he led the interviewer into a larger consideration of the nature and purpose of poetry insisting that its only obscurity was because 'People don't read it or they read it through the clouded, fogged-over glasses of professors and so on. . . . it preceded anything that people nowadays seem to think of as literature. ' Tracing poetry to its oral origins often with lute accompaniment, Patchen insisted on its essential rhythmic basis as 'a rhythm present in the universe itself' (A Collection 65).
      What inspired Patchen to this rare and bold declaration of his engaged poetics may have been his felt need to resist being typecast by journalists and pseudo-critics; it may have also been the enthusiasm he was finding for his work in his responsive audiences. He turned to the larger issue of audience:


I don't usually think of it [audience] in terms of people I know or people who are reading reviews, or buying books, or  what-have-you. I'd like to just say that I hope my audience includes somehow . . . the spirits of some of the men now dead who worked in poetry and in the other arts and I don't feel that they're dead al all. This is perhaps a sentimental way of putting it, but it's a very real thing to me. I'm often consoled thinking about some of the poets and artists who have had no 'audience,' as people think of audience, someone like William Blake for instance . . . These men who were read by no one, known by no one in their time, yet command a hearing by men of spirit. And all artists have anyway, is this one little pinpoint of light in the darkness, the fact that out of all the morass of mediocrity and conformity there is this small current of communication, not with an audience limited or confined to a period of time, but an audience which resides solely in terms of the human spirit, and if anything lasts on earth, it is this, a small thing, but a thing which, until now at least, has shown more endurance than anything else that man has advanced before him, this small light, this small desire to be true, not so much to art, no man knows anything about that, but true to the best instincts and feelings in himself in regard to what he does. This thing to me is all of it; the rest of it is just talk, hot air.
(A Collection 66-67).
This full and clear statement of the timeless dynamics of Patchen's art and life advocates the act of being most honestly and fully alive. His final gesture during that interview was to pay tribute to another ailing and admired poet of Seattle, Theodore Roethke.
      Back in Palo Alto with Miriam that March, Patchen received two items of bad news. He had lost the Ford Foundation Award and doctors at the Palo Alto Clinic had found a mass on one of the x-rays of his chest. He wrote of both to his friend James Boyer May. Of the lesion, he was matter-of- fact, 'The doctors conferred over me on Tues. : report — 'a 2. 5 m lesion of the upper esophagus which has so far been seen as asymptomatic. . . Operate in April through chest wall.'' On losing the award, he relieved his regret by consoling May, who had nominated him, with this realization, 'The clothes of your candidate were cut from a bolt of cloth suited not to them but to us. Such a failure as ours does register its victory in another court. I'm disappointed, of course: but it would be a sorry thing indeed if men of our kind depended on the likes of them' (Kenneth Patchen Archives March 7, 1959). It must have been a familiar response for Patchen who characteristically turned to brighter affairs, a poetry performance scheduled with bass jazz great Charlie Mingus in New York that month.
      Patchen's jazz play was to be performed off-Broadway at the Living Theatre in 1959, though staging complications prevented it from happening. Instead and equally exciting were the performances which Kenneth did there with the Charlie Mingus Jazz Workshop during those last two week of March. His old friend David Dellinger had helped make the arrangement, and so Patchen dedicated his performance with Mingus to Dellinger and his son Patch.