Der Hund glaubt sein Herr sei an der Tür. Aber kann er auch glauben sein Herr werde übermorgen kommen?
Kann nur hoffen wer sprechen kann? Nur der, der die Verwendung einer Sprache beherrscht. (PI,II:.174)

A dog believes his master is at the door. But can he also believe his master will come the day after tomorrow? ....
Can only those hope who can talk? Only those who have mastered the use of a language? (Anscombe translation).
Or again:

Warum kann meine rechte Hand nicht meiner linken Geld schenken? — Meine rechte Hand kann es in meine linke geben. Meine rechte Hand kann eine Schenkungsurkunde schreiben und meine linke eine Quittung. — Aber die weitern praktischen Folgen wären nicht die einer Schenkung. (PI §268)

Why can't my right hand give my left hand money? — My right hand can put it into my left hand. My right hand can write a deed of gift and my left hand a receipt. — But the further practical consequences would not be those of a gift. (Anscombe translation).
And, for good measure, here it is in French, as translated by Jacques Bouveresse:

Pourquoi ma main droite ne peut-elle pas faire don d'une somme d'argent à ma main gauche? — Ma main droite peut rédiger un acte de donation et ma main gauche un reçu. — Mais les conséquences partiques ultérieures ne seraient pas celles d'une donation.      [ 5 ]
In such cases, the issue is neither the connotative power of synonymous words (the difference between 'orders of angels,' 'hierarchies of angels' or 'angel dominions'), nor syntactic suspension, as in Rilke's opening construction Wer, wenn ich schriehe ...,' nor in such subtleties of lineation as Williams's 'will grow lie.' Rather, Wittgenstein is testing the actual meanings of such ordinary words as believe, hope, or give .
      If, as the central Wittgensteinian aphorism would have it, Die Bedeutung eines Wortes ist sein Gebrauch in der Sprache ('The meaning of a word is its use in the language,' PI §43), then these words have no inherent meaning, but depend largely on the context in which they appear. If my right hand puts money into your left hand I am giving you something. But if the left hand is my own, the act of putting money into it is may be no more than a nervous habit, rather like playing with rubber bands. For both hands are mine and so the verb 'to give' ( schenken, faire don ) does not seem applicable.]
      Again, we can learn from certain physical signs that a dog is waiting for his master. But to talk of a dog waiting for his master to come the day after tomorrow or on Wednesday is, of course, absurd. For whatever the cognitive or emotive power of dogs, a signifier like the word 'Wednesday' cannot exist for them.
      The logical implication of the distinction I have been drawing is that poetry is that which deals with the connotative and tropical power of words and the rhythmic and sonic quality of phrases and sentences, whereas philosophy (literally 'the love of wisdom') involves the conceptual and abstract language of making meaningful propositions.
      What, then — and this is my subject here — can Wittgenstein possibly have meant by the following entry (1933-34) in Culture and Value ?
Ich glaube meine Stellung zur Philosophie dadurch zusammengefaßt zu haben, indem ich sagte: Philosophie dürfte man eigentlich nur dichten. Daraus mußs sich, scheint mir, ergeben, wie weit mein Denken der Gegenwart, Zukunft, oder der Vergangenheit angehört. Denn ich habe mich damit auch als einen bekannt, der nicht ganz kann, was er zu können wünscht.

I think I summed up my position on philosophy when I said that philosophy really should be written only as a form of poetry. From this it should be clear to what extent my thinking belongs to the present, the future, or the past. For with this assertion, I have also revealed myself as someone who cannot quite do what he would like to do.     [ 6 ]
What does this enigmatic statement mean? If we note that the word Dichten also refers to fictionality, as in Goethe's title Dichtung und Wahrheit, where Dichtung ('Fiction') is opposed to 'Truth,' why should philosophy, traditionally the search for truth, be presented as poetic fiction? Given Wittgenstein's concern for 'meaningful' statement, aren't the two discourses antithetical? And why should as rigorous a thinker as Wittgenstein declare that he himself is not quite up to the task of formulating this new role for philosophy?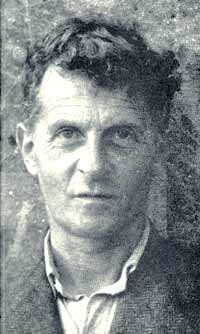 Wittgenstein in Swansea, UK
Photo taken by Ben Richards (detail)
Wittgenstein's overt commentary on poetry sheds little light on this question. His impatience with aesthetic theory is legendary: in the Lectures on Aesthetics, for example, he declares 'One might think Aesthetics is a science that tells us what's beautiful — it's almost too ridiculous for words. I suppose this science would also be able to tell us what sort of coffee tastes good' (LCA §160). And the notebook entries collected in Culture and Value are given to statements like the following:

If I say A has beautiful eyes someone may ask me: what do you find beautiful about his eyes, and perhaps I shall reply: the almond shape, long eye-lashes, delicate lids. What do these eyes have in common with a Gothic church that I find beautiful too? Should I say they make a similar impression on me?' (CV 24)
'The concept of 'the beautiful',' says Wittgenstein, 'has caused a lot of mischief' (CV 55). And again, 'Am I to make the inane statement, 'It [the musical theme] just sounds more beautiful when it is repeated'? (There you can see by the way what a silly role the word 'beautiful' plays in aesthetics.)And yet there is just no paradigm other than the theme itself' (CV 52).
      At the same time, the Wittgenstein who refused to theorize about art, was quite ready, in his letters, journals, and conversations, to pronounce on a given work with great conviction. The words großartig and herrlich appear again and again with reference, say, to a Mozart symphony, a Mörike poem, to Lessing's Nathan the Wise, or Dostoievsky's Brothers Karamazov . Schubert's Quintet in C Sharp, op. 163 is von phantastischer Großartigkeit ('exhibits fantastic brilliance'), Mozart and Beethoven are called die wahren Götters öhne ('the true sons of God'), the second movement of Beethoven's Eroica is unglaublich ('unbelievable,' 'fabulous'), Brahms's 'Handel-variationen,' unheimlich ('uncanny,' 'sublime').     [ 7 ]
      Negative judgments are just as emphatic: Alfred Ehrenstein's poetry is ein Hundedreck ('dog shit'), Mahler's music is nichts wert (worthless'), 'the characters in the second part of 'Faust' erregen unsere Teilnahme gar nicht ('are ones with whom we can't identify at all'). [ 8 ] The recitation of a fellow officer at Monte Cassino was so unbearable in its 'false pathos,' that it was like 'receiving an electric shock.' [ 9 ] And so on.
      The almost comic vehemence of these extreme aesthetic judgments expresses what we might call le côté Viennoise of Wittgenstein — the social code of his time whereby those who are gebildet (cultured, well educated) took it to be incumbent upon them to pronounce on the given art work or performance or concert as großartig or schrecklich, and so on. In this respect, as in his actual tastes for classical music and literature, Wittgenstein was very much of his time and place.
      To understand what he meant by the proposition 'One ought really to do philosophy only as a form of poetry,' we must, accordingly, look elsewhere — not at what Wittgenstein said about the poetic but at the example his own writing provides. In the Preface to what was, with the exception of the Tractatus, his one designed book, the Philosophical Investigations (1953), he notes

I have written down all these thoughts as remarks, short paragraphs, of which there is sometimes a fairly long chain about the same subject, while I sometimes make a sudden change, jumping from one topic to another.... the essential thing was that the thoughts should proceed from one subject to another in a natural order and without breaks.
After several unsuccessful attempts to weld my results together into such a whole, I realized that I should never succeed. The best that I could write would never be more than philosophical remarks .... And this was, of course, connected with the very nature of the investigation. For this compels us to travel over a wide field of thought criss-cross in every direction .... Thus this book is really only an album. (v, my emphasis)
Such commentary cleared the way for the publication for the many fragments found after Wittgenstein's death, some in notebooks, some on separate scraps of paper or Zettel, as a further assortment of Wittgenstein's remarks, this one left in a single box-file, is called. As G. H. von Wright, the editor of the Vermischte Bemerkungen ('Assorted Remarks,' which came to be translated under the misleading title Culture and Value ) explains:

In the manuscript material left by Wittgenstein there are numerous notes which do not belong directly with his philosophical works although they are scattered amongst the philosophical texts. Some of these notes are autobiographical, some are about the nature of philosophical activity, and some concern subjects of a general sort, such as questions about art or about religion. It is not always possible to separate them sharply from the philosophical text ....
Some of these notes are ephemeral; others on the other hand — the majority — are of great interest. Sometimes they are strikingly beautiful and profound. (Foreword, my emphasis)
Here Von Wright seems to be following Wittgenstein's own lead that 'philosophy' shades into 'poetry' and vice-versa. But how and why? Some early entries in Culture and Value (see pp. 2-7) may be apropos:

Each morning you have to break through the dead rubble afresh so as to reach the living warm seed.

A new word is like a fresh seed sewn on the ground of the discussion.

When we think of the world's future, we always mean the destination it will reach if it keeps going in the direction we can see it going in now; it does not occur to us that its path is not a straight line but a curve, constantly changing direction.

Each of the sentences I write is trying to say the whole thing, i.e. the same thing over and over again; it is as though they were all simply views of one object seen from different angles.
The thread that runs through these aphorisms and propositions is on the need for what Gertrude Stein had already called, in her 'Composition as Explanation' (1926), beginning again and again . Truth is not something that can be uncovered; it can only be re-discovered , day after day. The value of breaking through the dead rubble each morning and in viewing each object from as many angles as possible is that one keeps one's mind open, that conclusions are always tentative, and that the process of discovery is always more important than any particular end result.
      Not a straight line but a curve constantly changing direction . Theoretical formulation, generalization, moral injunction: these, for Wittgenstein, are dangerous. 'Philosophy,' we read in Lectures 1930-32, 'is not a choice between different 'theories'. It is wrong to say that there is any one theory of truth, for truth is not a concept' (LEC 1 75). At the same time, the process of investigation is itself of value, provided one is able and willing to revise one's ideas and suppositions when necessary. 'I find it important in philosophizing,' says Wittgenstein, 'to keep changing my posture, not to stand for too long on one leg, so as not to get stiff. Like someone on a long up-hill climb who walks backwards for a while so as to refresh himself and stretch some different muscles' (CV 27). And further:

If I am thinking just for myself, not with a view to writing a book, I jump all around the subject; this is the only natural way of thinking for me. With my thoughts forced into line, to think further is torture to me. Should I even try it? (CV 28)
This is, on the face of it, a very odd statement, for why should it be 'torture' ( eine Qual ) simply to organize one's thoughts, to produce a coherent linear discourse? Isn't this precisely what we expect an 'investigation,' especially a philosophical investigation to do?
      Here we must come back to the 1933 statement about philosophy's link to poetry, in which Wittgenstein 'reveals' himself as 'someone who cannot quite do what he would like to do' (CV 25). If we read this mysterious paragraph biographically, it would seem that the student of Bertrand Russell, who had set out to become the mathematical logician that we find in the opening sections of the Tractatus (1922) — although even here the eccentricity of the numbering is a kind of poetic clinamen [ 10 ] — had discovered, by the early thirties, that his métier was a mode of writing that depended on constant revision, a casting off of the 'egg-shells of the old, sticking to' his prior formulations (CV 43). Such writing inevitably takes the form of short fragmentary and often gnomic utterance. Not the 'Tractatus' or linear discourse, not even the essay in the spirit of Montaigne or the Heideggerian meditation, but a sequence of 'criss-cross' aphorisms, sometimes self-cancelling or even self-contradictory. Indeed, it is discourse less designed to say than to be seen as showing something. And we think of the following aphorism in Zettel :

Das Sprechen der Musik. Vergiß nicht, daß ein Gedicht, wenn auch in der Sprache der Mitteilung abgefaßt, nicht im Sprachspiel der Mitteilung verwendet wird. (Z §160)

The way music speaks. Do not forget that a poem, even though it is composed in the language of information, is not used in the language-game of giving information. (Z §160)
But, although this proposition allies poetry to philosophy in that neither is characterized by the information-giving function of the sciences or social sciences, our initial question remains: how can Wittgenstein's 'philosophical remarks' be taken as poetic when they are so markedly stripped of the usual 'poetic' trappings? And further: given that Wittgenstein's propositions seem to have the same force whether we read them in the original German, or in English, French, or Japanese, what is the relation of 'poetic' to 'philosophical' meaning?
      One possible answer — and this case is often made — is that what makes Wittgenstein 'poetic' is his use of homilies and proverbs animated by metaphors of charming and almost childlike simplicity: for example, 'A new word is like a fresh seed sewn on the ground of the discussion' (see above), 'Talent is a spring from which fresh water is constantly flowing' (CV 10), 'Ideas too sometimes fall from the tree before they are ripe' (CV 27), or the famous comparison of language to a tool box in the Investigations (§11-14).
      But such figurative language may well have more to do with rhetorical strategy — the ethical argument that gives Wittgenstein credence as someone we can trust — than with the enigmatic nature of Wittgenstein's real questions, which, whatever homely metaphor is used for pedagogical purposes, ultimately revolve around the literal meaning of words. 'Why can't a dog simulate pain? Is he too honest?' (PI §250).
      A better clue to Wittgenstein's concept of the poetic is provided by the distinction he repeatedly draws between science and mathematics. 'Man, we read in a 1930 entry in Culture and Value, 'perhaps populations in general — must awaken to wonder. Science is a way of putting him back to sleep' (CV 5). And again:

People sometimes say they cannot make any judgement about this or that because they have not studied philosophy. This is irritating nonsense, because the assumption is that philosophy is some sort of science. And it is talked about almost as if it were the study of medicine. — But what one can say is that people who have never undertaken an investigation of a philosophical kind, as have, for example, most mathematicians, are not equipped with the right visual organs for this type of investigation or scrutiny (CV 29).
Indeed, there is a 'strange resemblance between a philosophical investigation (especially in mathematics) and an aesthetic one' (CV 25). And in 1946, when the first part of the Philosophical Investigations had been completed, Wittgenstein noted in his journal, 'My 'achievement' is very much like that of a mathematician who invents a calculus' (CV 50).
      Invent is the key word here. Philosophy, as Wittgenstein sees it, is a form of continual re-invention with a view to making language more functional, the ideal being the precision of numbers. Language can never, of course, approximate that precision which is why the process of removing its false 'signposts,' its mistaken assumptions and usages, is so endlessly fascinating. And, as in mathematics, this is the case, regardless of time and place, regardless therefore of the specific language in question:

People say again and again that philosophy doesn't really progress, that we are still occupied with the same philosophical problems as were the Greeks. But the people who say this don't understand why it has to be so. It is because our language has remained the same and keeps seducing us into asking the same questions. As long as there continues to be a verb 'to be' [sein ] that looks as if it functions in the same way as 'to eat' [essen ] and 'to drink [trinken ], as long as we still have the adjectives 'identical' [identisch ] 'true' [wah r], 'false' [falsch ] 'possible' [möglich ], as long as we continue to talk of a river of time [einem Fluß der Zeit ], of an expanse of space [einer Ausdehnung des Raumes ], etc. etc., people will keep stumbling over the same puzzling difficulties and find themselves staring at something which no explanation seems capable of clearing up. (CV 15)
I have put in some of the German terms here so as to show that indeed language, at the level Wittgenstein studies it, has 'remained the same and keeps seducing us into asking the same questions.' The poetic, as I remarked earlier, is not, for Wittgenstein, a question of heightening, of removing language from its everyday use by means of appropriate troping or rhetorical device. Rather, what makes philosophy poetic is its potential for invention, its status as what we now call conceptual art — the art that, in Sol Lewitt's words, 'is made to engage the mind of the viewer rather than his eye' — or, more broadly speaking, his senses — the art, as it were, that tracks the process of thinking itself. [ 11 ]
      In Wittgenstein's practice, conceptual art begins with the investigation of grammar, the description of the actual relations between words and phrases in the larger unit in which they are embedded. The surface word order, of course, will vary from language to language, according to the rules that language prescribes for the relationship between parts of speech. But the basic relationship of parts of speech — nouns, verbs, adjectives, prepositions — to one another will remain the same.
      Thus, if we take the earlier example 'Why can't a dog simulate pain? Is he too honest?' the original German, Warum kann ein Hund nicht Schmerzen heucheln? Ist er zu ehrlich? has a slightly different word order in English, where the noun 'pain' follows the transitive verb whose object it is, and the negative ('can't') comes first in the sentence. But the basic syntax of the question and answer structure is perfectly clear, whichever the language.
      In fact, given the notion that 'There are no gaps in grammar; — grammar is always complete' (LEC1 16), the meanings of ordinary, everyday words becomes all the more tantalizing and a challenge to the philosopher as poet.
Take the following entry from Culture and Value:

Philosophers who say: 'after death a timeless state will begin', or 'at death a timeless state begins,' and do not notice that they have used the words 'after' and 'at' and 'begins' in a temporal sense, and that temporality is embedded in their grammar. (CV 22)
In its scrutiny of something as seemingly minor as a tense shift, this little fragment — not even a complete sentence — embodies Wittgenstein's repeated insistence that 'Language is not contiguous to anything else' (LEC 1 112). For it is only inside language that the basic paradox in question reveals itself — the paradox that the so-called 'timeless state' after death can be talked about only within the language of temporality which is ours, which is all that we have.
      Accordingly, as Wittgenstein had put it in the Tractatus, 'Death is not an event in life. Death is not lived through.' Indeed, 'If by eternity is understood not endless temporal duration but timelessness, then he lives eternally who lives in the present' (T §6.4311).
      To take another, very different consideration of temporality, consider the following analysis of the word interval in Lectures Cambridge 1932–35:

If we look at a river in which numbered logs are floating, we can describe events on land with reference to these, e.g., 'When the 105th log passed, I ate dinner.' Suppose the log makes a bang on passing me. We can say these bangs are separated by equal, or unequal, intervals. We could also say one set of bangs was twice as fast as another set. But the equality or inequality of intervals so measured is entirely different from that measured by a clock. The phrase 'length of interval' has its sense in virtue of the way we determine it, and differs according to the method of measurement. (LEC 2 13)
Here, Wittgenstein's investigation examines the curious shift the meaning of a single word — interval — depending on the context in which it occurs. The 'interval' measurable by the passage downstream of logs does not have the same status as the 'interval' measured by a clock. But the mystery of the word has nothing to do with the specific language in question: in French, for example, we read, 'Aussi les critères qui détermines l'égalité des intervalles séparant le passage des rondins sont-ils différents de ceux qui déterminent l'égalité des intervalles mesurés par une horloge.' [ 12 ]
      Whether interval, intervalle, or the German Abstand, the difference between one 'interval' and another remains central. 'But isn't the same at least the same?' Wittgenstein's question in the Investigations (PI §215) elicits the 'useless proposition' that, yes, 'A thing is identical with itself.' Useless, because, as Wittgenstein has already argued earlier in the book (PI §61), we still have not come to a ' general agreement about the use of the expression 'to have the same meaning' or 'to achieve the same'.
      For it can be asked in what cases we say: 'These are merely two forms of the same game'.'
      Or consider the following. 'The man who said that one cannot step into the same river twice,' we read in the so-called 'Big Typescript' of the late thirties, 'said something wrong; one can step into the same river twice' (PO 167). Literally this is the case: certainly, if Wittgenstein were walking along the banks of the Thames, he could easily step into the same river twice. But then Heraclitus, whose metaphorical aphorism Wittgenstein is calling into question, could respond that the second time around, it would not be quite the 'same' river.
      Wittgenstein knows this but he also knows that the 'same' in 'same river' is not quite the same as the 'same' of 'I have the same pain you have.' For how can I judge the intensity of your pain? How do I know, for that matter, that you're not just pretending to be in pain? What can 'same' possibly mean in such verbal constructions?
      It is, as in the case of 'interval,' the inherent difference between one same and another that makes language so mysterious.
      The avant-garde artist who perhaps best understood this, even though he and Wittgenstein never met and, so far as we know, knew nothing of each other's work (and wouldn't have liked it if they had), was, interestingly enough, his exact contemporary, Marcel Duchamp (his dates are 1887–1968; Wittgenstein's 1889–1951). Duchamp's term for the all but imperceptible difference between two seemingly identical items was, the term infrathin, a term closely linked to what Duchamp also called deferral or delay .
      No doubt, Wittgenstein who dismissed specialized vocabulary and metalanguage as unnecessary (see PI §120), insisting that, on the contrary, 'Ordinary language is all right' (B & B 28), would have disliked the neologism infrathin, with its allusion to such scientific terms as infra-red . But the link between his own note scraps or Zettel and Duchamp's collections of note cards is quite remarkable.



Infrathin
Paul Matisse's posthumous bilingual edition of Duchamp's later Notes contains a section reproducing forty-six scraps of paper, under the title Inframince / Infrathin . [ 13 ] Most of these were written in the later thirties when Duchamp was beginning work on the Boîtes en valise and restoring the Large Glass after its having been shattered. Suitcases were, in any case, on Duchamp's mind, since he playfully related infrathin to what he called physique de baggage, the science of 'determining the difference between volumes of air displaced by a clean shirt (ironed and folded) and the same shirt when dirty' (#231).
      Infrathin, he further maintained (#5), was an adjective, not a noun, the naming function being suspect in his lexicon. Indeed, infrathin, Duchamp declared, cannot be defined, 'One can only give examples of it.' [ 14 ] Here are a few:


The warmth of a seat (which has just been left) is infra-thin (#4)

In time the same object is not the / same after a 1 second interval — what / relations with the identity principle? (#7)

Subway gates — The people / who go through at the very last moment / Infra thin — (#9 recto)

Velvet trousers- / their whistling sound (in walking) by/ brushing of the 2 legs is an / infra thin separation signaled /by sound. (it is not? An infra thin sound) (#9)

When the tobacco smoke smells also of the /mouth which exhales it, the 2 odors / marry by infra thin (olfactory / in thin). (#11)

Infra thin separation between / the detonation noise of a gun / (very close) and the apparition of the bullet/ hole in the target.... (#12)

Difference between the contact / of water and that of/ molten lead for ex,/or of cream./ with the walls of its / own container .... this difference between two contacts is infra thin. (#14)

2 Forms cast in / the same mold (?) differ / from each other/ by an infra thin separative /difference. 'Two men are not / an example of identicality / and to the contrary / move away / from a determinable / infra thin difference — but (#35)

just touching . While trying to place 1 plane surface on another plane surface/ you pass through some infra thin moments — (#46)
All these are playful variants on Wittgenstein's 'But isn't the same at least the same?' A cryptic note found in the White Box (Duchamp 1975: 78) dated 1914 on the back, reads, 'A kind of pictorial Nominalism (Check).' Thierry de Duve, who takes this term as the title of his important study Pictorial Nominalism, notes that this is the only mention of the term nominalism in the writings published during Duchamp's lifetime, but that there is another one, also dated 1914, in the Notes:

Nominalism [literal] = No more generic, specific numeric distinction between words (tables is not the plural of table, ate has nothing in common with eat). No more physical adaptation of concrete words; no more conceptual value of abstract words.... (185–86; see Duve, 126)
'This nominalism,' says de Duve, 'is literal: it turns back on metaphor and takes things literally. Duchamp 'intends to specify those conditions that in his eyes allow the word to remain in is zero degree, force it into the realm of nonlanguage' (Duve 126-127).