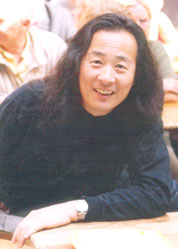 Yang Lian began publishing poetry in China in 1979. His most recent poems, essays and theoretical writings have been collected and reprinted in two volumes as Yang Lian zuopin(1998: Shanghai Wenyi Chubanshe, Shanghai), a work amounting to a total of over 1000 pages. His poems have been published in English in literary magazines in Hong Kong, Australia, USA, Canada, and the UK. His major English-language books include the following:
— Masks and Crocodile, translated by Mabel Lee (1990: Wild Peony, Sydney).
— The Dead in Exile, translated by Mabel Lee (1990: Tiananmen Publications, Canberra).
— Where the Sea Stands Still: New Poems, translated by Brian Holton (1995, 1999: Bloodaxe Books, London). This book was named "Poetry Books Society Recommended Translation" (1999) in the National Competition of Foreign Poetry Books in English Translation, UK.
— Yi, translated by Mabel Lee (forthcoming June 2001: Green Integer, Los Angles).

Mabel Lee is Honorary Associate Professor in Chinese Studies at the University of Sydney where she was a member of the academic staff for thirty-three years. Her translation of his novel Soul Mountain, launched in Sydney by HarperCollins (Australia) in July 2000, won international acclaim after Gao Xingjian was declared Nobel Laureate for Literature on 12 October 2000.

Photo of Yang Lian by John Tranter, Berlin, 2001