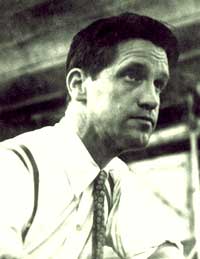 Fairfield Porter, ca. 1950s

Fairfield Porter Papers, 1888–1996, Archives of American Art, Smithsonian Institution.





Fairfield Porter himself is the subject of three essays in the collection, and is mentioned in many more. Corbett reviews a Porter show with Jane Freilicher, a solo show at the Tibor de Nagy, and a discussion of the second biography of Porter, John Spike's Fairfield Porter: An American Classic. Corbett takes issue with the latter. Spike says that Porter's friend and lover James Schuyler was a mooch who put a drag on Porter the artist. Corbett, editor of Schuyler's letters, disagrees returning that Porter's most critically acclaimed work correlates with the Schuyler years.
      The best selections in this part of the volume are those he is most intimate with. Corbett knew Philip Guston well at the end of the painter's career. In fact, he has published a long memoir about those years. Because of this closeness, Corbett's writing on Guston benefits from having been there. He knew Guston, his studio, his wife, his other friends, his surroundings, and therefore isn't lifting his pen after dipping it theory. These two had a reality.
      My guess is that Corbett sees himself as first and foremost a poet. For that reason the essays in this book on poets and poetry read the clearest and most sincere. Even more than in the writing on artists, when it comes to poetry Corbett is surely thinking globally but acting locally. Corbett's lineage is a branch off the New York School. Though O'Hara, Creeley, Ashbery, and Koch all went to Harvard and lived in the Boston area for a spell, they never seem to be in season. However, Corbett's continuous and never tiring praise for this lineage has paid off. Indeed, in the fall of 2001 he was joined by many of the more mainstream and established poets for a Frank O'Hara tribute at Harvard that drew record crowds.
      Corbett is the only one north of Manhattan who reviews Fanny Howe, Basil Bunting, Paul Metcalf, James Schuyler, and Philip Whalen in any significant way. Some of the most 'important' literary critics with huge national audiences live and breed in the Boston area, and by engaging them Corbett is pushing and pulling at the canon that hasn't seemed to blow for fifty years. Though he gets you if you get it wrong, he uses the opportunity to tell the 'real' story. Take his review of Keith Aldritt's The Poet as Spy: The Life and Wild Times of Basil Bunting. Corbett thinks the book is weak, I agree. However, instead of hammering away at it he slips into a memoir of his experiences hosting Bunting in his Boston home and other capers. In doing so he crafts the case for Basil Bunting — a good cause.
      Indeed, two of the best and most emotional essays in this section are reviews of American Poetry Review (APR) and one of Helen Vendler's men's club anthologies, The Harvard Book of Contemporary American Poetry. He is right when he rails that APR publishes poets, not poetry. Here are the last two paragraphs of each essay:
      'APR has convinced me that it is dedicated to healing or making up for that hurt Roethke revealed when he asked why, as a poet, he was not taken as seriously as a used car salesman. Poets must overcome this dilemma, if it is a dilemma for them, by themselves, and POETRY cannot do it for them although poems may help. The distinction is this. There are ideas about poetry incidental to poetry itself. APR is committed to these ideas, the ephemera, and is committed to POETRY in some large sense as a force, a power. This earnestness puffs up and distorts the paper with photographs, boring columns, weak criticism, and audience mongering. Testaments to vanity.' (155)
      Here are his thoughts on Vendler:
      'When I first looked at Vendler's anthology I was somewhat outraged. What other response can there be to Amy Clampitt's (b. 1920) three poems that glug like heavy cream poured from the bottle and seem written to be paraphrased: and no Olson, no Niedecker, no James Schuyler, or Barbara Guest? But my outrage quickly became bemusement, even as the image is horrifying, at the surgeon who saws, hacks, and sutures a healthy body to claim life for a hank of hair, piece of bone, lung, and elbow. That there is life here despite all that has been cut away suggests how robust American poetry has been over the past forty-five years. But to get a clear idea of just how robust, peculiar, contrary, and vital that poetry is we will need a doctor other than Vendler.' (265)
      Far and away though, there are two entries that make the book a keeper. The discussions of James Laughlin, and of Corbett's father, because each story in different ways is so close to him, stand out. The story of New Directions reads like Weinberger's essay on Naropa, but in this case its written by the subject. Many in the 'poetry world' may not be aware of the bit of a caper surrounding the New Directions story, one that Corbett tells here with all honesty. I don't want to give these away, they are much better from the horse's mouth. However, to get you in there you need to know that in 1996 Corbett was asked by James Laughlin to write a 200 page popular story on the history of New Directions. Hardly in mid-stream on the project, Laughlin passed away and Corbett received a damning letter from one of the three trustees who gained control of New Directions. He was basically told to put the book to bed. In All Prose Corbett not only tells this story in painful detail, but he uses it as a hook to review a book about Laughlin by Hayden Carruth that just happened to come out shortly thereafter. When you read the inside story, there's a lot more there.
      The gold goes to Corbett's longest piece in the volume, the twenty-page Why You No Forget? In 1965 Corbett's father left a note on his office door 'I have gone to further my education,' and never returned. Corbett was 23. Corbett wrote a full-length volume called Furthering My Education in the 1990s that accounts the intricacies of the story as far as he knew it at the time. Since his father had wound up in San Diego, Corbett's publisher, Zoland Books sent review copies to the San Diego Reader. The Reader subsequently did an interview with him, then all was quiet — for a while. Soon people who knew Corbett's father began calling Corbett and telling him about his father's life: a clinic (he was a physician) in Afganistan, traveled the world, knew many languages! Shortly thereafter, the Reader called back and asked him to go to San Diego, follow his father's trail, and write about it for them. Why You No Forget? is that piece, a torturing but suspenseful account of Corbett's meeting his father's second wife, children, the whole lot. If you've read the first book, this is the last chapter (for now).