'Alone, cut off from the world,... works almost constantly': Darger and Roussel
Ashbery has written more and more frequently about Raymond Roussel than about any other writer or artist.[ 5 ] For Ashbery, Roussel has long been the archetype of the strange, singular creator. Perhaps Roussel now shares that honor with Darger.

There are several specific affinities between Roussel and Darger (which, I suspect, are as apparent to Ashbery as they are to me). Roussel and Darger both lived lives of utter strangeness — 'almost undecodable as normal human behavior,' as Ashbery says of Roussel (Other Traditions 57). Both endured general mockery (the nickname 'Crazy' followed Darger from childhood into adulthood: one might compare the inventories of mockery in Roussel's essay 'How I Wrote Certain of My Books' and Darger's handwritten autobiography). With utter conviction, both created works that were embraced by audiences on terms they could not have anticipated (Surrealist interest in Roussel, postmodern interest in Darger as proto-Pop-artist). Both were absorbed in immensely time-consuming creative work: as Roussel's psychiatrist described him, 'He lives alone, cut off from the world, in a way which seems sad but which suffices to fill him with joy, for he works almost constantly' (qtd. in Ashbery, 'Introduction' x). Each has become 'a posthumous celebrity,' as Ashbery calls Roussel ('Introduction' vii), and each left behind enormous works in a trunk.[ 6 ]

Ashbery's characterization of Roussel's work — 'like the perfectly preserved temple of a cult which has disappeared without a trace, or a complicated set of tools whose use cannot be discovered' ('Introduction' xxii) — might well apply to the enigma of Darger's work. But there is a striking specific resemblance as well: both Roussel and Darger exhibit a penchant for endless, disproportionate description.

As Ashbery says of Impressions d'Afrique (1910), plot in Roussel's writing is 'a pretext for description' ('Introduction' xvii). Roussel's narrative poem La Doublure (1897), for instance, begins as a love story and devotes three-fourths of its length to a description of carnival floats and costumes. The three long descriptive poems of La Vue (1904) include La Source, which begins and ends with a café setting but focuses in-between (for 992 of its 1012 lines) on the scene on the label of a bottle of mineral water. Locus Solus (1914) offers a series of elaborate descriptions of elaborate inventions.

The endlessly descriptive prose of any Darger battle scene, with its 'overwhelmingly obsessive and oppressive detail,' 'avalanches of detail' (MacGregor, Henry Darger 107, 109), might serve as an analogue here, but descriptive writing of even greater eccentricity can be found in Darger's often-described 5000-page autobiography, The History of My Life: after roughly 200 pages tracing the author's life, the writing is given over to describing the course of an imaginary tornado named Sweetie Pie.[ 7 ] That the availability of Darger's work involves a unexpected French connection — the first extended study of his work, by John MacGregor, was published in French translation — deepens the serendipitous Roussel-Darger relation.

'Nobody had any idea': Darger and Malley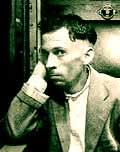 Photo: Ern Malley


Perhaps the most remarkable of these affinities are those in which Henry Darger's life imitates art. Darger's story is in many respects a version of the life of Ern Malley, a poet Ashbery first read in 1945 and a poet of abiding interest to the so-called New York School.[ 8 ] Like Malley, Darger lost both parents in youth and suffered a drastic shift in life circumstances (for Malley, a move from Liverpool to Petersham, Australia; for Darger, institutionalization).
Both struck out on their own at the age of seventeen for a life of work (Malley by moving to Melbourne, Darger by escaping from an asylum). Each lived a solitary life in a proverbial room: 'They said he was living in a room by himself,' Ethel Malley wrote to Max Harris (Malley 10). And each left behind a body of work whose existence could not have been imagined: 'Nobody had any idea that Ern Malley wrote poetry,' wrote Max Harris (Malley 9).

Making his art in isolation, making no effort toward finding an audience, Ern Malley seems to haunt Ashbery's most pointed statements about art and its reception. Consider this statement from an essay on the artist Owen Morrel:
We don't hear much about struggling young artists anymore. That stereotype has been replaced in the public imagination by the artist who becomes a millionaire at thirty by painting soup cans. The garret has become a half-acre loft with white floors. (Reported Sightings 351)
If the choice must be between stereotypes, it is clear which one Ashbery finds more congenial. His essay 'The Invisible Avant-Garde' also reveals his wariness of institutional acceptance and his sympathy with artists on the margins: 'the only artists who have any privacy are the handful of decrepit stragglers behind the big booming avant-garde juggernaut' (Reported Sightings 392). Given Ashbery's repeated statements about his early doubts of having a book published (much less a book that would gain an audience), his allegiance to 'decrepit stragglers' seems a matter of long-felt identification.

'The History of My Life': Darger and Ashbery
The identification of insider with outsider becomes particularly poignant when we think further about Darger and Ashbery. Certainly there are artistic affinities between them — most notably their shared fascination with the primal reading-matter of comics and their collaging of found material.[ 9 ] But I think that a deeper, more personal identification helps to account for Darger's claim on Ashbery's imagination. Girls on the Run signals such an identification early on:
                                               Write it now, Tidbit said,
before they get back. And, quivering, I took the pen.
Drink the beautiful tea
before you slop sewage over the horizon, the Principal directed.
OK, it's calm now, but it wasn't two minutes ago. What do you want me to do,
said Henry,
I am no longer your serf,
and if I was I wouldn't do your bidding. (1–2)
Details of life circumstances — Ashbery's and Darger's — help clarify what happens in this passage. The initial 'I' who drinks tea and writes appears to be Ashbery, who has cited tea-drinking as his writing ritual. The Henry who defies authority is of course Henry Darger, who was often heard in his room acting out quarrels with the rather severe nun who was his supervisor at work.[10] But in the play of voices in these lines, the distinction between the poet and Henry blurs: in the words of the Principal's directive, the poet who drinks tea and the hospital orderly who slops sewage become one and the same. And though the speaker who replies to the Principal seems at first to be the poet (the 'I' who took the pen and was told to drink tea), he turns out to be Henry. 'I' is, literally, another. One wonders whether Henry's defiant tone at the end of the passage — 'I am no longer your serf' — suggests Ashbery's own refusal in Girls on the Run to write the kind of poem that the Principal (Harold Bloom? Helen Vendler?) might expect of him.[11]

This passage from Girls is at best oblique autobiography. Your Name Here, however, has a poem that is more straightforwardly autobiographical. It might be read as an Ashbery variation on Elizabeth Bishop's 'The Art of Losing':
Once upon a time there were two brothers.
Then there was only one: myself.

I grew up fast, before learning to drive,
even. There was I: a stinking adult.

I thought of developing interests
someone might take an interest in. No soap.

I became very weepy for what had seemed
like the pleasant early years. As I aged

increasingly, I also grew more charitable
with regard to my thoughts and ideas,

thinking them at least as good as the next man's.
Then a great devouring cloud

came and loitered on the horizon, drinking
it up, for what seemed like months or years. (31)
While Ashbery has insisted in many contexts that his poetry is not autobiographical, 'The History of My Life' is genuinely grounded in the facts of his life.[12] What is more: the poem is a further gesture of identification with Henry Darger, taking as its title the title of Darger's handwritten autobiography.

In Ashbery's hands, this portentous title might seem only comic — like that of Ted Berrigan's 'My Autobiography,' a poem which goes on to recount an incident in the life of an upstairs neighbor. Certainly Ashbery's poem is replete with knowing, witty touches — 'even,' 'interests' and 'interest,' 'No soap,' 'I became very weepy,' 'increasingly,' 'thoughts and ideas.' But the comedy fails to obscure a narrative that takes the Ashbery-Darger connection beyond aesthetics into shared matters of loss and grief. Ashbery did lose his younger brother Richard in childhood (Lehman 92). It is generally recognized that the decisive events in Darger's psychic life occurred in 1896, when he was four: his mother died shortly after giving birth, and his newborn sister was immediately given up for adoption. In his 1999 New York Times interview Ashbery spoke of his own childhood precisely in terms of sudden, irrevocable loss. For a reader with even a cursory knowledge of Darger's life, the parallel is unmistakable:
We had a mythical kingdom in the woods; various of our friends had castles in trees, and I was always trying to get plays that we could produce spontaneously. Then my younger brother died just around the beginning of World War II. The group dispersed for various reasons, and things were never as happy or romantic as they'd been, and my brother was no longer there. I think I've always been trying to get back to this mystical kingdom. (Rehak 10)