This is all



this is all I will bring to you
from the deep humidity here
where everything about this evening hurts,
from the helpless beauty of the pale orange sky
to the darkening wall of the cemetery.
tonight it seems that we were never here,
that we never slept here.
that the dust gathered in a brand new house
and it became a museum overnight.
this evening short involuntary gasps
interrupt my practice of abstinence
and hurtle me across the equator across the world.
I think you've just done it.
¶ It's from writing reviews!
But yes, you're right — it is to do with a slight detachment that you need to have when you are speaking personally in poetry and in the 1970s I was given the same tag as many other women writers of being 'confessional' — but I was always careful not to be 'a confessional poet' (even though I probably was one). So, I think I refined that then — I learned to hold back poetically. It was important that the content be told, in the 70s, for the purposes of positive discrimination — so I suppose 'the personal is political' was all of that. I think I learned to write in a way that also undercut that, because, you know, if I read another feminist poem about, yawn, 'menstruation', say, just because it 'IS', because it's female, I'd become really frustrated and would say 'But you have to WRITE it as well!'
      I hadn't written anything like 'This is all' for some years and so, coming back with the intervening years of practice, I'd refined detachment.
¶ Yes, it has that classic 'show, don't tell'.
Well, we know the kind of poetry — of loss and yearning . I think I'd also read too much Roland Barthes. You know, A Lover's Discourse, and although it didn't directly influence my poems of the time — I was a bit sick of it — you know, 'oh come on Roland — brighten up...'
¶ But as another identifier of bits of your modus operandi, 'This is all' can be read in so many different ways; 'this is all' as a kind of colloquial statement, 'this is all' —'all' being the focus — and so on. Often within the line, and you're very particular about your lines, and in the ways that we argue about what defines a poem. Silly T.S. Eliot said 'the perfect words in the perfect order' which I've always thought was ridiculous... very fascist actually.
[laughs] — yes, a friend emailed one of those to me this morning — John Forbes saying 'eloquence is the only truth'.
¶ [laughs]
An apothegm from John.
¶ He would have laughed himself.
Well yes, I wrote back and said 'I think John would argue against himself there'.
¶ Absolutely — the moment after he said it.
      But 'This is all' is an example  really, as a title and as a technique, of where the statement, the aphorism, the defined thing can never actually be located. That slippage again — it can be read in a variety of ways. It can't be pinned down.
      Now, politics and ethics. Obviously these are incredibly important touch points. I'll read you a few lines —
rows of terrariums
growing horrible viral cells
genetic cultures
dropping enormous
thick clots
                        [ — 'At the wall']
So, you know, it's inevitable that I would get these lines — could you just say something about the language and the ethical subtext.
Well, that's a negative kind of poem isn't it ? It's trying to talk about 'culture' I suppose — whatever that is. And the language there — 'dropping enormous thick clots' is boring language. It's almost onomatopoeic. And I intended it to be uninteresting. But, I think it's because, like everyone, I worry about this strange, imbecilic world we're living in where you can manufacture life — we're all 'made' things, we're all becoming cyborgs. So that poem partially draws attention to that without necessarily making a fixed statement.
¶ Do you know Donna Haraway's book Simians, Cyborgs and Women: The Reinvention of Nature (New York: Routledge, 1991)? It's interesting to me that in your work, apart from an obvious concern about ethics per se here, the text itself almost becomes cyborgian, almost becomes genetically modified and that's what you're talking about — the onomatopoeia. So I often wonder in reading these political components of your work if there is a wrestling between what you know as poet is right and what the persona, or the construction of the poem itself is doing language-wise. There seems to be a tension. Sometimes you let the language almost leave you and go where it wants.
Yep. You're right. To start with letting the language go — if you look at a poem like 'The ing thing'( which you published as a pamphlet) — that's a long poem that meanders but it's very precise and concise and it's about 'ing'. I let the language  work on me there — all sorts of things were coming in, like exclamation marks, fragmentary punctuation — it was like surrendering to a kind of abstraction that I don't usually do. But controlling it. So that's an example, but I don't know what that's got to do with politics and ethics
¶ Well, because you are talking about a specific issue that bothers you and at the same time the language is doing its own thing. So there's a poetic tension.
Well, the trouble with poetry and politics and ethics — let's take as an example the recent invasion of Iraq by the US, our forces and the British. I found that, and many other poets found it hard to write about. I did write a war poem but it seemed puerile, almost journalistic (not that journalism is puerile) — because we were receiving so much. Also, I couldn't write much at all at that time. Other poets I talked to had a similar experience. I mean, I did protest rallies and all those things but it still seemed hopeless. And so I think sometimes politics and ethics have to be lived.
¶ Earlier we were talking about how friends can become part of the poem — for Ken Bolton it's extrapolation, and for you almost as internal references. Contrary to that, you use quotes as impetus and as objects in the same way that you'll use an art object as a point to take off from with an idea. One of my favourite poems is 'Twitching' where you quote from Charles Bernstein 'I/  learned to read by watching/  Wheel of Fortune when I was/ a baby' — you use this self-contained quote as a counterpoint. [The quote is from Charles Bernstein's 'Clare-in-the-Building'.]
Quotes are used to introduce a concept and I probably also use them in an emphatic way
¶ It's an interesting word — 'emphatic'.
I don't mean 'to make a point' but to underline what I'm doing.
¶ Almost as a support mechanism for the poem.
Sort of...
¶ But I don't think that's what they do. I think that you're almost having a conversation with the quote. A lot of your poetry seems to be a dialogue — with the self, persona, culture, poetry...
Well, that's the whole point. It's all an encounter.
¶ Yes, your quotes are encounters for me. And when I'm reading the poem I keep thinking of the quote.
That's what I mean by 'emphatic' — it's underlining what you read, as well as dialoguing with the quote. You're right — I guess, I haven't thought about that a lot.
¶ Well, that issue of high and low culture and truth — where is truth located and the role of the poet and the whole fabrication of the poem — can it ever be truth because of the fabrication comes into that Bernstein quote and in 'Twitching' — there's the alliteration — 'property, paltry, platitudes, puerile' and the internals 'flappable, lapsed' all within short space of each other. It's alliteration on the surface but it's actually something else — I'm trying to find a new critical word for this — it's almost an inversion ...
At the end of that poem, I try to reveal the method —

'interstitial thinking —
       everything's
                  a particle.'

I think you might just be looking at 'interstitiality'.
¶ Maybe. It's a unique usage of technique though. They use that revolting expression 'the poet's poet' but, as a poet, what I find interesting and what I can learn technically from your work is that there is always an inversion of classical technique — you do something else with it — so alliteration's never really alliteration. It's something we don't have a word for — maybe I can coin it. But, jokes aside, that's a metatextual thing — the OULIPO do it as well. Playing with technique so that it becomes a new technique — that fascinates me. That kind of espionage combined with transparency. There's always these tensions. I think you're an 'espionage poet' mixed with something else — hybridised.
I wonder who I'm working for ?
¶ Now, I want to refer to another poem 'This and That (I cite myself)'. I've taken down a series of words that came to mind — the issue of meaning, presentation, the incidental, the issue of occasion and you actually say in the poem 'public-private continuum' — so this is declared, — 'a surveyor's tripod clacks' and 'the hypermarket/ surveillance camera / attempts its capture-/ my nearly-beautiful/ every dream,/ my artificial memory/ daily.'
      This whole issue of construct is an exposé of the construct. I saw on the television the other day that if you walk through London you would be recorded 300 times as a minimum. This issue of construct, surveillance and meaning is very evident in your work and, this sounds strange, but the poems almost act as cameras as well. They're surveying language  and its usage.
I'm not sure that the poem has that function — I think it's more often simply descriptive. But that poem is probably another complaint about the way we live. Earlier you mentioned a review by David McCooey. In that, he said that in my poetry I am 'cranky' and that it verged on the 'resentful'. I'd like to say here that I'm never 'resentful'. There's no resentment in any of my books. He's wrong. Yes — but 'cranky', 'upset', even 'disturbed' by these things is what informs that kind of poem. It's obvious, it's what's happening to all of us — it's the same kind of thing as the genetic cultures issue.
¶ An issue of liberty.
But it's also that people think it's 'groovy' or something to identify with some of these aspects — that's what bugs me. Because people are fairly powerless these days, apart from having a rather meaningless vote. It give some hope, I guess, to go down with a pencil to the ballot box . It's supposed to be 'democracy' — in my idealised world, I would prefer classic anarchism.
¶ That poem is more than a complaint. The big question is 'Are you afraid?' It strikes me that these are poems of fear — that you're dealing with the real and the imagined. These are poems that are much about what you're doing as a poet as they are about the outside world. They seem to be inverted ars poeticas — where you're actually asking 'am I complicit in this?' Technically the caesuras and the counterpoint throughout the poem almost suggests paranoia.
Well, as we know, paranoia is just a heightened state of awareness. I think I have that to a high degree — that state of being.  Although I think I get more sleep than you're reputed to.
¶ A number of things have changed very distinctly from your earlier poems and one thing is this increased, in a constructive sense, awareness of a paranoia. Even though you were more overtly politically resistant in your early poems but now there's a kind of paranoia about the position of self, of authority...
Yes, well I'm deeply suspicious of all of that. It probably sounds like potted philosophy. There's that very old question of the 'self'. For some poets that's their quest.
      Take poets like 'X.. Y.. Z..' — whose poetry is a quest for a self through spirituality which is a psycho-analytic concept that, actually, I disagree with. I think that the 'psyche' is fragmentary, not fixed, mutable. But that doesn't mean that you're crazy if you don't have a 'self' or you're not questing after a 'self' — perhaps, it's even less crazy than desiring wholeness. That's a very disappointing kind of quest. And it seems that's what most people revere in poetry — this journey, this probably Jungian kind of journey, that a person would undertake publicly in their poetry, towards their 'self'. That aesthetic is anathema to me. That's all I can say. So I try, as hard as I can, to disappear the auteur (even though it's a term of respect)
¶ And there is a tension in that process of disappearing.
      Familiarity and friendship, the in-joke, the private poem. There's an aspect of your work that's very hermetic. Even though you're not intentionally secretive, there is a private capacity. It could be interesting to decode — there is a hidden confession. Not confessional in mode though. The 'Eyes on potatoes' poem where the alienated, if familiar, is close- '...outside, the bucket men,/ in traffic-blackened floral shirts,' is juxtaposed to the personal — 'downloading Laurie's poems,' so you morph the observation and the highly personal.
It's probably the closest I get to lyric.
      I also tried to stick to a sonnet form in that poem. Form is generally impossible for me — it always seems very contrived. But these sonnets only went to twelve lines, as if they couldn't keep going, and the poem becomes fatter and fatter but the twelve lines continue — it's as if they wanted to lengthen — it was an enjoyable battle.
      'Eyes on potatoes' makes lots of cultural references — [Australian poets] Gwen Harwood, Jennifer Maiden and so on, and it's a very located poem.
¶ And it has, once again, the juxtaposition between the descriptive and some more emotional moment. Nothing exists as a straightforward emotional poem or a straightforward descriptive poem — there's always a mixing.
Yes, it's mixing, not layering.
¶ The effect of this is to defamiliarise the author, or, at least, authorial intent.
      In the poem 'Sunday' again there's the cinematic removal in which the poet is centered, attracted and rebuffed all at once. The desire to approach subjectivity but to be simultaneously cautious, wary and possibly repelled, and you write 'into Sunday's documentary/ on manhattan island/ as the mountain light/ goes golden the blue/ mountains go dark/ and tasmanian' .
It's what we talked about earlier — the problem of representing personal privacy in public (in publishing a poem).
¶ Do you use landscape and references to place, that you deploy with irony, as an anti-construction thing.
The poems are located but they're not like, say, the pastoral — where you take yourself to the place, you stand in the paddock and you wonder about life itself. For me, place is more of a starting point, more to do with a quotidian aspect. My poems don't ever leave the street I'm on...
¶ They're almost a photo-moment. It is cinematic.
Yes — and it's not always literally that street. And I use place and then extrapolate out — abstract out. Like a Ken Whisson painting — in the foreground a table with bottles and it moves by plane so that as they move outwards the shapes become buildings. So in the poem it's also almost like a plane.
¶ But to play against that in some way in your poem 'Scenes' — 'not a past/ I ever knew,/ but one I make up, tonight'. Who is and who becomes 'the real Pam Brown' in these set piece scenes — is this relevant or is all simulacrum as in 'Not the town'. Is 'Pam Brown' as poet a construct or is it desirable for the reader to think she's real ?
It's like a cyborg. It's half and half — 50-50. One of the poems is called that — 'Fifty-Fifty'. There's an interplay. This probably sounds really pretentious — you know, an interface with yourself ! That's really onanistic ! We might have to drop that. But it is something like that. I don't want to have her there in the foreground and I don't have to work that hard because she, whoever she is, doesn't really want to be there.
¶ Here are some lines; 'in fuck-the-reader-Timezone/ the premature ejaculators,/ their fingers on the game,/ hoot for joy every time/ they destroy another animation.' I thought of the Gulf War immediately then. There's a mixture of disdain, cultural observation and that paranoia again — that things aren't real.
Well, you've seen a Timezone. [A branded video-game arcade.] 'Fuck the reader' is, to me, what a Timezone is.
¶ Is it a call for community? You're reading my poem — we should get together and fight or make or play this anti-art ?
I'm not so sure.
¶ Let's finish with the 'flaggy' 'floral' 'fokkerschmidts' and 'a conjuration of imbeciles'.
Yes, that's Baudrillard. It emphasises — you know, 'how imbecilic can things get!?'
¶ But you also undercut it with proper-noun-play — '...Cash Converters/  for stolen cell phones' — to pull the rug out. You use the 'real world'. [Note: 'Cash Converters', a branded chain of stores where old goods can be traded for cash.]
To take the edge off. You always have to question your own pomposity — to quote from Baudrillard for instance.
¶ This conversation has primarily been about technical things, how the poems are made — is there anything somewhat more subjective that you want to say?
No.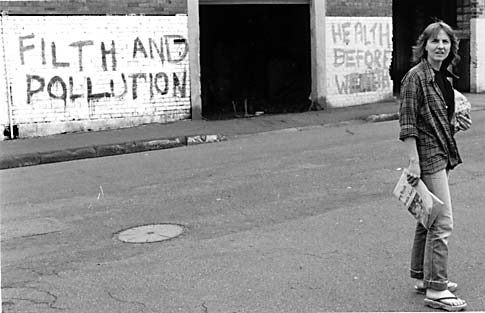 ---
Bibliography: Pam Brown
Books Published
Sureblock, P.Woolley, Melbourne, 1972
Cocabola's Funny Picture Book, Tomato Press, Sydney, 1973
Automatic Sad, Tomato Press, Sydney, 1974
Cafe Sport, Sea Cruise Books, Sydney, 1979
Correspondences, Red Press, Sydney, 1979
Country & Eastern, Never-Never Books, Sydney, 1980
Small Blue View, E.A.F./Magic Sam, Adelaide, 1982
Selected Poems 1971-1982, Redress/Wild&Woolley, Sydney, 1984
Keep It Quiet, Sea Cruise Books, Sydney, 1987
New & Selected Poems, Wild&Woolley, Sydney, 1990
This World. This Place, University of Queensland Press, Brisbane, 1994
50 - 50, Little Esther Books, Adelaide, 1997
Text thing, Little Esther Books, Adelaide , , 2002
Dear Deliria (New & Selected Poems) , Salt Publishing, UK/USA/Aus, 2003
Chapbooks
Little Droppings, Never-Never Books, Sydney, 1994
My Lightweight Intentions, Salt/Folio, U.K./Perth, 1998
Drifting Topoi, Vagabond Press, Sydney, 2000
eleven 747 poems, Wild Honey Press, Ireland, 2002
Other publications noted
Magic Sam magazine, Ken Bolton, Anna Couani, Sal Brereton (eds.), Absolutely Furious Productions, Sydney, c. 1978
A Lover's Discourse, Roland Barthes, Hill & Wang, New York, 1986



---