B O O K   R E V I E W


Francis Raven reviews

Dancing in Odessa
by Ilya Kaminsky

Tupelo Press $16.95 paper
Winner of the Tupelo Press Dorset Prize

---
This review is 1097 words
or about 3 printed pages long


Dancing in Odessa
Ilya Kaminsky was born in Odessa, a Ukrainian port city on the Black Sea, in 1977. The reader learns from Dancing in Odessa's book jacket that his family was granted asylum by the American government in 1993. Since that time Mr. Kaminsky has received a bachelor's degree from Georgetown, obtained a law degree, and won the Ruth Lily Fellowship from Poetry Magazine. In addition, Kaminsky has been legally deaf since he was four years old, when, according to an article about the poet in the Seattle Post Intelligencer, a Soviet doctor mistook a case of the mumps for a cold. As one might imagine, Kaminsky's life lends credence to Dancing in Odessa, his first full-length book of poems, which is full of memories, exile, silence, nostalgia, laughter, and reflections on the ethics of memory.

In the title poem, Kaminsky writes of loss of hearing: "My secret: at the age of four I became deaf. When I lost my hearing, I began to see voices." Seeing voices might as well be the secret of Kaminsky's poems. These voices are often presented visually in italics, so that they are not exceptionally offset, at least visually, from the rest of the poems. This imparts unity to the works, which their authoritative tone demands. In this way, the author is able to poetically use his personal, familial, and cultural history without excessively dwelling on these histories. Voices, after all, do not continue endlessly; they are heard and then fade away. A person either remembers these voices or forgets them.


In his poems, Kaminsky does not appear to be trying to remember, he simply is remembering what he can for as long as he can. The reader is invited into these memories, no matter how slim they may be. For example, Kaminsky's Aunt Rose enters the book on more than one occasion. The first time the reader sees her she is composing odes about barbershops and drugstores, although her presence does not fill the entire poem. Then the reader has the chance to meet her again in her own poem ("Aunt Rose") where she permeates the entire poem. These slight sights and previews tie the book together both thematically (memory, exile, escape, deafness) as well as formally, for as the voices move in and out of the book the reader remembers them, feels nostalgia for them, feels that they have been exiled, etc. Even the Bible is exiled into ordinary language. This is the case in a section of "Musica Humana": "O God of Abraham, of Isaak and of Jacob/ on your scale of Good and Evil,/ put a plate of warm food." Of course, this is the type of exile demanded by postmodern poetics, but in Kaminsky's hands the technique is used for humanitarian purposes.

Kaminsky's deafness, of course, pairs perfectly with his exile from his native land. The twin facts of Kaminsky's life (deafness and exile) lend his poems a natural authority the poet wisely uses but does not often over-exploit. This moral power is prominently put on display in many of the poems including "American Tourist," which involves an affair with a tourist "whose forgetting is a plot against forgetting." At times, however, this moral vision is not quite political enough. Shying away from easy answers must be different from shying away from all answers.

Like any promising first book of poems, Kaminsky prominently displays his influences, which include Paul Celan, Osip Mandelstam, Joseph Brodsky, and Anna Akhmatova. In fact, the most striking poem in the collection, "Musica Humana," reimagines the story of Orpheus with another exile, Mandelstam, as its central figure. In Kaminsky's version, Mandelstam is a fugitive from a corrupt state (in the poem "the New State") and his wife takes on the guise of the reader who memorizes Mandelstam's poems "in case they were found by Furies with a search warrant." The idea of escaping and being caught is coupled in the reader's mind with Kamnisky's own exile and acceptance into American society. In this way, the notion of being caught is brought into close contact with the concept of being accepted or rescued. "Musica Humana" (released as a chapbook by Chapiteau Press in 2002, 32 pp., $12.00) weaves Kaminsky's moral authority with history, myth, and most importantly, political exigencies. Moving in a more political direction could fruitfully open up ground for the young poet.

Dancing in Odessa benefits from having not been written by a poet whose first language is English. Some of Kaminsky's lines might seem more prosaic if they had been written by a native English speaker. This appears to be the case in the title poem, where Kaminsky writes, "A deaf boy counted how many birds there were in his neighbor's backyard, producing a four-digit number." The move from past tense ('counted') to the ambiguous progressive ('producing') urges the reader through the poet's life and into the poem at hand, but the naturalness of the construction might be authentic naturalness as opposed to artful naturalness. That is, the sentence might read as a natural sounding sentence to Kaminsky. This would indicate that in the future Kaminsky will have to work a little harder to maintain his unique poetic position between the natural and the foreign.

The blurbs on the book jacket are more than glowing. The quotes are just this side of embarrassing. Carolyn Forché saying that she is "in awe of his gifts," alongside Robert Pinsky saying that Kaminsky's poetry "has a glorious tilt and scope," obviously indicates something more than is in the poems. These big-name poets who have endorsed Kaminsky's book are not merely commenting on Kaminsky's poetry, they are hoping, hoping that he is a poet capable of being as direct, spiritual, and political as the recently deceased Czeslaw Milosz. It is worth noting that many of the poets who endorsed Kaminsky's book also had a relationship with Milosz. For example, Pinsky was Milosz's friend and Anthony Hecht translated Milosz's poems. There is no doubt that we need a poet both to fill the void left by Milosz's death and to guide us poetically through this troubled world, but it is not clear that Kaminsky has the ability to fill this impossible position. However, it is also not clear that he does not have what it takes. It is possible that through his evolution will Kaminsky continue on his trajectory of being a clear moral (and possibly politically) poetic beacon. Dancing in Odessa alerts readers worldwide to this distinct possibility.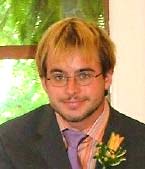 Francis Raven is editorial assistant at the Journal of Aesthetics and Art Criticism. Broken Boulder press recently published two of his chapbooks: Notestalk and Notationing. His first novel is forthcoming from Spuyten Duyvil.