John Kinsella
Graphology - Six poems


Graphology 108

In the gallery, he realised
there was nothing but sound: all sight
rang in his ears, and all colour
tasted like his own blood in his mouth.
Passing, even idling away the time,
it was visceral: elemental  the swirl, or slight negligence
of penumbra, so many chiming planets
on the walls. He called, "curatorial!" and guards
eyed him curiously, a jagged glint of pink birds
sounding grey in the building's tree harmonies,
wavering and stilled as fountain ripples,
a monograph at the city's centre.
Tyres' rapid sticky friction; the nearness of people
whispering, slightly gesticulating. Parse. Sarcoidal.
The flushing of a toilet. All were loud, too loud
to fix technique.


Graphology 111

"It wasn't a rock
It was a rock lobster."
                    — The B52s

I thought it was a mallee fowl
but it was a banded plover,
bush too thin to sustain the mound,
to hide out from kids eroding undergrowth,
winter-wood robbing, horses working inwards
from firebreaks; but it looked like one — pictures,
maybe one I saw further north as a kid also,
it looked like one though was probably a banded plover,
a faint resemblance at best: a malley fowl,
a modernist hiccup in the bush
that we grow poetically fat on, fat on the cats
shredding small birds in lower branches,
fat on salt runnels around the trunks,
fat on the shotgun fox lancing
out to houses, fat on poison baits
and weeds that also move inwards, escaping
sort of, pure concentration of herbicides.
It's predictable, and this linear poetry is as expected
as the southerly ripping into the valley;                         sock glyph Jonah,
oh word as excited as                                                              sock glyph Jonah

mountain and the sweat hike powder chiropodist playing canasta samba
unfolding of the table

sock glyph Jonah

fucking whale of a mountain from the right angle, and we love it for it
for obscene libel at common law
for the stone that walks
a hanging over, a garden, a break-away, an abbey
dynamically: I should have gone out when my cousin, using old machinery,
put in the crop: 180 acres in that spot, should have looked back to the wheel,
to the cut-up, towing the line;
                                                    nickel cadmium  nicad, NI-CD, nikad, norad, nike
                                                    to leak and irritate and a third of a swimming pool,
rechargeable, and the choice of seed-typing, seeing them out,
the mallee fowl,
so territorial
so leipoa ocellata : our words, as
                                  astringent


Graphology 112

All borders down, tongues fused,
delight saline — it can be like that, manically
denying nation at borders, the SSSS boarding pass
gleaned in the rural cliché; prepping the bowel
or watching 21 Grams again, Naomi Watts busting
out of the shadow of her friend (really),
screaming her way into talent; motels,
time-space conduits, and euro-bureau cafe poetics,
default, English the result.


Graphology 114

Singer, it's not whether the horse feels pain it's the slapping
it that matters — leave the animal alone,
it's not your sex toy. The blue emollient of winter
says that water will bring down bio-diversity;
no scaremongering says the engineer.

You can be Halal and Kosher and observe lean days
and follow Buddha and not eat animals... the fog has lifted here
and ploughing and seeding is coming to an end.
Costello says three children are good:
one for dad, one for mum, one for country.

An orange tree went into the bank yesterday;
white ants are annexing another York gum — mud
annex on the trunk, expanding proportionally
at the base; reading the I Ching will not make the bucket
sing — bright ideas nearer the equinox.

The prime minister insists all schools raise the flag
if they want funding; herbicide ads on regional television
show a flasher shocking weeds to death; John's out there
scraping the firebreaks — it's better that way.
A memo: the president condones torture.


Graphology 115: Hobbies?

Astronomy without a telescope;
Theology and teleology without a belief system
and a belief in an idea of God without any of the above;
constructing illuminated books with no more than a black & red
typewriter ribbon in an Olivetti Lettera 32, reading Stendhal
by way of remembering; playing
electronic chess and then getting it to play itself
when the solution is merely semantic;
no eating — ever; time-sharing contemplations
of what might have been, thoroughly enjoying the waste of time
which people assume for me is an oxymoron or an absolute truth,
happy mediums by the wayside, falling like manic
confetti: the sweat pain of Adonais; the tongue-ties
tend not to speech, hasta la vista, bonsoir
it is evening at noon, and the rocks I like are mercifully
in the ground, it being closer between Northam
and York than you'd think.


Graphology 116: Pre- Composition

The tornado siren runs roughshod
over domestic and public peace
every Friday

tornadoes have shattered
counties    towns    of neighbouring states

given the possibility, and despite the hills here,
it would be testing fate
to complain



The neo-conservatives have a system
of politeness and intimidation

the rain heavy — that front coming through slate blue
just prior dawn, as airmail heads of state,
Machin stamp insinuations
run against the straight edge,
the rainbow parks    we rely on mail here,
but it's only one option



House finch, spread this red as red only
anneals the garden, lopped-off asparagus
spears, this machination

known as Hollywood finch, a depression sale that spreads
along the river, as if makeshift might leak
and raccoon skins hang drip dry
close to the road: hey, here
nothing is explained! inside, deep shag-pile carpets



Pre-emptive, this first amendment
they kind of like to have but equally
would like not to have; these haves
and have-nots. Like Cadillacs.


Twin neck-rings of the killdeer, plover:
heavy vehicles have bitten fields during downpours,
chewed them up, chewed up their


                          apodal notes.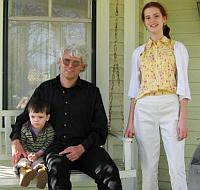 John Kinsella and two of his children, April 2005. Photo by Tracy Ryan
John Kinsella's most recent volumes of poetry are Peripheral Light: New and Selected Poems (WW Norton and Fremantle Arts Centre Press, 2003), and Doppler Effect: Collected Experimental Poems (Salt, 2004). His The New Arcadia poetry volume is due out in June 2005 (WW Norton and Fremantle Arts Centre Press). He is Professor of English at Kenyon College, Ohio, and a Fellow of Churchill College, Cambridge University.