Back to Bowering Feature

Contents List
rob mclennan
Introduction: George Bowering at 70
"1935: George Harry Bowering was born 1 December in Penticton BC. He was the first child of Ewart Harry and Pearl Patricia (nee Brinson), who lived in Peachland. The middle name Harry was traditional for first-born sons in the Bowering line. GB's sister Sally-Ann Patricia was born in 1937. After the Depression and the Second World War, two brothers were born, Roger Dennis in 1946 and Richard James in 1949."
— Roy Miki, "A Writing/ Life: A Chronology," from A Record of Writing: An Annotated and Illustrated Bibliography of George Bowering
George Bowering was part of the 1960s small press explosion in Canada, first as a Vancouver poet and founding editor of the poetry newsletter Tish, along with Fred Wah, Frank Davey, Jamie Reid, Daphne Marlatt [then Buckle] and Robert Hogg, a loose group that also included some of the downtown Vancouver writers who fit into their poetic, the poets John Newlove, Judith Copithorne, Maxine Gadd and writer/ artist Roy Kiyooka. Preferring an American postmodern poetic to that of the examples they found from the east, they initially dismissed the Canadian modernism of Montreal, Toronto and Fredericton that had been created from more British models, opting instead for heroes closer to their interest, such as Jack Spicer, Denise Levertov, Robert Creeley, Robert Olsen, Robin Blaser and Robert Duncan (many of whom were present at the infamous and highly influential Vancouver Poetry Conference at the University of British Columbia in 1963, organized by teacher, critic and Tish mentor Warren Tallman). In his first ten years publishing, Bowering had books published not only by the established presses (Ryerson and McClelland & Stewart), but by the cocky upstarts, which have since become more established (Coach House Press, Talonbooks and Quarry Press).

Throughout the 1960s onward, whatever the avant was at the time, somehow Bowering was almost always at the front of it, whether leading it through his poetry, fiction, critical work, editing or publishing, all the while still working on his sports writing, that he had started as a high school columnist for the local paper. Often accused of over-publishing and name-dropping (as well as not being a proper Canadian writer because of his influence by American models), his always vibrant writing over the years has more than stood the test of time, and often over the work of his detractors. Bowering's example as a prolific poet, fiction writer, editor, publisher and troublemaker was unparalleled, and he often got himself into spats with writers from the east, or even from his own home city. His graduate studies work and teaching took him from his British Columbia interior upbringing into Vancouver, where he helped found and edit Tish, to Calgary (the University of Calgary), London, Ontario (the University of Western Ontario), and to Montreal (during Expo 67), where he left ripples in his wake, including his life-long friendship with the London, Ontario painter Greg Curnoe, and the Vehicule Poets of Montreal (Ken Norris, Artie Gold, Tom Konyves, Claudia Lapp, Stephen Morrissey, Endre Farkas and John McAuley), many of whom came out of his stint in Montreal as writer-in-residence at Sir George Williams (later known as Concordia University). His long poem magazine Imago ran twenty issues between 1964 and 1974, and he continues to be a contributing editor for Frank Davey's critical journal Open Letter. Bowering returned to Vancouver in the early 1970s for a teaching position at Simon Fraser University, from which he retired in 2001. He has won almost every writing award going in Canada, including the Governor General's Award for both poetry and fiction, the bpNichol chapbook award (twice), the Canadian Authors Association Award for Poetry, and the Stephen Leacock Award for Humour. Every award going, he says, except for the BC Book Prize (only the province he was born in and has spent the majority of his life).

Known for keeping himself not only active as a writer, but as a teacher and mentor to younger writers, he has edited numerous anthologies of Canadian writers, written on their work, and, more recently, was involved with the Vancouver 'zine Tads in the late 1990s. An informal 'zine that published the work of a group of Shenanigan's pub regulars, Tads included both peers and former students of Bowering, as the binary "Dads" (older writers) and the "Tads" (taken from Walt Kelly's Pogo, the name they called the young), such as Jason Le Heup, Wayde Compton, Thea Bowering, Ryan Knighton, Jamie Reid, George Stanley, Cath Morris, Renee Rodin, Anne Stone, Chris Turnbull and Reg Johanson. Bowering even collaborated with Knighton on the fiction collection Cars (2002), as well as with contemporaries Mike Matthews, David Bromige and Angela Bowering on the 1960s Vancouver novel Piccolo Mondo (1998), both published by Toronto's Coach House Books. In October 2002, it was announced that George Bowering would be the first Parliamentary Poet Laureate of Canada, and he has since been awarded both the Order of Canada and the Order of British Columbia. After his stint as Poet Laureate (which he spent much of in the "east," based out of the Niagara Region of Ontario), he spent a year as writer-in-residence at the University of Western Ontario in London, before moving back to Vancouver with fiancé Jean Baird.

Built as a birthday present of sorts, this small feature is simply to illustrate and give credit to some of the work Bowering has done over the years, and show some of the influence he has had on Canadian writing (and a few others).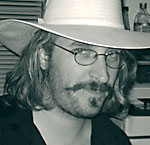 rob mclennan; photo by Sandra Ridley
rob mclennan lives in Ottawa, Canada's glorious capital city, even though he was born there. A prolific author and editor, he has published ten poetry collections including what's left (2004, Talonbooks) and stone, book one (2004, Palimpsest Press), with another, name , an errant due in 2006 with Stride (UK), and edited the collection side/lines: a new Canadian poetics (2002, Insomniac Press). He is working on a number of projects, including "George Bowering: Essays on His Works" (Guernica Editions), and often says things on his clever blog (http://www.robmclennan.blogspot.com/)