Back to Bowering Feature

Contents List
David W. McFadden
Two poems


Chinese
for George Bowering, Canada's First Poet Laureate
A fortune cookie came my way that said
You Will Be Awarded Some Great Honour.
I conspicuously taped it to my fridge.
But that sugary augury may have been meant
for you, George Bowering. Why would anyone
give some great honour to some no-good bum
when there stands a noble specimen like you
eager to receive the loftiest laurel?

We're known for needing no encouragement.
We strive to save our planet from disgrace.
And when a bonehead like me honours himself
likewise honoured are all the other klutzes.
Whenever we write a word we think worthwhile
we honour our secret selves as well as the world.


Saskatoon

Call me Diefenbaker. I'm the prime
minister of Canada. I'm on the train
heading from Ottawa to Saskatoon
and flipping through the pages of a book
by the poet George H. Bowering.
Holy smoke! A chapter devoted to me!
I can't understand a bloody word of it
but it's Canadian so it must be good.

Olive made me promise that I'd read it.
Odd coincidence: the lad's from Oliver!
Fields of snow stretch out to the horizon.
And suddenly, leaning on a fencepost,
some guy holds up a sign as the train goes by:
George Bowering You Will Never Die.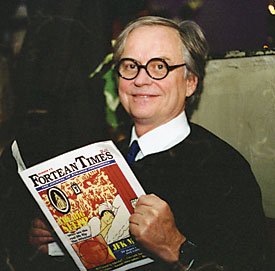 David W. McFadden. Photo by Steve Venright.
David W. McFadden lives in Toronto. Close personal friend of George Bowering since 1960. Most recent book of poems is Five Star Planet (Vancouver: Talonbooks, 2002). Most recent non-fiction book is An Innocent in Cuba (Toronto: McClelland and Stewart, 2005).