Back to Bowering Feature

Contents List

rob mclennan reviews

Changing on the Fly, The Best Lyric Poems of George Bowering
by George Bowering


This review is 4,000 words
or about 8 printed pages long
one selected, two selected
I've already forgotten who it was that claimed an author only alive as long as they remained in print. If that's so, I'm hoping that Canada's first Parliamentary poet laureate (November 2002 — November 2004), George Bowering, will be alive forever. Bowering, who recently returned to Vancouver, British Columbia, after a few years in Ontario's Niagara Region, has published more books than anyone can keep track (although some of us do try), from poetry and fiction to young adult novels, and from literary essays to volumes of unofficial histories of Canada. His fifth volume of selected poems, after the collections Touch (1971), Particular Accidents (1980), West Window: Selected Poetry (1982), and George Bowering Selected: Poems 1961-1992 (1993), Changing on the Fly, The Best Lyric Poems of George Bowering, does what it says, focusing on the short lyric, even those included as longer sequences. What makes the volume interesting, is that it focuses on a number of Bowering's poems that haven't been selected previously, remaining only in the collections where they began, while still including a number of the old standards such as "Desert Elm," and the breathtaking "Do Sink," which not only won the bpNichol award for best poetry chapbook in 1992, but really needs to be read out loud to be fully appreciated.

Part of Bowering's strength is that he never lost sight of the smaller press, event when publishing with much larger houses. A number of the pieces in the collection come from very small press publications, including chapbooks from derek beaulieu's housepress ( Some Writers, 2001) and Roy Miki's Pomflit ( Do Sink, 1992). I've heard say, previously, that "Desert Elm," for example, was long considered Bowering's finest poem, but the more recent Do Sink could easily overtake it. A fourteen part poem, three stanzas each, it rewrites the sonnet as a long poem, with each part including a consecutive line of the Keats classic, "When I Have Fears That I May Cease to Be," written in January, 1818. As "Desert Elm" wrote about Bowering's father, "Do Sink" writes about his mother's family, and searching for a home that is no longer there, but with such a lyric music that it becomes hard to read the piece without hearing it sing.
Do Sink





1.



When I have fears that I
may cease to be
open to pain that shines
wet on the side of a gold
fish in my own, I thought,
pond

I ought to forget
comfort, forget family
history, drive a black sedan
over thin prairie roads
looking for a town even
my mother does not believe
was ever there

knowing
pain is not colour, not value
but condition, the cost
of starting a damned life
in the first place, where no
thinking man ever was.

from DO SINK . 1992
In an interview conducted by Vancouver writer donato mancini (originally published in the British Columbia web journal, It's Still Winter, and reprinted in Causal Talk / interviews with four poets), Bowering talked about the lyric, saying:

Now I suppose that once a long poem such as Allophanes is in book form, one can move around in it as a reader; but the main excitement (of the senses, mind) come from the moving line by line. Allophanes also fights that process, as you see, with the abrupt departures. Lyrics, yes, are just about music, temporal.

Unfortunately, even though my own above/ ground press is referenced twice, I've already managed to find a typo regarding my little publications. I published the first half of Bowering's forty part "Blonds on Bikes" sequence as "Blondes on Bikes 1-20" in STANZAS #12 back in April, 1997. The poems in the selected that I'm credited with publishing actually appeared in his full collection, Blonds on Bikes, published later that year by Vancouver's Talonbooks. Also, it entertains me greatly that he included poems from the chapbook A, You're Adorable, that I published in 1998 (not 1988, as it claims inside), especially since, until now, neither of us have admitted in print that it was his work, and not a sequence of twenty-six poems by the enigmatic Vancouver poet "Ellen Field." The "H" poem from that sequence, included in the selected, even appeared as a handout under "Ellen Field" at the bpNichol conference a few years ago in Vancouver. Certainly this isn't the first time Bowering's pseudonyms have slipped into one of his own collections. A couple of poems that appeared in Pier Giorgio Di Cicco's anthology Roman Candles: An Anthology of Poems by Seventeen Italo-Canadian Poets (1978) under the name Ed Prato were later included in Bowering's poetry collection Seventy-One Poems For People (1985). George Bowering, Vancouver troublemaker. Simply to read his bibliography, you get a sense of it, including the pseudonym created simply to review books in Vancouver's weekly independent, The Georgia Straight.

According to Roy Miki's A Record of Writing: An Annotated and Illustrated Bibliography of George Bowering (1989), Bowering has stayed out of the selection process of any of his selecteds (at least, up to that point), saying "Whenever anyone else is editing my stuff, I always just leave it entirely up to them," and the inside cover credits Lynn Henry as editor, included almost as a tiny aside hidden among the colophon.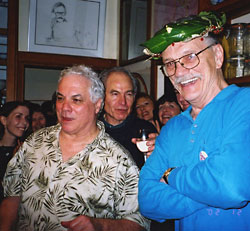 George Bowering, crowned with laurels.
Photo Renee Rodin.

Since he became Canada's first Parliamentary Poet Laureate in 2002, it seems as though Bowering has deliberately not published a collection of poems, moving from Stone Country: An Unauthorized History of Canada (2003) (a finalist for the Stephen Leacock Award for Humour) to a volume of selected short fiction, Standing on Richards (2004). There are still rumours of a selected essays to appear at some point, but I think we will only know for sure when it appears.

The collection moves through twenty-four of Bowering's previous collections, including Points on the Grid (1964), The Man in Yellow Boots (1965), The Silver Wire (1966), The Gangs of Kosmos (1969), Rocky Mountain Foot (1969), George, Vancouver (1970), Curious (1973), The Concrete Island (1977), Another Mouth (1979), Smoking Mirror (1982), Delayed Mercy & Other Poems (1986), Urban Snow (1992) and His Life (2000). Again, I appreciate the focus. I think there are whole collections here that haven't been included in any of his previous selected poems.
LET US SAY



Let us say
this is as far as I, George,
have travelled,

the line
obscured still, the coast
I mean, touched, sighted,
mapped to some extent,
the islands
noted.

Now on this side, east,
it is that much,
water, pines, the Spanish
& their names, the savages
on the edge of the water.

I have seen some
of what lies in the mind,
the fancy of the British king
gone like fish odour
into the life-giving fog of that coast.

Aug 2, 1967

from GEORGE, VANCOUVER . 1970
There have been a number of threads evident throughout Bowering's career as a poet and writer. For example, Eva-Marie Kröller wrote on the visual art threads through his writing in her Bright Circles of Colour (1992), citing Bowering's poetry through his friendships with and influences by painters such as Jack Chambers, Brian Fisher, and of course, the late London, Ontario visual artist Greg Curnoe. But many others certainly exist, such as baseball ( Baseball and other poems; Great Canadian Sports Stories), Canadian history ( Rocky Mountain Foot; George, Vancouver; "Uncle Louis"), writing on other writers ( Curious; Some Writers), the consideration of the local (something adapted from, among other sources, early reading of the poetry of William Carlos Williams), and books simply written from what he has called the "baffle," writing against a prescribed boundary ( A, You're Adorable; Geneve; Do Sink; His Life, A Poem; Kerrisdale Elegies), that often included the number forty-eight ( Autobiology). George Bowering has probably written baseball more than any other Canadian poet, living or dead, calling it the "thinking man's game," and his poetry on the subject would probably make an interesting book-length study in itself. The other side, say, of another Vancouver resident, fiction writer W. P. Kinsella, and his tales of "Shoeless Joe Jackson" (the stories that became the movie Field of Dreams). In an interview conducted by Ken Norris in the George Bowering issue of Essays on Canadian Writing (1989), Bowering has this to say of the "baffle," among other subjects:

I have, of course, been guilty of many longer poems, certainly not long poems in the Miltonic sense, in the Spenserian sense. Maybe in the Shelleyan sense. I look back on "Desert Elm" with continuing respect, and it is only 10 sections long. Similiarly with the 10-page efforts called "Old Standards" and "Summer Solstice." Among my book-length poems I rather retain a regard for Allophanes. I haven't decided on Kerrisdale Elegies yet. I have mentioned to people on previous occasions that I tend to write a longer poem the way Victor Coleman or Roy Kiyooka do; that is, I have what I call a "baffle," some rule I impose on myself, like writing a poem alphabetically, or using the tarot cards; that way I can prevent the individually desirous will from its ambition. That is, I can try to meet the dictates of the rule out there, while the real business of the poem is going on unbeknownst to me. That way I can keep the poem relatively free of expression, expression of my feelings or thoughts, etc., which is just a disguised way of saying expression of one's will. I like what is going on in Robert Duncan's never-ending series. He along with [Jack] Spicer, were of course the masters of us West Coast lads. They seem to accord to things [Alfred North] Whitehead would teach a poet — that whatever order he thinks to design for a poem must needs be picayne in the context of the great order already there for seeking out. I delight, when rereading one of "my" poems, in finding traces of that order.

Another thread, all throughout his collection His Life, and very much in this new selected, is his late wife Angela, who died in 1999, in such poems as "For A," "Poem for my wife Angela," "Rime Of Our Time," "My Family's All In Bed," or the poem "The Boat." Bowering isn't a poet that works sentiment, or could be called a romantic, upper or lower case, but returned and returns in his poetry to his wife, with poems praising her and their marriage.
THE BOAT



I say to you,
marriage is a boat.

When the seas are
high enough to
turn us over

we must hold
not one another
but our own positions.

Yet when the water
is calm under sea moon

we can even stand up
& dance
holding tight, each to each.

from THE GANGS OF KOSMOS . 1969
It makes me wonder, in hindsight, if that's part of the reference to his pseudonym Ellen Field's first chapbook, A, You're Adorable? A is for Angela.

In his collection, Curious, he wrote poems for other poets, including bpNichol, George Stanley, Daphne Marlatt and James Reaney (all four are included in the selected) and in Some Writers, wrote prose pieces for other writers, both poets and fiction writers, such as Matt Cohen, P.K. Page and F.R. Scott (also included). Along similar lines, and originally written for an issue of Brick magazine, published just after the painter Roy Kiyooka died, Bowering wrote a piece for him, published later in Blonds on Bikes, and included in this new selected:
FILL OUR HOUSES



    Every time Roy Kiyooka came back from somewhere
he was wearing some shoes no one else ever had.
    Roy Kiyooka had small feet and small hips and a big
forehead and a few chin hairs and two missing finger tips.
    His body was so small it could have been fitted inside
his enormous laugh.
    Oh dear, he would say at the end of that laugh, and
m-hmm, m-hmm, as he returned to whatever he had been
    saying.
    Once he laughed and said oh dear all the way down
the 401 in a drive-away car from Montreal to Toronto,
sometimes a little off the pavement.
    He hardly ever looked through the windshield. I was
in the back seat and he was looking at me. Scared me to
death.
    Guys like me will never understand Zen and hokku and
hard edge ellipses, but we fill our houses with them.
    Fill our houses with Roy Kiyooka, walk by him every
day from now on, catch sight of a head band.
    My keyboard always spells it Kiyooks. I have to correct
it every time. I've written Kiyooks and Kiyooka five
thousand times in my life.
    Nevertheless, these ears would lend anything to hear
that waterslide laugh again, ten more times.
    We've all got him, Roy. Never saw so many friends.
Students coming out of the walls. Family on the moon.
    I lost my favorite old shoes around the time Roy was
leaving us. I'd let them go forever if I could spend a life with
old Kiyooks.
And then, of course, there's death. Bowering likes to relate the story of the poem "Death," telling us that he spent years trying to submit manuscripts that included that poem, titling each collection "Death and other poems." Each publisher, down the line, would veto the title, and Bowering would remove the title poem, and attempt it in the next. Originally published in trade form in Urban Snow, then his previous Selected as well as this new one, the poem first appeared in the Essays on Canadian Writing issue edited by Ken Norris (the line lengths slightly modified for the wider margins in the new version):
DEATH



I'm going to write a poem about life & death, I said, but
mostly about death. But you are always doing that, said D,
your last poem was about death. The poem before that one
was about death. In fact if you looked at all your writing,
especially the poems, you would find pretty near nothing
but death. A lot of the time you seem to be laughing about
it, but that doesnt fool anyone.

Yes, but this time I am going to make it a real poem about
life but mainly death, I'll grant you that. None of that lacy
Rilke death, none of that ho ho Vonnegut death. I mean real
death or I should say real thinking about death. For instance?
asked D. Well, for instance, take the way you feel like how
awful it would be when you cant put an arm around a perfect
waist, & there is that swelling out of hip upon which it is
natural to rest an arm. How wonderful, and how terrible not
to be able to look forward to that ever again.

You see? said D, you announce that you are going to say
something straight about death, and there you are talking
about life, as far as I can see. That's just my point, I said.
Death will be horrible because it won't have anything of life
in it, no matter how many fancypants graduate students
have told me that you can't really submerge yourself in life
unless you are fully conscious of your death. They have all been
reading Albert Camus lately, & they are so much wiser
than I am.

I suppose you are using all of the things I have been saying as
part of your poem, said D. Of course, I said. You are to this
poem as a swelling out of lovely hip is to an arm that has
snaked around a dear waist.

Just then I realized that I had made D up in my imagination,
& now there was no D at all, & I had to forget about writing
another poem about life & death, but especially about death,
especially about death from a straight point of view, because
M came into the room while I was typing & had a persistent
gripe about C, & no matter how interrupted I managed to
make myself look on the chair in front of the keyboard, M
just kept on & on till the poem had followed D to some
place we will never find the way to.
I find it interesting that the editor of the collection, Lynn Henry, has managed to include almost every thread of Bowering's subjective interest in this new selected, showing her knowledge of the work through and behind the writing. This might easily be the first selection of George Bowering's poetry that moves through subject, away from the "hits" or a selected based around more formal considerations, and deeper into the threads of his ongoing work. It couldn't have been easy for Henry to edit/ select for such a thin volume, going back through dozens of collections to Bowering's first, the 1962 collection, Sticks & Stones. That, for a writer who claimed subject matter second, and movement first. As he said earlier, in the same interview by Ken Norris:

Poetry, as far as I am concerned, is not interesting insofar as it is "about" anything, though I may out of curiosity read some poem about baseball or about Mexican food. I am not sure that poetry is interesting insofar as it is "about" poetry, then. But I do believe that when a novelist is making a novel, his intent is on the shape of the novel, not on the shape of life. If it were on the latter, why wouldnt he write an essay, or a letter to the paper, or anything else that is more often encountered than a novel? [. . .]
I will tell you what art, what poetry is separated from life. It is the poetry that is written by somebody who has decided to use it to express herself. You do that by crying, or by hitting someone, or by wearing some stupid thing — three earrings in each ear. As soon as you start expression yourself in a poem, the resources of the whole language, and the response of the reader are both infibulated.

It does seem strange to me that our first Parliamentary Poet Laureate, during his laureate tenure, published no poetry in trade form, but for this new selected, but in that same time, published history and fiction (the bio on the back of the more recent Lost in the Library says that he is working on the second draft of a book of baseball memoirs). I do wonder, though, if this is simply a waiting game, a tactic of delay that Bowering has set up, before the next collection of new poems appears. The Concrete Island, for example, was made up of poems written from September 1968 to January 1971, when he lived in Montreal, during a stint at Sir George Williams (which later became Concordia University), which included him as writer-in-residence. While there, he taught, among others, the young poets that would eventually become Montréal's Véhicule Poets of the 1970s and 1980s. The "Blondes on Bikes" sequence was written during his time in Norway (hence, all of the nordic "blondes/ blonds"). With Bowering's recent central Canadian stay, including a stint he did as writer-in-residence at the University of Western Ontario, in London, will there be a collection of Ontario poems?
WINTER 1981 . VENICE



Here beside this dark sea
the dainty Doge has scrambled indoors.

How lucky they were yesterday
to see snow in St Mark's square,

how lucky today to look out their window
on people in hip waders
carrying widows across the riva.

At five-thirty in the morning
he woke to hear Italian shouted below,

from mature throats. Yesterday in the Basilica
the children's choir faltered
when the parents' applause
greeted the Cardinal's entrance from off-stage.

Later outside, the liberated boys and girls
were learning to make snowballs.

This, he told his daughter,
is what happens when you marry the sea.

from HIS LIFE . 2000
This new selected is an impressive collection, made more essential for the fact that the previous selected poems from McClelland & Stewart was remaindered almost immediately, despite the fact that it won the Canadian Authors Association Award for Poetry (McClelland & Stewart has since abandoned its long-established series of Selected Poems by Canadian writers, amid suggestions they did because volumes of selected poems are no longer eligible for most awards in Canada). Is this what we do with our old masters? I'm glad, at least, that Lynn Henry and Raincoast were there, finally, to pick up the slack. I'm waiting for the collection that will include the poems from the chaplet Lost in the Library, including the eight part title poem, possibly written while still in the east, starting:
I'm lost in the library,
stranded in the stacks.

I'm a standing huckleberry
wearing stained slacks.

I'm simply ordinary
and I'm loaded down with facts,

looking for myself
on the shelf.

*

I'm looking at my name
on a couple dozen spines.

I'm contemplating fame
in a field that's full of mines.

I'm dressed up for the game
and I'm sweating out some lines,

knocking off a poem
far from home.
Works Cited
Bowering, George. A, You're Adorable. chapbook. First edition, as "Ellen Field." Ottawa ON: above/ ground press, 1998. Second edition, "George Bowering as Ellen Field." Ottawa ON: above/ ground press, 2004.
———. Another Mouth. Toronto ON: McClelland & Stewart, 1979.
———. Baseball and other poems. Windsor ON: Black Moss Press, 19.
———. "Blondes on Bikes 1-20," published as STANZAS #12. Ottawa ON: above/ ground press, 1997.
———. Blonds on Bikes. Vancouver BC: Talonbooks, 1997.
———. Changing on the Fly, The Best Lyric Poems of George Bowering. Vancouver BC: Polestar Books, 2004.
———. Curious. Toronto ON: Coach House Press, 1973.
———. Delayed Mercy & Other Poems. Toronto ON: Coach House Press, 1986.
———. Do Sink. chapbook. Vancouver BC: Pomflit, 1992.
———. George Bowering Selected: Poems 1961-1992. Toronto ON: McClelland & Stewart, 1993.
———. George, Vancouver. Toronto ON: Weed/ Flower Press, 1970.
———. Ed. Great Canadian Sports Stories. Ottawa ON: Oberon Press, 1979.
———. His Life. Toronto ON: ECW Press, 2000.
———. Lost in the Library. Ellsworth ME: Backwoods Broadsides, "Chaplet Series #84," 2004.
———. Particular Accidents. Vancouver: Talonbooks, 1980.
———. Points on the Grid. Toronto ON: Contact Press, 1964.
———. Rocky Mountain Foot. Toronto ON: McClelland & Stewart, 1969.
———. Seventy-One Poems For People. Red Deer AB: Red Deer College Press, 1985.
———. Some Writers. chapbook. Calgary AB: housepress, 2001.
———. Touch. Toronto: McClelland & Stewart, 1971.
———. The Concrete Island. Montreal QC: Vehicule Press, 1977.
———. The Gangs of Kosmos. Toronto ON: House of Anansi, 1969.
———. The Man in Yellow Boots. Mexico: El Corno Emplumado,1965.
———. The Silver Wire. Kingston ON: Quarry Press, 1966.
———. Smoking Mirror. Edmonton AB: Longspoon, 1982.
———. Standing on Richards. Toronto ON: Viking Canada, 2004.
———. Sticks & Stones. Vancouver BC: Tishbooks, 1962; Talonbooks, 1989.
———. Stone Country: an Unauthorized History of Canada. Toronto ON: Penguin Canada, 2003.
———. Urban Snow. Vancouver BC: Talonbooks, 1992.
———. West Window: Selected Poetry. Toronto: General Publishing, 1982.
Di Cicco, Pier Giorgio, editor. Roman Candles: An Anthology of Poems by Seventeen Italo-Canadian Poets. Toronto ON: Hounslow Press, 1978.
Kröller, Eva-Marie. George Bowering: Bright Circles of Colour. Vancouver BC: Talonbooks, 1992.
mancini, donato. Causal Talk / interviews with four poets. Ottawa ON: above/ ground press, 2004.
Miki, Roy. A Record of Writing: An Annotated and Illustrated Bibliography of George Bowering. Vancouver BC: Talonbooks, 1989.
Norris, Ken. "The Efficacy of the Sentence as the Basis of Reality: An Interview with George Bowering." Toronto ON: Essays on Canadian Writing, Number 38, summer 1989.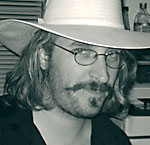 rob mclennan; photo by Sandra Ridley
rob mclennan lives in Ottawa, Canada's glorious capital city, even though he was born there. A prolific author and editor, he has published ten poetry collections including what's left (2004, Talonbooks) and stone, book one (2004, Palimpsest Press), with another, name , an errant due in 2006 with Stride (UK), and edited the collection side/lines: a new Canadian poetics (2002, Insomniac Press). He is working on a number of projects, including "George Bowering: Essays on His Works" (Guernica Editions), and often says things on his clever blog (http://www.robmclennan.blogspot.com/)