Andrés Ajens
Translucinating Forrest Johnson
[to American-Spanish, with María Loreto Pizarro]
See note
VII

En el inexplicable lugar donde nonada y encuentro se dan lugar,
la hermosura de la vida es un hecho que no puede ni ha de negarse.
  The beauty of life,
   through the miracle of living.
   The loveliness of life,
   which remains,
   through the musphañarakiwa of dying.
La vida fluye y pasa y vuela y repliégase en una interioridad inescrutable.
En el aura de los andantes, en lo más vivo,
en el viento conmoviéndose con el ir y venir de los susodichos,
en los dichos, en las demandas, en el humo, en los gritos
— en las calles, con iluminadas paredes a veces y, otras, en la más completa oscuridad.
En el contemplar las cosas, con que los animales suelen contemplar;
en ese contemplar de lo humano con que lo humano suele contemplar el contemplar de
[los animales que contemplan las cosas contemplar.
En la urdiembre de la tela,
en el fierro cuando el fierro es fierro.
En la mesa,
en la casa.
En el borde del río,
en lo húmedo del aire.
En el calor del verano, en el frío del invierno, en la luz de la primavera
— en un abrir y cerrar de ojos.
Rasgando el horizonte o tumbándose en el abismo,
la verdadera vida se encabrita y se sumerge.



kent johnson y forrest gander

VII

At the inexpicable site, exactly where ruin and reunion taken place,
the loveliness of life is a truth that one neither can nor should deny.
        The beauty of life,
        through the miracle of living.
        The loveliness of life,
        which remains,
        through the miracle of dying.
Life flows, passes and soars, coil into an unreachable innerness.
In the aura of the passersby, at the very quick,
in the wind, quavering with the leaving and coming of the passersby,
in the sayings, in the pleadings, in the shouts, in the smoke
— in the streets, with a light sometimes on the walls, and other times
with a darkness.
In the gazing upon things with which animals tend to gaze;
in that gazing of the human, with which the human tends to gaze of the
[animals gazing upon things.
In the weave of cloth,
in iron where iron is iron.
In the table,
in the house.
In the river's edge.
In the moisture of the air.
In the heat of summer, in the cold of winter, in the light of spring.
— in the opening and closing of eyes.
Tearing open the horizon or entombing itself in the abyss,
real life rears its head and goes under.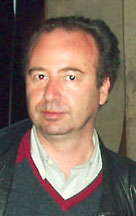 Andrés Ajens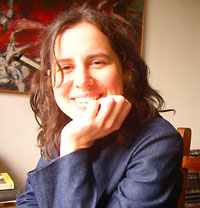 María Loreto Pizarro
Note: From Immanent Visitor, selected poems of Jaime Saenz, translated by Kent Johnson & Forrest Gander (University of California Press, 2002), p. 44 & 45, passage corresponding to the seventh stretch of To Cross this Distance. [Recorrer esta distancia]; translucination by M. Loreto Pizarro y Andrés Ajens.