Margaret Avison
Eight poems
The World Still Needs

Frivolity is out of season.
Yet, in this poetry, let it be admitted
The world still needs piano-tuners
And has fewer, and more of these
Grey fellows prone to liquor
On an unlikely Tuesday, gritty with wind,
When somewhere behind windows,
A housewife stays for him until the
     Hour of the uneasy bridge-club cocktails
     And the office rush at the groceteria
     And the vesper-bell and lit-up buses passing
     And the supper trays along the hospital corridor,
Suffering from
Sore throat and dusty curtains.

Not all alone on the deserted boathouse
Or even on the prairie freight
(The engineer leaned out, watchful and blank
And had no Christmas worries
Mainly because it was the eve of April),
Is like the moment
When the piano in the concert-hall
Finds texture absolute, a single solitude
For those hundreds in rows, half out of overcoats,
Their eyes swimming with sleep.

From this communal cramp of understanding
Springs up suburbia, where every man would build
A clapboard in a well of Russian forest
With yard enough for a high clothesline strung
To a small balcony …
A woman whose eyes shine like evening's star
Takes in the freshblown linen
While sky a lonely wash of pink is still
reflected in brown mud
Where lettuces will grow, another spring.


This poem is from the first volume of 'Always Now', the collected poems of Margaret Avison. It was originally published in her first book 'Winter Sun' (Routledge,Kegan Paul, 1960 )


End of a Day or I as a Blurry

I as a blurry groundhog bundling home
find autumn storeyed:

          underfoot is leafstain and gleam of wet;
          at the curb, crisp weed
          thistled and russeted;
          then there's the streetlight level;
          then window loftlights, yellower;
          above these, barely, tiers
          of gloaming branches,
          a sheet of paraffin-pale wind,
          then torn cloud-thatch and
          the disappearing clear.

Indoors promises
such creatureliness as disinhabits
a cold layered beauty
flowing out there.


Needy

     I.
In part, who isn't
     miserly with his need —
     or needled by it —
     or debonair
     as though it were not there —
     or, at best, genuinely free
          to need yet never be
          needy?

     II.
'The poor are always being
inspected: by the
     Fire Department, for litter, oily rags, those
     lamp-cords from the washing-machine to
     the hall ceiling socket, etc.;
                by the
     "worker" with new forms
     to be written on;
                by the
     mission visitor "to invite
     you to the children's pageant";
somebody even inspects
to check on whether it's true you keep chickens and goats!'

     III.
Home after a day of calls
she absent-mindedly pulls
the curtains first
and then acknowledges a thirst:
everything has run out
again tonight.


Christmas Approaches, Highway 401

Seed of snow
     on cement, ditch-rut, rink-steel, salted where
     grass straws thinly scrape against lowering
     daydark in the rise of the earth-crust there
     (and beyond, the scavenging birds
                          flitter and skim)
is particle
     unto earth's thirsting,
     spring rain,
     wellspring.
     Roadwork, earthwork, pits in hillsides,
     desolation, abandoned roadside shacks
     and dwelt in,
     unkilned pottery broken and strawed about,
     minibrick people-palaces,
     coming and going always
     by day all lump and ache
is sown tonight with the beauty
     of light and moving lights, light travelling, light
     shining from beyond farthestness.


These three poems are from the second volume of 'Always Now', the collected poems of Margaret Avison. They were originally published in her book 'sunblue' (Lancelot Press,1978).


The Hid, Here

Big birds fly past the window
trailing strings or vines
out in the big blue.

Big trees become designs
of delicate floral tracery
in golden green.

The Milky Way
end over end like a football
lobs, towards that still
unreachable elsewhere
that is hid within bud and nest-stuff and bright air
where the big birds flew
past the now waiting window.


A Small Music on a Spring Morning

Why did they put the
blue and white live
balloons out with the trash
this morning just because
the party's over — when they
thub on the cardboard still
roundly, and lift on their leashes?

Having balloons about on an
overcast morning is
celebration. O in the grey
nothing distracts from the bobbling
lightsomeness of a drift of
all-alone trembling to be touched
balloons.


These two poems are from the second volume of 'Always Now', the collected poems of Margaret Avison. They were originally published in her book 'No Time' (Lancelot Press, 1989)


Cycle of Community

Mid-morning paraffin film over the
dayshine has
incidentally opened the ear
to little clanks and whirrs
out there, the hum
of a world going on,
untroubled by the silent witness, sky.
We here are silent. Yet being
drawn into, with, each
creature, each machine-work
thump, each step, farawy bark,
buzz, whine, rustle, etc.
goes to give our city
a voice, dampered by distance;
serves, through outer
windless openness of skywash, to
open a bud of tremulous hearing.

Full day will blare away
later. Then —
walk (an even pace) where cars, trucks, a
cement-mixer, teenagers out of school,
and a tied puppy keening
outside the grocer's,
provide a mix the studios would
take pride in.
Go steadily for your sake and
the others' on the sidewalk
burrowing by. And keep your face
like anyone's, in
pedestrious preoccupation —
although
you'll have to part your lips
a little, to play in.

First, test the pitch of the
prevailing din
(humming), then (still with no
perceptible opening of the mouth)
intone on the same tone-level
with all the enveloping street-sound.
Louder. As loudly as you can!
Nobody hears a thing,
                                  even yourself!
Otherwise surely someone would
give that quick glance of
furtive avoidance that flicks
some flushed and angrily
gesturing man you may
hear shouting along
anywhere about town. He chooses
to stray apart from the
condemnable crazy world.

Surprisingly, evening, after the hours
of sharp light, closes in
overcast. Our thunderous busynesses
shift into calmer surge and flow.
Before dark (sky and windows
contemplating emptiness) we half-
hear the foghorn and remember
the lake, and night.


This  poem is from the third volume of 'Always Now', the collected poems of Margaret Avison. It was originally published in her book 'Concrete and Wild Carrot' (Brick Books, 2002).


The Fixed in a Flux

From the back seat, barley fields and sky
jolt into: shacks, outbreaks of
garish little gas
stations wherein shine
those cabinets of pop. It's like
a breathing-out relief,
being borne on, to
gaze again out over
unfenced pastureland
in a light that is a
misty blue-spruce colour.

Such a traveller
sees, certainly, and yet
with a kind of non-
seeing. Still the particulars
stand out, accurate
to a roof-slant with
partly fallen chimney
or that tall ditch-top spike
of thistle, odd, in silhouette against
nothing. This non-seeing calls for only
a moving car — or train window.

Freed from responsibility to
everyday eyework, non-seeing
peaceably receives, without withholding
acceptance.

Persons with a point of view say 'I
see,' to one another, but when
drawn through a keyhole of a solitary time,
are simply open
to what, in time, must pass;
all that is seen being there
a now that nonetheless is not
quite here.


This  poem is from the third volume of 'Always Now', the collected poems of Margaret Avison. It begins the final section of the collection called 'Too Towards Tomorrow:New Poems'.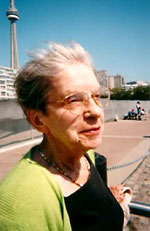 Margaret Avison
Photo by Joan Eichner
Margaret Avison was born in Galt, Ontario, in 1918. She studied at the University of Toronto, and subsequently worked as a librarian, editor, lecturer, and social worker. She began publishing poems in 1939 in Canadian Poetry Magazine. Her first poetry collection, Winter Sun (1960) was begun in Chicago where Avison lived in 1956 as a Guggenheim fellow. The poems in this collection are deeply introspective, concerned with moral sensibility. Her subsequent collections explore spiritual discovery combining a sense of social concern with moral and religious values in the work. She has twice been awarded the Canadian Governor General's Award (for Winter Sun and No Time, 1989). She holds three honorary doctorates, and has been named an Officer of the Order of Canada. Her recent collection of poems, Concrete and Wild Carrot (Brick Books, 2002), won the Griffin Prize for Poetry. It also received the Jack Chalmers Award from the Canadian Authors Association.
Acknowledgement:
Thanks are due to Elke and Tim Inkster of the Canadian literary press, The Porcupine's Quill, publishers in 2004 of Always Now- The Collected Poems, Volumes One, Two and Three by Margaret Avison and to the author for permission to use these poems. Visit The Porcupine's Quill — http://www.sentex.net/~pql