Jon Fosse
The train in one's heart
English version by May-Brit Akerholt
I

The train in one's heart
is long —
as long as the wind, as long
as a black tree. My mother has
wind in orange plastic buckets. She washes
the floor with experienced
movements. My father
sticks his head under his arm and whistles
for the stars
with his eyes. I want to go home where

the fear is mould in your feet, where
the radio reeks forgivingly of brown gravy
to organ music
every Sunday morning, where
the fjord breathes through the ripe pears.


II

Increasingly distant, away. Distant
and increasingly closer.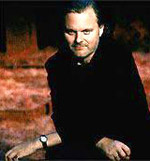 Jon Fosse
Jon Fosse was born in 1959 in the Norge coastal town of Haugesund, grew up by a fjord in mountainous Hardanger, and now lives and writes in Bergen. He has a Masters degree in comparative literature, and taught at The Academy of Writing until 1992. Since then he has been a professional writer. He writes poetry, plays and novels, and has also published essays on literary topics. He has published more than thirty books, among them two volumes of poetry: Angel with Water in Her Eyes and Dog and Angel. Fosse has received several literary scholarships and numerous awards. His books and plays have been translated into thirty languages, and his plays are produced in almost every European country. Mother and Child was produced by East Coast Theatre Company at Belvoir Downstairs (Sydney, Australia), and the same company co-produced Death Variations with B Sharp at the Seymour Centre in 2005.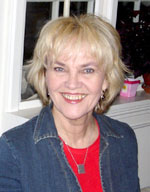 May-Brit Akerholt
May-Brit Akerholt was Tutor in English at Macquarie University in Sydney, Australia, then Lecturer in Drama and Dramaturg at the National Institute of Dramatic Art. She was then Resident Dramaturg at the Sydney Theatre Company for six years, and Artistic Director of the Australian National Playwrights' Centre, where she ran ten National Playwrights' Conferences. She is the recipient of a Fellowship from the Theatre Board of Australia Council. May-Brit has translated more than twenty plays which have been produced by various theatre companies around Australia, including Sydney Theatre Company, Company B Belvoir, State Theatre Company of SA, Anthill, Queensland Theatre Company. She is the Norwegian playwright Jon Fosse's English translator. Her numerous publications include 'New Stages: Contemporary Theatre' in Cambridge Companion to Australian Literature, a book on Patrick White's drama, and several volumes of translations, including a volume of five translations of Jon Fosse's plays by Oberon Books, London.