Andrew Johnston
Mauve
Mauve, the blue,
from edge to edge

then all the river —
the river Mauve —

many millstreams,
many mills

grind the grain of days —
the old days, that come back

one by one, all summer,
dressed in mauve.

*

Mirrorshards —
the dragonfly

helps you reassemble
iridescent splinters into

something resembling
the same face, lined

with broken light —
a pool of sky, its waterskin

unhidden by
the dragonfly.

*

Acres of slate I walk
in my chalk boots, disproving

formula after formula.
Time swam

in my hands
for all I care —

slate's mauve tint,
mountains of cloud —

it will rain
and it will rain.

*

Mauve, a moment
leaves

move over
light

arrives,
divides,

leaving room
beside hard

white
time.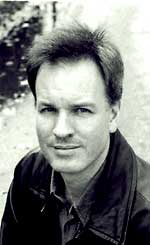 Andrew Johnston
Photo Charley Cupic
Andrew Johnston is a New Zealand poet who lives in Paris, where he edits The Page at http://thepage.name/ His most recent book is Birds of Europe (Victoria University Press, 2000). 'Mauve' is from his forthcoming book Sol.