Barbara Guest: Seeking Air (Los Angeles: Black Sparrow Press, 1978; Los Angeles: Sun & Moon Press, 1997)
Barbara Guest: Fair Realism (Los Angeles: Sun & Moon Press, 1989)
Barbara Guest: Defensive Rapture (Los Angeles: Sun & Moon Press, 1993)
Barbara Guest: Selected Poems (Los Angeles: Sun & Moon Press, 1995)
The Lannan Foundation Reading occurred in Los Angeles at the Pacific Design Center in Los Angeles on April 16, 1996. A tape of her reading and interview with me was made and distributed by the Lannan Foundation.
Barbara Guest: The Confetti Trees (Los Angeles: Sun & Moon Press, 1999)
This piece is 2,800 words
or about 5 printed pages long
Douglas Messerli
The Countess of Berkeley
Barbara Guest died on February 15, 2006 in Berkeley, California. Her funeral was held in Oakland on February 24.
On this cold, rainy day in Los Angeles, I sit at my office window overlooking a wet Wilshire Boulevard contemplating the recent death of Barbara Guest. Barbara would have loved it, being in Los Angeles — a place which represented so many childhood memories for her — and perhaps even the rain. At least she would have said she loved it; I can hear her lilting, slightly arch, but also girlish voice: "Oh, how wonderful it is! To be inside on such a day looking out upon the busy boulevard!" — or something to that effect. For Barbara was a sort of eternal optimist, fragile perhaps and slightly afraid of what the future may bring, but determined to enjoy every moment of the present. She may not have always liked what she experienced, but she made you feel she did. Even if she later had qualms, while in your company she seemed to be completely content with the world. Guest lived life in a manner that was almost the opposite of my mother — a comparison of some interest since the women were contemporaries — who was seldom happy in encountering something new or different. How I recall those family trips where my mother complained perpetually — of the weather, the condition of the hotels, the taste of the food, my brother's, sister's, and my own behavior; yet when she returned home, she would remember it all with great joy, almost rapturously recounting the many places we had seen and things we had done. My mother lived in hindsight, in the past; until her very last years, Barbara lived in the present imbued with a vision of life that might be best expressed by the title of one of her books, Fair Realism: "I was envious of fair realism. / I desired sunrise to revise itself / as apparition, majestic in evocativeness… ." And there, too, is that word which so characterizes Barbara's demeanor — "majestic." Barbara was majestic. She was a commoner's idea of a Countess; indeed one of her books was titled in just such a manner, The Countess of Minneapolis. And like a countess, Barbara often seemed to expect her friends to treat her that way. I'll never forget the time she told Diane Ward — who had not yet become completely immured to the idea of the Angeleno's dependence upon the car — : "It's too bad you couldn't move up to Berkeley. For then you might drive me around town." I shall always think of Barbara as the Countess of Berkeley, the city which she both loved and hated, and in which she died.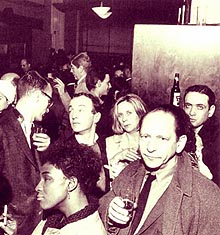 Frank O'Hara, Barbara Guest (center) at the closing of the Cedar Bar, New York, 30 March, 1963, detail, photo copyright © Fred W.McDarrah, 1963, 2000

I think I first glimpsed Barbara — and I can see her even now gracefully passing out of the room — at a reading I gave with Susan Howe at the Poetry Project in New York in 1980. Someone had whispered as she walked by, "Oh, there's Barbara Guest. Wasn't she nice to have come." I was impressed, for, although I had not yet read all of her poetry, she had already become in my mind a kind of legend, the only woman to be associated with the first generation of that predominantly male poetry club, the "New York School." Yes, she was kind to have come — although I thought it was probably out of respect for Susan; I could not even imagine that she'd read any of my work.

Over those years I read a couple more times at the Poetry Project and several times at Ear Inn, and each time Barbara was in the audience. I think it was the second time she attended a reading that we met. We did not immediately get on; I was polite, she, so it seemed to me then, was slightly "haughty" — but that was just her manner, part of the role of the Countess, the majestic and slightly mysterious legend she had become.

By that time I had read much of her early writing. I found it a bit dry and heavy on images — something which my group of poet-friends, the so-called "Language" writers, were not too keen on. But there were some very haunting poems "Parachutes, My Love, Could Carry Us Higher," "Green Awnings," "Santa Fe Trail," "A Way of Being," "A Handbook of Surfing," "Red Lilies," for example, that were undeniably masterful works. And, although I was a bit hesitant in my full approbation, I certainly admired her and her writing.

I think it was with Charles Bernstein that I first discussed the possibility of asking Barbara if she'd like me to publish a book. I wasn't even sure she was still writing poetry — she had taken out several years to write her biography of H.D. (published in 1984) and before that, with the exception of short, almost chapbook-like collections, her major work had been a novel, Seeking Air (1978), which, coincidentally, I had reviewed in The Washington Post. I have to admit, the review was not very profound or intelligent; I'd had difficulty comprehending this strange fiction — which I would later come to love and republish. Perhaps it was Charles who had suggested the idea of publishing a book of hers to me, for he was quite fond of Barbara's work. In any event, he encouraged me to approach her.

By that time I was living in Los Angeles, and I remember the evening well. I had, apparently, written her previously, and had suggested that we meet perhaps before or after her reading at Beyond Baroque — then headed by Dennis Phillips, who had invited her to Los Angeles. We met at a small hotel near Venice where she was staying. She was delighted with the idea, and either at that meeting or soon after presented me with a substantial new manuscript, Fair Realism.

That book, published in 1989, came about nearly flawlessly. Except for a necessary reversal of the cover image — a painting by Leatrice Rose — that meant the front cover contained the image of a pink flamingo, while the back presented a beach chair and table that might have more clearly characterized Barbara's Long Island life — the book came out just as Barbara and I had imagined, and soon after Barbara won a wider reading-audience (I printed the original edition in both cloth and paper and we went into a second printing in paperback) and the Lawrence J. Lipton Prize.

The second book of hers Sun & Moon published four years later, Defensive Rapture, was a troublesome one. The image Barbara wanted, a photograph of water lapping against steps by Seton Smith, had to be split between the front cover and the back in order to fit the dimensions of the book. Barbara had not liked our first go at the titles. Because of their unusual spacing, the poems did not fit easily on our 5 x 7 ½ sized pages. And then, when the book was finally mailed to her, she discovered that one of the pages had been repeated. Barbara understandably was not happy with this "fair realism." I promised her an immediate reprinting, and destroyed the first edition — although a few copies had already gotten out.

By that time, however, Barbara and I had become fast friends. I often visited her in her Chelsea apartment, which she shared with H. D.'s daughter, Perdita. I recall one afternoon — it must have been a year the MLA met in New York — when Barbara invited a group of several poets for a party in the little apartment. She lived basically in the back room, and had put up a table and condiments there, as if she dared not take over the rest of the living space, although I believe Perdita was out of town.

On other visits I would take Barbara out to a nearby Chelsea restaurant which she loved. In Los Angeles, I took her for dinner at the famed Beverly Hills eatery, the Grill, which she adored, gushing "Oh, it is just wonderful to imagine living like this." It was at her favorite Chelsea spot where we first argued. I had long been wanting to suggest that we publish a Selected Poems, but several times when I had been on the verge of suggesting it, she had quickly changed the subject; I simply presumed that she didn't want to speak, since it reminded her of getting older, of a summarizing of a career that had only just been reopened to her. She was, moreover, writing at her top form in the two books I'd just published and the artist collaborations she'd done with Kelsey St. Press and other smaller publishers. I now felt, however, the time had come, and I broached the idea. Barbara stopped smiling, shook back her hair and regally announced, "Well, I was thinking perhaps I might publish the selected works with Penguin or Random House." My face must have shown my anguish. I had long watched these publishing houses — with whom Barbara and others had begun their careers — ignore these same poets until they had become famous, only to suddenly issue their selected or collected works. Farrar, Straus, for example, had just published the Selected Poems of Barbara's colleague James Schuyler, who for most of his career had been published only by smaller publishing houses. Schuyler had died about a year before this conversation took place, and his Collected Poems would soon published by Farrar, Straus. I also knew that Barbara somewhat envied the beautiful Farrar, Straus publications of her friend John Ashbery. Accordingly, I was infuriated with the idea that she would now turn to a larger publisher, when I'd been so involved with her poetry over these past years. It reminds me somewhat of New Directions publisher J. Laughlin's lifelong hurt for what Williams had done in allowing some of his last titles to be published by Random House.

I sat up as straight I could to meet her royal glare. "Well, that's fine Barbara, if you wish to publish only your early works. But I will not allow them to publish poems from Fair Realism or Defensive Rapture."

She arched herself a bit further and with Countess-like hauteur quipped: "Do you own me?"

"No Barbara, I don't own you. My publishing house simply owns the rights to your most recent books."

She began to cry.

"I'm sorry, Barbara, but I love you so much I will not allow those publishers which ignored you for so many years to now come in and sweep you up… " — we both knew the end of that sentence which I left dangling — "as you age." "I will promise you a large book, a beautiful book, a book just as glorious as John's."

She was not to be consoled, and we left the establishment without finishing dinner. After walking her home, I turned up town, literally shaking with the consequences of our rift: I was distressed by having hurt her, but still angered by her suggestions. As I took the elevator up to my hotel room, I discovered a handsome, young Italian man standing beside me, dressed all in leather — accoutrements to which I am generally not attracted. Our eyes locked, and when I reached my floor, he exited as well. I left my room door slightly ajar… It was clear I had determined to punish myself.



The next morning I called her to apologize. "I didn't sleep much," I admitted. "Neither did I." "I'm sorry, Barbara, that I spoke to you that way." "No," she emphatically proclaimed, "you were quite right. Sun & Moon should be the publisher of the Selected Poems." As Charles Bernstein commented later, it simply may have been the case that Barbara needed to know that I admired her writing enough to insist upon my publishing it.

Perhaps the most beautiful day I ever spent with Barbara was when, having made a tentative selection of poems for that book, I visited her in Berkeley and spent the afternoon discussing her poems. We read most of them — the ones I'd chosen and others — and each time Barbara was reminded of some event, some marvelous experience in the past that had occasioned the writing. "Oh yes, I remember now, we arrived in Venice and as we got off the boat… ." I only wish on the pleasantly sunlit afternoon I'd had a tape recorder so that I might hear again the resplendent realism of Barbara's stories.

There were many other joyful times with Barbara, earlier trips to New York, a visit to her in San Francisco before she moved to the area at the Metropolitan Club, where she toured me around the place as if she were its only denizen, and invited me to stay for dinner. Another time, a rainy afternoon much like the one today, I stayed at her former apartment as Perdita's guest, and Barbara, coincidentally visiting New York, stopped by to talk for several hours. I introduced and interviewed her at her well-attended Lannan Foundation reading. But as the years passed, things gradually began to change. Another visit to her favorite Chelsea restaurant resulted in her feeling that the food and service had radically deteriorated. Back in Berkeley, she suddenly grew frightened that she had taken her pills twice that day, which she feared might have terrible consequences, and her attempt to drive me to dinner resulted in a slightly frightening ride through the streets of Berkeley, during which she drove on the wrong side of a couple of avenues — it was a wet, dark night and she was having difficulty with her sight. Sometimes out of sorrow and despair she telephoned in tears, the most poignant of these calls occurring one Mother's Day when her estranged son had promised to visit, but had not shown up. Realism had stopped being fair.

About a year and a half before her death, Barbara determined to regain her rights and make an agreement with Wesleyan University Press. Since Sun & Moon Press had ceased publishing, I was willing to have them publish the complete poems, but I did want to reprint on my Green Integer label some of her titles in separate volumes, particularly The Confetti Trees, a book written out of her childhood experiences in Los Angeles. I proposed that I would allow Wesleyan to reprint for a fair (and presumably small) payment. But she would hear nothing of it this time round; she understandably wanted the assurance that her work would be in print, and I suspected that Wesleyan was taking advantage of that situation. I would no longer argue with this wonderful woman who was so quickly aging. I wrote a short e-mail, giving up all rights. For some weeks we did not communicate.

A few weeks later I determined that it was absolutely ridiculous that we, who so loved one another, should not keep in touch. She answered my letter through her daughter Hadley, having had the first of a series of strokes that would eventually result in her death, that she truly loved me and was happy to receive my letter. Hadley and I kept in fairly close communication for the last several months. Dennis Phillips, who had visited her at the nursing home where she was now consigned, reported that he could hardly recognize her, although she had waved at him.

I did not (could not perhaps) attend the funeral. There were many reasons, but the most important of these was that I couldn't face what I knew would be a religious ceremony (both Barbara and her daughter had remained churchgoers) overseen by a minister who had not known her well. My grandmother — a important influence upon my life, and, evidently, upon the lives of her nineteen other grandchildren — had been eulogized in just such a funeral by the minister who had never met her, he recounting all the happenings and discoveries of the 20th century in which she had lived. I simply couldn't bear going through that kind of service again. In point of fact, Barbara, I am told, knew her ministers well and had sought out the ceremony accorded her.

In this country funerals are generally not celebrations. But I cannot help feeling that it would have been nice if Barbara had been given a proper court funeral, poets reading from her works, artists painting her portrait, dancers and musicians performing at graveside. She was, after all, a writer of real nobility, true royalty in an age when the 'real' is often nearly impossible to face.
 — Los Angeles, 11 March 2006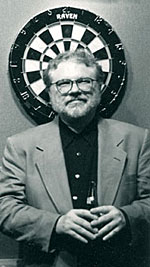 Douglas Messerli
Douglas Messerli is the author of several books of poetry, drama, and fiction. He edits Green Integer.