Ouyang Yu
Nine Poems
Listening to the ex-Chinese-woman-soldier

The way she looks at my teeth is a bit unnerving
As I take down her details
Regarding incident after incident of
Domestic violence
And other matters of substance:

I used to be in the Chinese navy
Then I became a real estate agent
With a good income till we met
He habitually beats me up on a monthly basis
But I have never been beaten by anyone
Not even by my parents
All my life
It gets to a degree where we don't speak
Any more, if we do, if I comment on anything, anything
I have commented on
Will emerge in later conversations as something
Against me, so it's best we shut our mouths and say nothing
What have I become now?
A cooking wife, a laundry woman, a do-everything
It's best this way
He keeps to him, I to myself
Each going down our own single-wood bridge

I notice that she is a woman
Who says yes to every one of my questions
Even though she wears plain clothes


Listening to the Pakistani Taxi-driver

You'd never know who you'd run into when you catch a cab
To the airport, in Melbourne, you'd have dozens of ethnics such as Somalis
Indians, sri lankans, Iraqis, even Chinese
This guy whose name is, vaguely, rizwan
Tells me that he's from Pakistan and is going to get his master's degree
While driving this taxi and he says:

I mean I can easily get 385 dollars, not a week, but a fortnight
From the centralink but I don't like the idea
Because we don't have the habit of falling back on the government
As some aussies do whose habit it is to always get it whenever they can
Generation after generation
For me, I work, my mind work, my hands work, and I am happy
And when I get my degree I may go elsewhere for a job
What they should do here is get you a job, not money for nothing
This friend of mine, a sheik from Saudi Arabia, who's invested millions
In Australia but is pulling out because it's such a shit country
If you do business these days you do with china, its economy is so strong
Not even America can catch up and what democracy are you talking about
Every country every people have their own cultures systems religions and beliefs
If you import American democracy you end up with iraq and
The kind of destruction we daily see
It's not good enough
I don't worship anyone these days except what's his name in north korea
Who's got the guts and dares stand up against the American bullcrap
You have to be strong in this world and do your own thing
And not let others run all over you
So you are going to denmark?
I've got an uncle there although I've never been there
Hopefully, one of these days


Listening to the Big Bus Guy in London

He said he'd come along with us
To the underground
And tell us how to get to Wembley Park or Central
As he lurched along the Marble Arch
I asked: Are you Indian?
He said:

I was born here
My parents are Indian
But you know what?
If I go to India where I have never been
They'd call me a foreigner
Even when I am here
They call me a foreigner
Because of my skin color
Funny it is that when I was in Brazil where I was a month ago
They thought I was a local
Again because of my skin color
It is the identity, very confusing
I don't know who I am or what I am
I've been on this job
For only six weeks
Already I think of giving up
You know it's tiring, talking like that every day
And nobody noticing you
Where are you from? Australia?
Oh, I know, you have great food there
And great variety
I'd love to go there one day
If only for the food

At Baker Street
We said goodbye
I on my way to Wembley Stadium
He on his to an undisclosed destination
"quite far from the city"
his paler than an Indian skin
his big brooding eyes
struck me fleetingly as an academic
who went home
having just delivered a speech
on unthinkable confusions of contemporary identity


Listening to the poet talk about himself

Sitting in his kitchen-washroom in Vauxhall, London
Under a sky of low clouds
I was amazed by the number of windows on the opposite building
Across a yard with a bicycle hanging, upside down, on an iron rack
When he said:

And the number of eyes behind those windows, mostly closed
But I won't see them for I draw my curtains
Against a world of sane madness
I didn't know who I was, English or Chinese
But I go beyond that now, I rise above
Nationalities, I am bound by no boundaries
My father was murdered when I was six
Having just woken up in a train station, in northern China
I have since adopted my mother's surname
Hell is London, not exactly the way you say Australia is
For you at least have sunshine which I'm sure will cure me of my disease
Here my face is a sky that smiles no smiles
My face, if anything, is a history turned inside out
With wrongly written characters
Newly put down in English letters
I speak not
To the old world where my love can't root
I speak to
Poets only
Stephen, Peter, Joseph
Have another glass of this
Marc Xero
A lovely white
Wine from italy
In a little while
I'll walk you to Victoria
Where you can take the Victoria Line
To Blackfriars
And see Tate Modern
Right on the other side of the Thames
Hopefully, one day when you come back again
We could meet for the pekin duck again
In Vauxhall, of all the places, and I'm sure I'll remain poor
And love poetry as a most beautiful thing
Despite what you say
About its fascinating ugliness


Listening to the Lebanese Taxi-driver

Having had a buffet that made both george and I belly-heavy
In novotel hotel overlooking brighton beach
At brighton-le-sands
In botany bay
I went to this big-faced man who said: guess
Just one guess
And if you don't get it
I'll tell you
I pinned him down to the middle east
Even though he was mildly indian
He agreed
I narrowed him down to Lebanon
Even though his accent was a bit hard to define
He agreed again
Then he began talking:

I came in 1975
When there was a civilian war
Yes, civil war
I have four kids
My wife loves kids
You know they make you busy
But it's good when you have kids, you know
It's a small country enough, only 3 million
But we have 12 million overseas, 6 in brazil
Life's good, people living together, Chinese, Lebanese, all peoples
As long as you do business and do not meddle in each other's affairs
Yes, this is redfern, I'll show you where they fought
Just over there, you see the wall with graffiti, the flag?
Just there, there, you don't want to go there at night
You get robbed, oh, easily
Well, I know their point, they had this land 200 years ago
The whites took it from them
I fell sorry for them but what can you do
We were immigrants, came here to seek a better life
We can't help it but saying sorry is the least you can do
Oh, see? The lady hit his mirror off but that's his fault because he opened the door
While she went past
You look, you always look (the car stopped; another passenger came over)

As I said, folding the receipt, "Chinese bring you luck, hey?"
He was all smiles, saying, "yes, yes, this one going to the airport"


Listening to my woman patient

She comes striding into my clinic
Wearing a dark pair of glasses
Over her white-skinned face
A dark pair of high-heeled boots
Below her white-skinned legs
I notice these things because they are there
For me, possibly others, to notice
Or perhaps there is no because, just cause of an effect
The minute she shows her teeth through her open mouth
She turns me, a psychologist, into her reader
Gazing away from her, her impact, at the gathering thoughts
Of darkness out the window:

Perhaps I should never have loved him in the first place
A rubbish, but I did, he was rich and much older than me
We bumped into each other one fine day as we never should
Like Pan Jinlian and Ximen Qing
Then he got my number after I got his money, which I refused to take
In vain, life developed into love into love made into love hate
Ah well, it's a long story of love betrayed love twisted love with Chinese burn
Love with Australian meat pie whatever that means
I can't live with this life I have to go
Oh yes he can be so abusive he heaps all the dirty words in the world on you
Calling me Yellow Skin telling me to go home
I never attack back, remembering my Mom's life motto:
Give people understanding, tolerance and love
You'll have the same even though this seems hardly true in Australia
No, I must go and find a place to stay, I have got nothing left with me

I look away from the white-skinned girl with white-skinned legs
Once again
And hear myself murmur: perhaps you should go back to where you came from
Where at least love was something you could keep repeating
Without having to believe its sound


Listening to the 80 year old telling me a story

Just imagine you are also one of a dozen white patients
Sitting in this tiny little waiting room, with me and with Mr Xu
A patient of mine who is telling me his story in Chinese
While you, along with this old white woman, frown on me and Mr Xu
A few times and exchange a few glaring glances until I say to all of you
"Listen to this man for I'll interpret for you, white Australians, for free":

In that medical form I've got nothing to fill I never suffer from any illnesses
Be they diabetes arthritis heart trouble epilepsy I am 80 and have 8 children
4 sons and 4 daughters some in Australia some in China some in Canada
At 15 I went to Shanghai by water our boat took 6 days 6 nights it had to be hauled
With a rope by people on the bank I did an apprentice in a company under Japanese
Occupation in the English settlement I lived in the French settlement in a house
I rented for 100 taels of gold for life that's why we didn't suffer much after
New China I had to be extremely careful in all those political campaigns
sanfan, wufan, fanyou, qingdui, wenge, so many of my friends had died or were
sent to Qinghai some committed suicide I was extra cautious even then my name
was mentioned in a struggle meeting when they said I had traveled more frequently
by plane before liberation than a lot of people who could only travel by rickshaw
when my sons grew up they blamed me for being timid how would they know
what I had gone through if I had dared to be critical I would have put them in danger
I would not have seen them through to universities when Deng Xiaoping came
I've managed to live to 80 I'm fine I exercise everyday
Australia is good fresh air clean environment
People are nice in the morning you go out they say hello you say hello
But no communications today is like this tomorrow is like this the day after
Is always like this I don't like going to old people's clubs
They ask you to take free buses to the casino ask you to get lunches for 2 bucks
I don't like casinos cheap food

I think I suggested the idea of writing his life story
I heard him laughing but making no comments
I must admit this was the worst hospital I had ever been to
The doctor was dismissive and curt
The nurse showed no respect for neither of us
The receptionist cut me short
The patients sitting around us hated us like dirt
I could empathize with them for if two Arabs were sitting there
And talking in Arabic I'd probably resent that, too
Lastly, I don't think I'll let this detail go

The nurse first called a man to go: Mr Mastroianni
Then, she called my 80-year-old: Xu, Xu, Xu!


Listening to the Bangladeshi taxi-driver

For quite some time
I do not open my mouth
Except to tell him that it's a bit hot
And if it is possible to have the air-conditioner
Switched on
He is obliging enough
Unlike the white Adelaide taxi-driver
Who gave me shits in late February this year
I keep wondering about his identity
Till he offers, seeing through my mind:

I am from Bangladesh
I doubt if you'd ever been there
I doubt if you know much
Oh, no, we are ourselves, part of nobody
We speak Bangla, and it's our official language
Pakistanis are bastards, didn't you know they raped 200,000 women
And killed hundreds thousands of our men in the late 1970s
When we separated?
Go online and check it out
Oh, we are not Sikhs, these are only good businessmen
But nothing much else
Did you know this joke about them?
When a Sikh taxi-driver is rushing at the red-light
His customer tells him to stop
Then when he arrives at the next set of lights
And the lights turn green
He stops?

I listen to him
Remembering a number of Sikhs I have met in my life
A taxi-driver who described to me the beauty of his blue turban
An interpreter who told me in court
How human hair was part of one's body
And should not be cut
I remember this and more
Listening to the Bangladeshi driver relate to me the history of atrocities
And of ethnic tensions
That he would probably never tell anyone else
That is not a Bangladeshi
To say nothing of a Chinese


Listening to the Chinese audience

After I finished reading
At don bank museum
In napier street, north Sydney
That cost me 18 bucks to taxi to
From soho galleries
In cathedral street
That had cost me 20-odd minutes in my search
This Chinese woman stood up in the audience
And spoke:

Your poetry is so dark, depressive
So pessimistic
Poetry is meant to be enlightening, uplifting
It should be beautiful, about beautiful things
Life already misery enough
You should give us some light, more light
With your poetry
You should, in a word
Write something to make us feel better
About ourselves, about the world around us
You should avoid using abusive language

She kept talking without giving me a chance to
Defend, offend, myself
So I stood there, in front of the listening audience
Watching the light burning
With smoke on a standing lamp
Which drew everyone's attention
But hers
Finally, I said
To myself
Looking around the well-lit poetry reading room
And well-lit faces
"there is enough light
outside my book"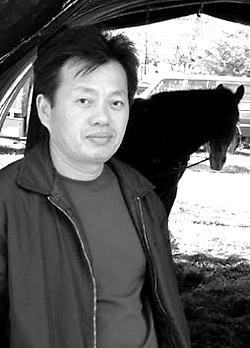 Ouyang Yu
Ouyang Yu: Australian poet, novelist and critic. Born in Huangzhou, Hubei, in the People's Republic of China, Ouyang Yu completed an MA in English and Australian Literature in Shanghai and worked as an interpreter, translator and lecturer in China. He came to Australia in 1991 to complete a PhD at La Trobe University, Melbourne, on the representation of the Chinese in Australian fiction (awarded 1995). He writes in both English and Chinese. Best known for his poetry, he has also written fiction and criticism in both languages, and has translated over a dozen major Australian literary texts into Chinese.

Ouyang's best-known works in English are his poetry collections Moon Over Melbourne and Other Poems (1995), Songs of the Last Chinese Poet (1997), short-listed for the 1999 New South Wales Premier's Literary Awards) and Two Hearts, Two Tongues and Rain-Coloured Eyes (2002). His first novel, The Eastern Slope Chronicle, was published in 2002. He is the founding editor of Otherland, the first (and only) bilingual journal of Chinese-Australian writing. He has won a number of major grants for fiction, non-fiction, poetry and translation. His 128-page New and Selected Poems was published by Salt Publications, Cambridge, in 2004.

Ouyang is a controversial figure within Australian literature, sometimes characterised as 'the angry Chinese poet.' His work captures the frustrations (personal, social, professional and sexual) of the migrant experience and hits out at the indifference and hostility with which Australia has greeted recent waves of Asian immigration. He writes with insight about the dilemmas of transnational artists and intellectuals caught between different literary, cultural and linguistic traditions. His raw, uncompromising style (according to one critic, the 'deliberate unloveliness' of his language) challenges literary as well as social establishments at the same time as it engages in courageous acts of introspection and self-criticism. Ouyang typifies the new generation of post-colonial writers and intellectuals who can write with detachment about the forces of globalisation and their impact on East-West relations and at the same time acknowledge their complex and often painful impact on their own life and work.
(By Wenche Ommundsen)