The New Polish Poetry feature


Return to the Contents list
Reprinted with permission from Altered State — The New Polish Poetry. Edited by Rod Mengham, Tadeusz Pióro and Piotr Szymor. Todmorden, UK: Arc Publications, 2003. Price: £10.95. This selection was chosen by Rod Mengham and John Tranter. Visit the publisher's website.
Marcin Baran
Hot Embitterments
I touched you lightly, no kiss. Bodies
negotiated. Grey old grass
ran deep into the earth, new blades practised
pornographic litheness. In the uneven rhythm
of wants and musts maggots slid silently
through stomach to heart. Among mating dances
and mixed feelings the spawning went on. Someone
covered Kraków with a rain of warm beer.

(1993,1995)


Translated by Tadeusz Pióro.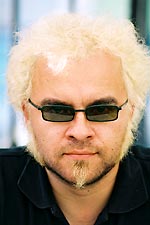 Marcin Baran
Marcin Baran was born in 1963 in Kraków and graduated from the Jagiellonian University with a Master's degree in Polish literature. A co-editor of bruLion, he has since worked as a tv, radio and press journalist and is currently managing editor at Przekrój in Warsaw. Author of nine poetry books, editor of two anthologies of poetry, including Carnivorous Boy, Carnivorous Bird, a bilingual anthology of contemporary Polish poetry published in the USA by Zephyr Press (2004). His enthusiasms include Raymond Chandler's writing and Mrs. Baran's beef bouillon. He lives in Kraków, Poland, Europe.

His publications include:

Pomieszanie [Mix-up] (Kraków: Oficyna Literacka, 1990)
Sosnowiec jest jak kobieta [Sosnowiec is Like a Woman] (Kraków-Warszawa: bruLion, 1992)
Zabiegi mitosne [Love Interventions] (Kraków: Baran i Suszczyński, 1996)
Sprzeczne fragmenty [Contradictory Fragments] (Poznari:A5,1996)
Tanero (Kraków: Oficyna Literacka, 1998)
Prozak liryczny [Lyrical Prozac] (Kraków: Wydawnictwo Literackie, 1999)
Bóg raczy wiedzieć [God Only Knows] (Kraków: Zebra, 2000)