The New Polish Poetry feature


Return to the Contents list
Reprinted with permission from Altered State — The New Polish Poetry. Edited by Rod Mengham, Tadeusz Pióro and Piotr Szymor. Todmorden, UK: Arc Publications, 2003. Price: £10.95. This selection was chosen by Rod Mengham and John Tranter. Visit the publisher's website.
Dariusz Sośnicki
Three poems
Washroom

We take turns washing in the plastic basin
and fly wet towels from the mast of the kitchen clothes line —
a banner of suds, moisture and body odours.
Warm currents above the boiler stir the air
and incline us to frivolous acts.
Our fingers are dull as wooden spoons.
Our skin is deaf as wax.
The window panes are mired in steam and feel ill.
We're matted by steam and feel ill.
Wet, we fold ourselves in four and lie down to sleep.


Leaves

Shake themselves off trees so violently
that drifts rise along curbs
in alleys and under building walls.
Trams plod through strewn streets
lose sight of their tracks and you see them
later roaming the greens
snouts down by the cold earth. The sky
looks at itself in a shop window and everything
is written in a thin, lined notebook. My
well is full of twigs and dust, the tap chokes
on an ice-cube: who sent

these tight clothes to get me?


How To Walk Downstairs

How to walk downstairs older
by a bell's ignored chirp
by a note I leave on the door?

In a stranger's house, banisters
turn their backs on me.
Translated by Tadeusz Pióro.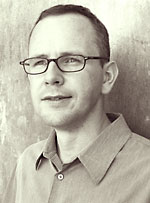 Dariusz Sośnicki, photo by Tadeusz Dąbrowski.
Dariusz Sośnicki was born in 1969 in Kalisz and graduated in Philosophy from the Adam Mickiewicz University in Poznań. He was co-founder and co-editor of fortnightly literary magazine "Nowy Nurt" (1994—1996). In 2001, he was participant of International Writing Program at the University of Iowa, USA. He lives in Poznań and works in Warsaw, where he recently joined the staff of the major Polish press W.A.B.

His publications include:

Marlewo (Ostrołęka: Pracownia, 1994)
Ikarus (Wrocław: Pomona, 1998)
Mężczyzna w dominie [Man in a Domino] (Legnica: Centrum Sztuki—Teatr Dramatyczny, 1999)
Symetria [Symmetry] (Legnica: Biuro Literackie, 2002)
Skandynawskie lato [Scandinavian Summer] (Wrocław: Biuro Literackie, 2005)