James Schuyler
Letters from Italy, Winter 1954–55 — from James Schuyler to Frank O'Hara
This piece is 5,528 words or about 10 printed pages long.
Introduction — excerpted by Pam Brown from William Corbett's Introduction to The Letters of James Schuyler to Frank O'Hara.

Frank O'Hara introduced himself to James Schuyler at the party after the painter Larry Rivers' opening at Tibor de Nagy gallery on October 1st 1951. The two men became close friends.
    In the letters he wrote to Frank O'Hara in the 1950s the grip of illness that periodically and painfully seized hold of Schuyler is absent. These are the letters of a happy young man, of one good friend to another avid to share all. They loved books, movies (all sorts of movies) painting, music, ballet and gossip. As writers they were at the start of their careers, not that they seemed to think of themselves as having embarked on anything so grand as careers.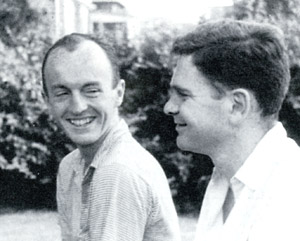 Frank O'Hara (left) and James Schuyler, after lunch at Fairfield Porter's home in Southampton, Summer 1956; photo John Button, courtesy John Ashbery.
     From our vantage point we can see that Schuyler and O'Hara shared something more than starting out. Both men had begun with interests that they were turning away from. O'Hara had wanted to be a pianist hoping to teach and compose. Before entering Harvard he had considered the New England Conservatory, Eastman School in Rochester, New York and Philadelphia's Curtis Institute. Harvard satisfied O'Hara's parents and its music department, chaired by composer Walter Piston, appealed to O'Hara. In college and then in graduate school at the University of Michigan at Ann Arbor, O'Hara became a poet.
     Schuyler had wanted to write short stories modeled on those that appeared in The New Yorker. It was a vague notion that after flunking out of Bethany College, service in the Navy during World War II and a few years in Italy where he moved in W.H. Auden's circle, stayed with him.
   This small selection of letters to Frank O'Hara were written during a trip James Schuyler made to Europe in 1954. The letters here are from the time he spent in Rome, Italy. The 'boys' referred to are Arthur Gold (1917–1990) and Robert Fizdale (1920–1995). They met at Manhattan's Juilliard School in 1944 and formed their piano duo Gold and Fizdale. In the summer of 1953 Gold and Schuyler became lovers, a relationship that lasted three years. Gold and Fizdale performed an extensive two-piano repertory until their retirement in 1982. They also co-authored biographies of Misia Sert and Sarah Bernhardt.
The editors of Jacket would like to thank Darragh Park and The Estate of James Schuyler, William Corbett and Turtle Point Press for their generosity in permitting Jacket to publish a selection from the book The Letters of James Schuyler to Frank O'Hara (edited by William Corbett) forthcoming in the USA from Turtle Point Press in fall 2006.
— Aug 6 1954 —
Dear Boy,
     Here I am, on the humid ocean, eating English cooking and hating it, and drinking English gin and loving it.
     Arthur & I seldom take our faces out of a Berlitz German book — and when I do, it's to put mine into a book on Austria, or else into my pillow.
     The Tourist Class is entirely a Nest of Ninnies, which suits their laureate very well.  [1]
     The sailing was uneventfully thrilling — my dear, the only way to see Manhattan's foot is as it grows small and fades and turns into the tiniest idea.
     It's 12 noon, and Arthur just got up, so it's back to 'Was ist das?' and 'Was tun sie?' for me.
     I'll write a real letter when I'm in a real place.    I adore you and am thine, Love, Jimmy
— Tuesday —
American Express
Venice Italy

                                                Tuesday (I'm getting
                                                around the fact that I don't know
                                                if there are 31 days in August)

Fair slender bough,
     Greetings from the Adriatic Pearl. It's marvelous here, I'm delighted to be here, and don't want to hear another word about Austria. All that's lacking is yourself, tripping between the pigeons and the cats.
     I'm really so foolishly pleased with such vast extents of Venetian art, that it's falling into a bottomless pit of delight. I can't tell you how my legs ached last week or, what's more remarkable, how little I minded. The high aesthetic life doesn't, alas, make for lively letters!
     How did the movie scripts turn out? What happened in Southampton? Besides painting, swimming and dancing. What are you working on, what have you written and have you worked up your play? And I want to hear all about John Myers; will there be an A's [Artists] Theatre this year? Has anyone killed Herbert [Machiz] yet? [2]  Write me everything.
     I've been reading an entertaining book I found in the apartment, Clarendon's History of the Rebellion. It's sort of a cross between Jane Austen and Walton's Lives, and comes in five dictionary sized volumes, so it's quite a task to haul one into bed, and then quite hard to get it off the bed again. I'd forgotten though what an appetite I can have for something other than novels and verse. And plays.
     I started to write a little play, and dropped it and went back to my insufferable novel. [3]  It would be just too boring not to finish it, and besides, once I have finished it, I'll be free to entangle myself in something else.
     The intent of this is to lure you into writing me, and if you write me a lovely letter, somewhere between laughter and tears, I promise I'll do better by you next time. I miss you and send you a shower of kisses. Love, Jimmy

[Handwritten note from Arthur Gold]

Dear Frank, Do you know what I said to J. after our first day in Venice? Well, I said. Do you know who would like Venice of all the people we know?
J.: Who?
Me: Frank
J.: Why?
Me: Because it's all water surrounded by small land lagoons.
     And you would and should write and tell us about all the beauties in the New World.
                         Love Venice Gold
— Sept 29, 1954 —
American Express
Venice, Italy

Dear Frank,
      The enclosed limp lines (which I shall bundle into the envelope like so much yesterday's salad) were meant to celebrate your return to 49th Street. Oh dear, they're so well meant, and so unmendable to me. I'm discouragingly (or do I mean, discouragedly?) aware that the first line sounds as though the next should be: 'can face the world full square', but have no idea of how to mend it. I thought of making it 'who talks with his head up' but that seems too suggestive of, 'The boy who talks with his head.' Perhaps you could suggest something; anyway, for now, I send it as it issued from the old mattress stuffer's hand, lumpy and unquilted.
     The last line of the second stanza was supposed to mean, simply, that when wild things happen to us, we behave like ourselves. Though I seem to have taken an odd route to say it.
     No new news. Bobby [Fizdale] got your letter, and we all grow restive with the second report on the ballet. What a fiend that Balanchine is, imagine going to Los Angles for the summer and coming back with two new masterpieces. [4] 
     Stanley Barrows has been here, and told me about some literary fellowship at Leland Stanford that sounds profitable. I think you have to spend some time there, but not all, and there's quite a sum attached. I suppose one could just write to Leland S's English department and ask — I don't know.
     Have you found a part-time job? What's your impression of the T [ibor] de N [agy] group show? And what's the gallery's address? I want to send John [Bernard Myers] a card. [5] 
     Here comes a flight of kisses from me: your,

                                                                              Jimmy
The boy who walks with his head up
and speaks in flights, and dives
(so I fear to follow, or fear for him)
into the phosphor falling hurricane,
who, when creeks flow swollen after rain
and gold light turns pink on limbs
(so I grow envious, and wish to follow), swims

the boy who met a terror on the stair
face to face, and turned,
and didn't wait to reason (as I might),
but plunged and stopped a bullet in its flight
where it hurt least and caused least damage,
who feels the weather in his wound, has learned
how our wild moments are our own,

the boy I mean I see in rooms I know
from which the well-loved phone is gone,
with his head full of words, go
and shut the gas and fetch a perking pot
to the stuffed desk at which he writes,
the boy who turns and sees from his window
a river with gulls diving in long flights.
— Oct 8 1954 —
American Express
Rome, Italy

Dear Frank,
     I never like to write letters after 6 in the evening (it's just 6) — I'm so afraid I may describe the sunset, or mention my aspirations — but I've got to send thanks, on the day I got it, for your greatest of letters. Dear boy, I'm so enchanted by your excursion. Like Pushkin, you must turn to prose — something about the length of Pique Dame, in the style of Svevo? [6]  But after your letter, you are the American Svevo. But you must write a story of our friends, and their by you so clearly seen ways: a few coolly sketched scenes at the beach, perhaps, coiling into something snappy in a roadhouse, with a hurricane for epilogue?
     My past week has been very men in white, since Arthur got terribly sick with bronchitis. He's over it now, with the help of American wonder drugs and a Venetian doc who, for reasons not clear, spends three months a year in New York, where he knows a lot of gangsters who take him to the Latin Quarter. I helped the time pass by reading Dombey and Son aloud, which at first I loved and then got to hate, and then Injury and Insult, the title of the first translation of I & I. Have you ever read it? It's full of the most exhilarating self-preoccupation, and depressing in that thorough exhausting way that's such a relief to the nerves. When reading the big speeches aloud, I model myself on your great Chekhov performances. [7]  Works like a charm.
     The most intoxicating thing has happened to the weather here. At the beginning of the week, the sun went into hiding for a couple of days, and when it came back, its light had turned as gold as a grape. It's marvelous to have gotten to know Venice well, and then have it turn in a day into something so much more beautiful — all the hard whites have turned to cream and roses, and the dry stucco colors have gotten as rich as autumn leaves. How I wish you were here — they say it happens again in the spring, and I know it will next October — ought we to begin to plan?
     I'm already beginning to worry about how I'll work, the next two months. Oh dear, I'm sure Trollope had the right idea, whatever it was. But will I have something to show you? Yes, I think I must, even if it's mere Raspings from an Old Loaf.
     You still don't tell what five poems Poetry took. So tell.
     Isn't it ghastly that I didn't send anything to Richard Miller. [8]  I meant to, but I forgot in the whirl of leaving. Phooey. I suppose I should write him a graceful note, and make it clear that it wasn't on purpose, just weak wittedness. (I suppose there are lots more t's in that).
     But speaking of Richard: in ways too involved to unroll, I have the enclosed (something to do with paying for a book), and as I can't cash it here, why don't you have it, on what all our favorite museums dote to call extended loan? I know you can use it, and I'm afraid all it will do here is turn from a good check to a bad check.
     Now I have to go make a phone call, and find out what time the local vaudeville starts: there is a magician tonight. Zowie.
     I had a card from Janice [Koch] in Geneva, and Chester [Kallman] in Calabria, and shortly I'll be seeing [William] Weaver in Rome. [9]  Italy's foreign, but not too.
     Write me soon. A thousand thanks again for your heavenly letter. The boys, who are up to their elbows in Debussy, send their love.
                                      Love, Jimmy
— Friday —
American Express
Piazza di Spagna
Rome, Italy

Dear Frank,
    'What props't, thou asks'ts!'? Why the picture you sent me, of course, darling boy. What a sweet thought, what heaven to have it.
     I was so moved by the two Whitman poems I went straight to the Lion Bookshop to get myself a Leaves to read in the country; which of course they didn't have. Beastly English dykes (who run the shop that is). So I got a selected M. [Matthew] Arnold (Why?), Twelfth Night & the Sonnets (here's a sortes virgiliana for your:
                                     '.....and think of nought
                                    save where you were, how happy you make those.')
and Houghton's Life & Letters of Keats. Now I wish I'd gotten Oblomov and a big Shelley. Oh well.
     Bill [Weaver] told me he wrote you a long letter, which seems somewhat to take the wind out of my sails. I trust you detected my feelings between the lines of his description of that vilest of movies he dragooned me into seeing! The dear boy. He's been helpfulness itself, and made me feel Rome's own guest.
     I'm out of my mind for the place I think I'll live. I'm going there on Monday, at the latest.
     The last few days, I've seen lots of Jimmy Throneberg, and recommend him to your tender care. I think Joe [LeSueur] is very lucky. How is Gianni [Bates] taking it? [10]  I gather he took it quite badly last summer — it seemed like such a doomed affair last winter. But Jimmy T is cute and funny and dry. I wonder what his writing is like?
     Please show the 'Home Book' to Richard [Miller]. I don't know what copy is there — in most, I've cut bits here and there. But show it to him, and if you think it needs editing, let me know. Would you 'angel of men' read through it for typing mistakes? I think there are a lot.
     Yesterday Jimmy T and I went to the Borghese Gallery, (and got there too late to get in) and coming back through the pines, who should we find sitting on a toad stool, but toad of toad hollow himself, Harold Norse. [11]  He's giving English lessons here (it rather chilled me in Venice, to find him sitting outside the Fenice, writing his diary). But after we had exchanged words and gone on, I suddenly remembered what Harold once said about Joe not being for street wear, and told it to Jimmy. My dear, I thought there'd be blood in the Borghese Gardens then. But he contented himself with pointing out what a shame it is so many Italians are going to end speaking English with a little swishy accent!
     But the future holds better things than Harold. Al Kresch [12]  is due this weekend, on a week's visit. What fun. And the Kochs are in the offing. Oh baby, why aren't you here to help me spike the punch?
     I'm madly depressed today, and writing to you is the only cheerful thing I can think of doing. I've been feeling much less gifted than Harold Norse, and letters I look for don't come, and I feel I ought to have gone to the country today, but feel terribly nervous about getting to work, and imagine that all that will come out of my typewriter is a long sob and a hiccup. And a very very very silly Italian boy has decided my spell is fatal, and follows me around, and makes preferred haunts unhauntable, singing American love songs with the words all jumbled up. But now I feel better.
     And, feeling better and thinking of you, go off to pick up Jimmy T and eat boiled chicken with him at Bill's.
     Is Chester [Kallman] back and have you seen him? Write me unceasingly: surely the season is far enough advanced for the dirt to have begun to fly? Give my love to everyone in New York named John, no matter how it's spelled. And to Jane, Fairfield and Hal [Fondren]. But keep the biggest share for yourself.
                                                                       Love,
                                                                                 Jimmy
— Nov 7, 1954 —
American Express
Rome, Italy

Dear Frank,
     Just a note to tell you that I'm taking your note to the local tapestry works, where I'm going to have it copied in Parker blue on Sphinx typing paper gray, wall-size. And my idea of wall-size is the northern flank of the UN Building. You're cute, that's what you are.
     Anguillara didn't work out for beans, so I'm established in a somewhat meager, but pleasant, little hotel in Rome. My days are full, fair and fine, but my evenings barren of any sort of intercourse. I've become a moviegoer again, if not a bug or fan; it's like being an opium addict without getting any lift. Let's see, I've seen: Witness to Murder, Mogambo, Ulisee (I saw it in Italian, so that's what I call it), de Sica's dud, Stazione Termini, On the Waterfront, From Here to...and a couple of Italian ones I won't go into. Not to put a fine point on it, I thought them all hell; though many featured nice-lookers caught looking their best. Tonight it's a toss-up between Danny Kaye, dubbed, or Gerard Philipe, not dubbed. Maybe I'll just duck over to the forum and worship a heathen idol instead.
     If you don't tell me what poems you have in Poetry, I'll — o I don't know what I'll do. Gnash my teeth, perhaps.
     Al K [resch] was here, and having so much fun. He couldn't sit down without drawing, and he vanished one morning into the Vatican before 9, and had a fit when they told him at 2 they were closing. I can't spend ten minutes there without thinking how far I am from the nearest comfortable café. But now he's back in Munich. And Bill [Weaver] is in Vienna, as are the boys. (Do, if you haven't, write Bill: it seemed as though every time we went to Amer. Exp. together, I got a letter from you. Or so it seemed to him! You know how rejectable our young folk are nowadays.)
     This is just a silly Sunday evening note, brought on by your note, which touched me so. Love, Jimmy
P.S. Have you met, and what do you think of J. Throneberg?
P.S. Write me c/ o Amer. Exp. Piazza di Spagna, Rome & mark 'hold.'
— November 15, 1954 —
American Academy in Rome
Villa Aurelia
Rome, Italy

Dear Frank,
     From the slums of downtown Rome I've moved, for a brief stay, to one of the august seven hills (which, escapes me at the moment — the nice one). I like it. As little J[ohn] A [shbery] said when he got drunk at Lincoln Kirsten's housewarming, 'I love your new house and your new apartment.'
     And speaking of whom, he wrote me from Sodus that you're working mornings for [Cecil] Beaton. [13]  Praise Venus for part-time labor: is it part-time enough? Remunerated enough? Is he entertaining? Is he nice? I hope the answer to all is yes.
     The boys have been here three days, and that's fun. I was really getting quite very bored; the evenings are such a drag. It's all very well at the beach in a cottage, with the lapse of the waves, or in the mountains in a cabin, with the snapping pine knots and the whining of the beasts, (such as bears, mountain lions, and big mean jack rabbits) but in a city, continued solitude begins to make me feel like little Nellie nose-to-the-pane, watching the rich child's burf-day party. But with tutta Roma at my feet, I feel quite King for a Day-ish.
     There go the bells: sundown and vespers. I wonder what the pope is thinking? And Lucky Luciano, way down there in Naples, what's he thinking? [14] 
     And what do you think of this?: May I come live with you again? In February and March (and perhaps more)? Bobby has his place, but Arthur and I don't. As soon as we get back — the first week of February, the first day or so, in fact- he goes off on a tour, and will be away most of two months. I don't want to live at Arthur Weinstein's [15]  (not that I've had my arm twisted to do it: let's face it, I like him fine, but left to ourselves, we are not a 'natural'). Oh well this is dumb, there's nothing to explain that isn't obvious: I'd rather live at home with you on 49th Street, than alone in some dump. So write me it can be! By then, though you may have taken a sloe-eyed god to your bosom, bed and board? (For heaven sakes, don't change the sheets on my bed; they were quite fresh when I left!).
     I confess that my second thought, after thinking of writing you this was, 'Frank and I never did really give that little at-home party!'
     Oh dear, autumn sadness is looking in the window, in the shape of black firs and deep blue sky. Cocktail time, and I know for a certain fact, there's no gin in the house, which seems a disgrace, when the best English sort costs less than $3 here. Should I throw away my clothes when I come home, and just bring gin?
     This seems an excessively dumb letter; I did work hard today, but that's no excuse.
     Forgive me, love me, and write me an outline of your plans as of ten weeks from now (ten weeks seems, sounds, so much sooner than 'next February.' Where is time taking us, do you suppose?
     Bobby said he had a darling letter from you. The boys aren't here, but I'll send their love anyway, with simple confidence.
     Has Hal [Fondren] a job? (If he hasn't, don't tell him I asked! For if he hasn't, he must really be quite depressed about it by now).
     My address remains American Express and so on.
                          Love, Jimmy
— Tuesday, 1954 (New Style) —
American Academy
Rome, Italy

Dear Vladimir,
     I received your dawn of Civilization letter the way the Babylonians greeted Sohrab when he descended from Mount Rustum with the clay plates incised with Gilgamesh. Epics of thanks, adored diverting one.
     Your letter (and one from Fairfield, which I also got yesterday) was the first I knew that I'd come out in Partisan Review. Whee. I was so gloomily certain they were going to put it in that Are These Our Children? Semi-annual pocket reader they do; and, as you said, it's so nice to see one's own in that distinctive Parisian type-face.
     Today I got a check from them for 16.50. Or maybe it was 15.60. That will pay for my postage for the next month, at least.
     I wish you had sent me Poetry; I have dim hopes of finding it in this hick burg. But if you didn't, remember that I enjoined you to buy and keep a copy for me. I love to think of us together on the stands (you know, like when Marlon's on Time and Monty's on Life?).
     The boys played the Poulenc with the Santa Cecilia (whose day it was yesterday) and got raves from audience and critics — the incomparable couple, one reviewer called them. The concerto came after a rather flat-footed Vivaldi piece and some Dallapiccola mood-music, and sounded, so placed (and played: it's a heavenly orchestra) more than ever like Constance Mozart's masterpiece. Then Friday a recital here, on which the things that you haven't heard them play (I don't think you have) will be Scaramouche and the Brahms' Hayden Variations. The boys' concerts have caused some high-class wining and dining: the night before last, a banker from Baltimore assured me that he thought writing poems must be much more difficult than banking; and last night a lady from L.A. asked me, 'Well, are you just writing a novel or are you "if you'll excuse my expression" trying to prove something?' All either of them got from me was my Mona Lisa laugh. And I met Respighi's widow and Casella's widow. Italy has changed not much since the days of the Princess Zoubaroff. [16] 
     A word in your nacre ear: I don't think I have to bring you and Arthur together, but rather convince you of how sincerely fond of you Arthur is, how much he admires your talent and how much it delights him to be with you. He is also, though, as sensitive to tension and rejection "real, imagined, accidental or apparent" as you or I. I say that because I think the feeling that makes you suggest a bringing together affects him as much as the reverse would you (and no more).
     I'm glad you sent the deK's [de Kooning's] addresses, for I wanted them. Bill's room was the best thing at the Biennale, [17]  along with the Courbets (which weren't a 'great' selection, though there was many a stunner). It was strange seeing them out of New York City, they looked so much 'quieter' than I would have expected; they seemed to make no extra theatrical bid, beyond that of denseness and quality, in the way I imagine [Jackson] Pollock and [Mark] Rothko did. I guess what I mean is that what struck me was the way his pictures don't depend on manner; it didn't seem like two rooms of de Koonings but two rooms of paintings.
     I saw Elliot Stein here for a split minute, who asked me to convey his esteem to you, Ashes, et. al.
     My dear, I'm depositing your letter in a vault, so that if you are murdered in a water front hotel, the police will know who to arrest. Ted Gorey has not thought since 1948 that you would be stabbed, he's simply been planning to kill you. [18]  Why do you think he wears that Laird Craiger (Creger?) beard? [19]  And reads those flocks of unreadable detective stories? Because he thinks he's Alpha and Omega come to save the world from beauty's snare: and you, you see, are too beautiful! So swear you'll never ever see him unless accompanied by at least three stout friends.
     Or to put it another way, I despise the inimitable Teddles. He hasn't enough brains to animate a Kewpie doll or enough talent to make a good joke. I also feel sorry for him, because he's frustrated, unhappy, he lives vicariously, and it makes him sadistic.
     Turning to pleasanter thoughts: I never felt, rubbed, touched, brushed up against, bumped into, caressed, dallied with, sucked or was fucked by, JT's cock: I also never saw it pendant above a toilet bowl, aimed at a urinal, raise its head and take a sip from his wine glass or go sliding along the floor, rubbing its back on the chair legs. So, in re its size, I refer you to JleS [Joe LeSueur]. Sorry!
     Actually, I liked him like you like a friend; but since you say you find him 'presentable', I take it that that might mystify you.
     So JAbery saw my letter to Jane [Freilicher], huh. Well well. I didn't think I said anything bitchy, just that you had caught him in characteristic attitudes, as indeed you had everyone who was on the excursion. But mercy me, if you think it will do any good, of course I'll assure him that you told me he took you and Hal to the theatre!
     Poor dear Bill Weaver has jaundice in Vienna, so far from his home away from home. He wrote John Becker that it was not a serious case, but, I seem to recall that when Bill Rose had it here, he first had a mild attack, and then a very serious one. Anyway, Bill seems to think he'll be back in Rome by Dec 1 or so — all the same, if you whisked him a note, it might reach him there: Pension Alt Wein, Spiegelgasse 6, Wein I, Austria. He's in a hospital, but J Becker, fearing his children might catch it, burned the letter! Tell JA and Hal to send him a word of cheer, too. It is soul-trying to be sick and companionless in a far place (I wonder how many orderlies he's seduced by now? In Venice, he grabbed at, and got, the bearer of his morning coffee tray!)
— Wednesday (same year) —
     So far I wrote yesterday, when the boys came in and we all went out to dinner in the Pecci-Blunt palace and then to the Milan train, where, this minute, the boys are playing. Someday you must teach me how to talk to strangers — I feel such a lump. My conversation encounter last night went something like this: a Mme de Beaumont: 'Nowadays, so few young people seem interested in maintaining their beautiful homes, don't you find?' Me (thinking of my own young people): 'Maybe it costs too much money.' Mme de B: 'No no no I don't mean that!' as I might have deduced from the beads on her fingers and the rings in her ears. Ho hum. Anyway, and besides, it's fun to see the insides of houses.
     Yes, I do want to finish my novel before I come back. 1) I couldn't bear for it to keep going on and on forever, and 2) why not? And 3) even if I don't feel satisfied with it, just to finish it may give me a retrospective kind of satisfaction.
     Now I'm going to go eat, and see a Venetian company in a Goldoni play, of which I'll understand powerfully little. The opera season begins here in a couple of weeks with Forza, [20]  and this Sunday they're doing de Falla's marionette opera in a concert performance with Spanish singers. Goody.
     I look daily for a 'hurry home' answer from you to my last letter.
                           Bye bye for now, sweetie pie:
                                                                            love,
                                                                                     N.N. [Nicholas Nabokov]
                                                                                      Jimmy                                                 
— Jan 13, 1955 —
Italian/ German Border

Dear Frank — I've just done customs, & I'm sitting on the train waiting to cross the German border. Do you suppose Baden-Baden will have a ghost of the intricate days? I hope so. I wouldn't want my new rhinestone bows to go for naught. I left Bill Weaver sobbing your name in Rome. But don't worry I'll soon be out of the woods & home. love, Jimmy
Endnotes
[1]  Schuyler and John Ashbery collaborated on the novel A Nest of Ninnies beginning in 1952. They finished it in 1968, and it was published the following year by Dutton.
[2]  Herbert Machiz (1923–1976), director of the Artists' Theatre and lover of John Myers.
[3]  Schuyler's novel Alfred and Guinevere published by Harcourt Brace in 1958.
[4]  George Balanchine (1904–1983) Russian-born choreographer, he was a founder and artistic director of the New York City Ballet.
[5]  John Bernard Myers (1914–1987) Schuyler met Myers while he was in high school and Myers worked at a Buffalo, New York bookstore. Myers was the first director of the Tibor de Nagy Gallery and a major animator of the New York painter and poet scene from the early 1950s until his death.
[6]  Italo Svevo (1861–1928), pseudonym of Italian novelist Ettore Schmitz best known for his novel Confessions of Zeno.
[7]  O'Hara, Schuyler, Gold and Fizdale read Chekhov aloud in a house the pianists rented at Snedens Landing, New York, in the summer of 1953.
[8]  Richard Miller's Tiber Press published in 1961 Schuyler's 'Salute' with prints by Grace Hartigan, Frank O'Hara's 'Odes', prints by Michael Goldberg, 'Permanently' by Kenneth Koch, prints by Alfred Leslie and John Ashbery's 'The Poems', prints by Joan Mitchell.
[9]  Janice Koch (1931–1981), wife of Kenneth Koch and a close friend of Schuyler's. Chester Kallman (1921–1975), poet, W.H. Auden's lover and a friend of Schuyler's from the early 1940s. William Weaver (b.1923), writer and translator residing in Rome.
[10]  Gianni Bates, set designer, photographer and a lover of Joe LeSueur's. O'Hara wrote a poem to him, 'To Gianni Bates.'
[11]  Harold Norse (b. 1916), poet and memoirist associated with the Beat scene. With Carnivorous Saint: Gay Poems 1941–1976 (Gay Sunshine Press, 1977) Norse became widely known as a gay liberation poet.
[12]  Al Kresch, (b. 1923), painter.
[13]  Cecil Beaton (1904–1980), British photographer, set designer and diarist. In November and December 1954 O'Hara worked mornings as his secretary.
[14]  Charles 'Lucky' Luciano (1897–1962) New York gangster deported to his native Naples. Luciano was a founder of Murder Incorporated.
[15]  Arthur Weinstein, interior decorator.
[16]  Ronald Firbank's play The Princess Zoubaroff, a Comedy.
[17]  The XXVII Venice Biennale, de Kooning's second.
[18]  Edward Gorey ( 1925-2000), book designer, artist and writer, Gorey had been O'Hara's Harvard roommate.
[19]  Laird Cregar (1916–1944), actor who played Jack the Ripper in The Lodger.
[20]  Giuseppe Verdi's opera La Forza del Destino.