Dana Teen Lomax and Jennifer Firestone
Letters To Poets:
Conversations About Poetics, Politics, and Community
One hundred years after Rilke's renowned "Letters To A Young Poet", 14 of America's leading poets and the emerging poets they've been in dialogue with take on some of the day's most vital questions concerning poetics, race, class, and gender. Their letters appear in an anthology titled "Letters To Poets: Conversations About Poetics, Politics, and Community" to be published by Saturnalia Books in the Northern Fall of 2008. Six of these poets will present a panel discussing their experiences in writing their letters: Eileen Myles, Anne Waldman, Quincy Troupe, Jennifer Firestone, Albert Flynn DeSilver, and Dana Teen Lomax and takes place in the New York Hilton Murray Hill Suite, 2nd Floor (149 E 39TH St, New York City, NY 10016) on Thursday, January 31, 2008 at 9:00 a.m. [Map Link]
Editors' Note

The Letters To Poets project is the culmination of one year's correspondence between 14 pairs of America's leading poets and the "emerging" poets with whom they chose to write. From the inception of the project, there have been no strict formal or thematic guidelines; we just asked poets to write about their most pressing issues. The result is an exceptionally diverse anthology full of integrity, honesty, and skill.

Letters To Poets takes place 100 years after the writing of Rilke's Letters To A Young Poet and does well to both credit and challenge that earlier work. In the Letters project, the question of "mentorship" gets reworked as the writers talk about the endemic hierarchies and problems in older models of apprenticeship. The topics in these letters range from race issues to gender codes, and from U.S. politics to poetics. We hope that these letters will spark discussion and offer insight into some of the ongoing urgent conversations in contemporary poetry. The letters you can read in this issue of Jacket are the first exchanges between three poet-pairs:

Kathleen Fraser and Patrick Pritchett


Paul Hoover and Albert Flynn DeSilver


Leslie Scalapino and Judith Goldman
Altogether the writers involved in the project are:
Alfred Arteaga and Hajera Ghori
Wanda Coleman and Truong Tran
Jayne Cortez and Rosamond King
Kathleen Fraser and Patrick Pritchett
Victor Hern‡ndez Cruz and Brenda Coultas
Paul Hoover and Albert Flynn DeSilver
Eileen Myles and Jennifer Firestone
Joan Retallack and Brenda Iijima
Leslie Scalapino and Judith Goldman
Quincy Troupe and Traci Gourdine
Claire Braz-Valentine and Dana Teen Lomax
Cecilia Vicuña and Jill Magi
Anne Waldman and Karen Weiser
John Yau and Anselm Berrigan
 — Dana Teen Lomax and Jennifer Firestone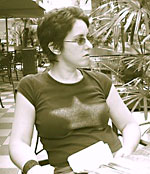 Jennifer Firestone
Jennifer Firestone is from San Francisco and currently lives in Brooklyn. Her latest chapbook, from Flashes, is forthcoming from Sona Books. She is the Poet in Residence at Eugene Lang (The New School), and her work has recently appeared in How2, Fourteen Hills, Can We Have Our Ball Back, Dusie, moria, MIPOesias and others.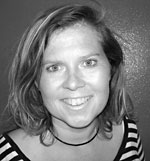 Dana Teen Lomax
Dana Teen Lomax is the author of Curren¢y (Palm Press, 2006) and Room (a+bend press, 1999). Her writing has been supported by the California Arts Council, the Academy of American Poets, and the San Francisco Foundation. Currently she is making Q, a series of "home movies" about raising a daughter on the grounds of a state prison.