Todd Swift
Four poems
Confessions / The Serious Business / I'm In Love With A German Film Star / Hume
Confessions

Language exceeds light & meat
and other doubtful propositions

that shape neither nature or truth, but
decorate teeth like dazzling gems.


The Serious Business

The serious business is the world's too-much-with-us;
The warming surface and the freezing-beneath fuss;
Cross-slat sunlight dazzles the upturned model's bum

In some studio in Ravenna, or Paradise, a grand sum
Of nada incorporated. I have been five times a day
On the carpet, and also defiled cartoons, to defray

My fear that god might have fled, not to be extradited.
Let me state baldly the fifty-year problem, excited:
The shallow end of the pool is where beauty exfoliates

But the deep is where one rises through various states
(How the water flows like the undone bride of Milton)
Bent out of shape but oxygenated for ultimate union

With the blood of the lamprey and the salve of the eel;
That is I wish to coil then recoil my Byzantine raw feel,
Adept at the slide, slip, slow-fast-slow thrum of ideation

Which approximates the empty condom, verse-creation;
Julia's liquefied plastic wrapping the soul-surge's pulse
Well knows a lapse-soon into superannuated what-else;

Should we barricade the fights, or splurge our corpuscles
On the trident of this maximum folly, life's hustle-bustle?
I call for tran-substance, décorporation, being not-useless.


I'm In Love With A German Film Star

Somewhere in Kansas or wherever Wichita is
I stop to dally with a waitress in a summer dress
under a diner's neon kiss; I'm wearing a UPS
uniform, I drive for them. My name tag lies

when it says: W.W. Pabst. I make a highway
angel by slyly helicoptering my sleeved arms
on the line that divides the independent cinema
of this scene. I have the ball cap and the smirk,

when you stamped my lips with FIRST CLASS
you really went to work. I voted for Cheney
but not for Bush, only in the sense I'd vote for
four o'clock but not the evening news on its heels;

I'm filled with an unbearable urge to be 32 always
and to marry a chick named Miss Miss. I am
basically filled with the luminous possibilities
of American landscape as it unfolds in movies.

If I was a plane I'd never have to land -
I'd be the land, you see, I'd already be the land,
and the way wings spread over and below,
the way a shirt is also a stain is also a shadow.


Hume

As ice lifts an eye curt then loquacious
in its brief good day, holding up to vanish
so a mind is a fine lie, wit-life spanned;
under the sun that burns young ice away
the manned cabin spins out, records broken;
high-jumpers who lapped the track now declined.

A cone, whose fir went highest, lowers to needles;
the acorn sun coaches truant icicles
to vie faster to where all gold medals
pour, in atriums coined with winter trees.
A decent wage is a wag's tale, watching
bodied miles. Who now mourns capital gains?

Vaulted hay bales, drank water, clapped robins.
Do laurels need crown out our tall teacher?
Great are green woods where final meets achieve;
maples run their sweetest sap from spring sieves.
Drink from the cold bucket the clear victory,
to taste death, a syrup slow to deceive.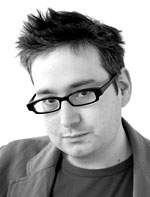 Todd Swift.
Photo by Derek Adams.
Todd Swift is the author of three poetry collections, Budavox, Café Alibi and Rue du Regard. He is an editor of many poetry anthologies, including 100 Poets Against The War; Future Welcome; and Babylon Burning. He compiled the recent audio CD Life Lines: Poets for Oxfam. He has been poetry editor of the award-winning online magazine Nthposition since 2002 (at http://www.nthposition.com/), and Oxfam GB Poet In Residence since 2004. He is editing an anthology of twentieth-century Canadian Poetry for Carcanet. His poems have been anthologized in Open Field (Persea Books, NYC, 2005) and The New Canon (Véhicule, Montreal, 2005). His poems have appeared in The Guardian Review, Cordite, Jacket, Poetry Review, New American Writing, London Magazine, and The Manhattan Review, among others. He lives in London, where he works as a reviewer and Core Tutor for The Poetry School. His latest publication is Natural Curve, a pamphlet of poems from Rubicon Press, Alberta.

For more about Nthposition, see this site: http://www.thedrunkenboat.com/nthposition.html