Mark Mordue: Things That Year
you're reading Michael Ondaatje's
Coming Through Slaughter
jazz notes fracturing
a poem-glass madness
through the words

the sky guitar of Billy Corgan
running into dusk light
and Bourke Street traffic
from the lemon walls and shadows
of your pyramid attic room

you want to paint 'stories must travel'
across the sloping ceiling above your desk
for inspiration, but it never happens
while you love the sweat of summer
dripping from your face
to your type-writer keys
as you sit there half undressed

you chase 'the Wolverine' and his gang
all the way across town
with your best friend, a joint and a beer:
Dave Graney and The Coral Snakes,
magnificent to ten people
in some foreign Manly bar

this year's heroes: Nelson Algren,
Morrissey and Nick Cave,
and to get the party started,
Tone Loc, a base note
but that's okay

your afternoons are reserved for
falling in love with Joni Mitchell
twenty years and 20,000 miles
too late, too far, for it to happen
and yet it does...
her Hejira of snow
and crow-like garments
besotting you
while you lounge in your Surry Hills
terrace-and-flannelette gloom and say
'oh God' to the 3pm sunlight touching your legs

put on your Blundstones,
cheer up, mate,
the night is back in black
it's time to singalong dringalong
to The Body is Dirt
it's time for free rock n roll
Plug Uglies bending and shaking
at the Hopetoun Hotel

walking home later
on strumming feet (the road one dark chord)
there's a tree put down
as some kind of German Expressionist protest!

designed especially for you to climb when drunk,
a girl in the branches with hair like seaweed,
waiting and calling your name, arching her back
and you go up, of course,
into kisses and songs made of wind and leaves.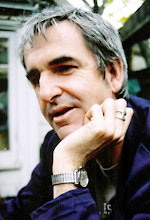 Mark Mordue is a writer, journalist and editor published internationally. His first book, an integrated collection of travel stories entitled Dastgah: Diary of a Headtrip has been published in both Australia (Allen & Unwin, 2001) and the USA (Hawthorne Books, 2004). He was a 2002 Asialink writer-in-residence at Beijing University and teaches writing at the University of Technology, Sydney and the University of Sydney. He is currently developing a novel set in a cold environment.
Copyright Notice:

Please respect the fact that all material in Jacket magazine is copyright © Jacket magazine and the individual authors and copyright owners 1997–2010; it is made available here without charge for personal use only, and it may not be stored, displayed, published, reproduced, or used for any other purpose.
The Internet address of this page is http://jacketmagazine.com/33/mordue.shtml