Jacket magazine:
Bookstores
Below, bookstores in | Australia | Britain | Netherlands | USA and Canada | France
For second-hand books, try this: http://www.bookfinder.com/

For Europe generally, see immediately below.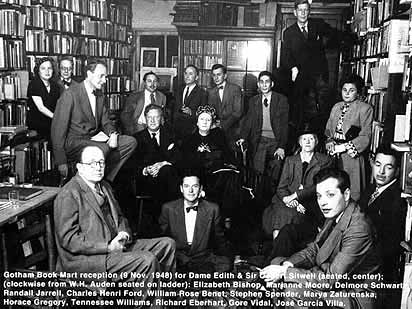 If you'd like your favorite bookstore to be listed here, please write.



Photo, left: Gotham Book Mart, New York City, 9 November 1948 — reception for Dame Edith and Sir Osbert Sitwell, seated, centre. The store is now (2007) defunct, sadly.
Sonja and Ivan's Bookstore Guide aims to map all the independent European bookstores selling at least some books in English: http://www.bookstoreguide.org/
Currently (late 2008) they have helpful info and maps for Bookstores in:

Alderburgh, UK
Amsterdam, NED
Athens, GRE
Barcelona, ESP
Belfast, UK
Belgrade, SER
Berlin, GER
Bern, SUI
Bordeaux, FRA
Bratislava, SVK
Brighton and Hove, UK
Brno, CZE
Brussels, BEL
Bucharest, ROM
Budapest, HUN
Carnforth, UK
Cesky Krumlov, CZE
Chisinau, MOL
Copenhagen, DEN
Dublin, IRE
Florence, ITA
Frankfurt, GER
Geneva, SUI
Granada, ESP
Graz, AUT


Hamburg, GER
Hay-on-Wye, UK
Heidelberg, GER Helsinki, FIN
Inverness, UK
Istanbul, TUR
Krakow, POL
Liverpool, UK
Ljubljana, SLO
London, UK
Lyme Regis, UK
Maastricht, NED
Madrid, ESP
Malmö, SWE
Marburg, GER
Milan, ITA
Mitrovicë/a, KOS
Moscow, RUS
Mostar, BIH
Much Wenlock, UK
Munich, GER
Nancy, FRA
Naxos Town, GRE
Nerja, ESP
Nitra, SVK


Novi Sad, SER
Oberursel, GER
Oia, GRE
Oslo, NOR
Paris, FRA
Porto, POR
Prague, CZE
Reykjavik, IS
Rome, ITA
Sarajevo, BIH
Skopje, MAC
St. Petersburg, RUS
Stockholm, SWE
Tbilisi, GEO
The Hague, NED
Uppsala, SWE
Vienna, AUT
Vilnius, LTU
Wageningen, NED
Warsaw, POL
Yerevan, ARM
Zagreb, CRO
Zürich, SUI
[»] Sydney — Gleebooks at
http://www.gleebooks.com.au is noted for its knowledgable staff and its huge range of poetry, fiction and cultural studies titles, both new and pre-loved, and has for over twenty years hosted poetry and prose readings and book launching parties on the premises. Gleebooks publishes a regular newsletter, the Gleebooks Gleaner. You can search, order and buy through the Internet site. Tel.(+612) 9660 2578 or (+612) 9660 2333, fax (+612) 9660 3597, e-mail books [ât] gleebooks.com.au
[»] Sydney — The Co-op Bookshop at
http://www.coop-bookshop.com.au is the largest academic book retailer in Australia, with more than forty-five branches on and off campus nationally. As a true co-operative, their profits are given back to their more than 800,000 members in the form of discounts to Co-op members. (But anyone can shop there.) They offer a complete range of print and non print items including popular fiction and non-fiction, literature, academic texts, specialist reference books, computing, business, medicine, engineering, sciences and law as well as a variety of software, CD-ROMs and other multimedia products.
[»] Sydney — Mr Nicholas Pounder is known to book collectors the world over for his range of rare and pre-loved volumes. He has moved into the ethereal realm of cyberspace, and is to be found on the Internet at
http://www.nicholaspounder.com/
or by e-mail: npounder [ât] bigpond.net.au
[»] Melbourne — Readings at
http://www.readings.com.au/ makes Melbourne seem less gloomy. Specialises in literature and cultural titles. Also a large music section. Tel. (+613) 9347 6085, fax (+613) 9347 1641
[»] The independent University of New South Wales Bookshop was named Australia's Tertiary Bookseller of the Year 1998 for their range of stock, and for building good relations with suppliers and customers. Not bad, after just one year of trading. The shop offers discounts to all customers (no membership required) and carries an excellent range of books in all areas, and of course, they special order and can indent from anywhere in the world. On campus at the University of New South Wales in Sydney, Australia. To search stock or place an order see their live web site http://www.bookshop.unsw.edu.au or phone (612+) 9385 6622 or fax (612+) 9385 6633 or e-mail info [ât] bookshop.unsw.edu.au
[»] The Australian Online Bookshop at
http://www.bookworm.com.au sells books on all subjects but specializes in computer books, science fiction, fantasy, electronic books, and Australian books of all types.
[»] The Writers's Bookcase, at http://www.writersbookcase.com.au/
is an Australian mail order/Internet bookshop that aims to make it easier for people who write, edit or enjoy words to keep their library up to date with the latest and best books available. It stocks about 500 titles and also welcomes special orders.
Writers Bookcase, PO Box 162, KIPPAX ACT 2615
Phone (612+) 6259 2835 — Fax (612+) 6259 1983
Email: writersbookcase [ât] ozemail.com.au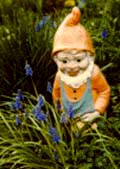 Poet and bookseller Peter Riley specialises in small-press contemporary poetry books, and is a lively presence on the Cambridge UK poetry scene. Ask his team of friendly gnomes to send you a catalogue by steam-driven postal van or special Stratocruiser pressurised cargo flight via Shannon and Gander, from: 27 Sturton Street, Cambridge CB1 2QG United Kingdom,
Tel/fax (011223) 576 422
You can read three poems by Peter Riley in Jacket # 2.
Bloomsbury Magazine in London is an online bookstore as well as a magazine, and sells books by all publishers, not just Bloomsbury. They have created a literary community where their visitors can keep up with the latest literary news in the regularly updated magazine and enjoy other facilities, including online reading courses, reading groups, a research centre and a calendar of literary dates. On the Internet at
http://www.bloomsburymagazine.com/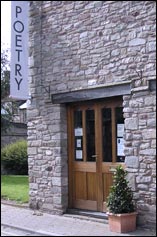 The Poetry Bookshop in Hay-on-Wye at: http://www.poetrybookshop.com/
      Chris and Melanie Prince say: Buy New Books from us with next day delivery on most titles. Whether you are looking for Thomas Campion's "Ayres and Observations" or Pam Ayres' "Some More of Me Poetry", welcome to The Poetry Bookshop.
      We try to cover every aspect of our speciality from the antiquarian and the scholarly to contemporary work: supplying rare, out of print, new and used poetry books from our shop in Hay-on-wye and now online.
      For more photos, shop history and directions click here. Shop with confidence; security is now provided by Protx which means all sensitive data is transmitted securely using the highest levels of encryption. While online you can search for a specific author / title, browse within an area of interest or ask us to track down that elusive book by leaving a free, no obligation booksearch request.
      We are always keen to buy good quality books: complete collections or individual volumes of note. So why not sell us your books here?
      On our news page you'll find information on the latest updates to the book catalogue, poetry competitions, readings, festivals etc. We'll send out a summary every two months; so subscribe to our e-mail list here.
      Featured Titles contains a varied selection of some of the more unusual and interesting books we are offering for sale.
Dillons have been swallowd by Waterstone's, a chain with over 50 stores in the UK and Northern Ireland, and Waterstone's have gone to hide under Amazon's Internet umbrella, so I've taken their link away. Boo hoo.
Heffers in Cambridge England has been swallowed by Blackwell's. Highly regarded for their children's books, rare books, maps, travel and language books, and general titles. At : http://www.heffers.co.uk/

Hatchards of Piccadilly, by appointment et cetera, have 100,000 titles in stock and can access any British book in print. Drop in to their store at 187 Piccadilly London W1V 0LE. Tel (0171) 439 9921, Fax (0171) 494 1313
e-mail: books [ât] hatchards.co.uk
and on the Internet at http://www.hatchards.co.uk

Jake Fior has a rich cache of pre-loved British poetry first editions (mainly Faber) from the 1930s to the 1960s. If you can't visit his little shop in East London, you can at least send an email to: jakefior [ât] hotmail.com
Street address: Jake Fior Bookseller
47 Exmouth Market, London EC1, United Kingdom
Telephone: 44+20+ 7833 4662

The Internet Bookshop — they call themselves "the largest online bookshop in the world" with nearly a million titles, but there are Internet bookstore sites with more. Worth a look if you live in what Lawrence Durrell called "Pudding Island" ... that sceptred isle...
Useless fact number 247: Did you know that the word 'island' and the word 'isle' have nothing in common etymologically? That's what Fowler says under the heading 'True and false etymology'.
http://www.bookshop.co.uk and send your e-mail to suggestion.box [ât] bookshop.co.uk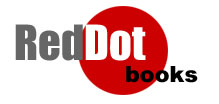 The American Book Center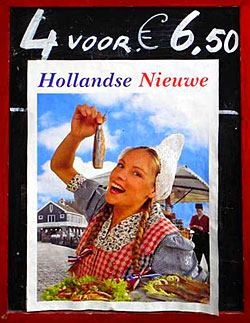 Dutch Girl eating Herring in the Traditional Manner: four herring for six and a half Euros; photo of the poster by John Tranter, Rotterdam, 2002
The American Book Center is a Dutch family-owned company with stores in Amsterdam, The Hague and Louvain/Leuven (Belgium). It was founded when in 1972 a couple of young enthusiastic Americans came to Amsterdam, the city where anybody, anything and everything goes, and decided to open a store with American erotic magazines and book remainders bought for 10 cents a pound dry weight… that was over 30 years ago!
Today the American Book Center has grown into one of the biggest sources of American (and British) language books on continental Europe, with not only a store in Amsterdam but also one in The Hague (which opened in 1976) and one in Leuven, Belgium (opened in 1999).
10% discount for students, 65 +, teachers, and ABC cardholders
Two stores, one Internet site: http://www.abc.nl/
Amsterdam
Spui 12, 1012 XA Amsterdam, The Netherlands
tel.:+31(0)20 625 55 37
fax:+31(0)20 624 80 42
GPS cordinates: lat - long: 52.369 , 4.889
email info [at] abc.nl
Mon — Sat 10-20
Thursday 10-21
Sunday 11-18:30
The Hague
Lange Poten 23
2511 CM Den Haag
phone +31( 0)70 — 3642742
fax +31( 0)70 — 3656557
email dh [at] abc.nl
Monday 11-19
Tues, Wed, Fri 10-19
Thursday 10-21
Saturday 10-18
every Sunday 12-18

Bookstores in the USA and Canada
Black Widow Books,

Boston
Black Widow Press
c/o Commonwealth Books, Inc.
526 Commonwealth Avenue
Boston MA 02215, USA
Internet: http://www.blackwidowpress.com/
Editorial statement: Our 'mission' is twofold: to bring back into print (and keep in print) at an accessible price point those authors/titles that have had an impact on the cultural, literary, and/or artistic thought of the 20th (and 21st) century and to publish those poets who are still contributing today in a meaningful way to the same. We emphasize modern poetry, and literature in translation (especially in the poetry, short story, and novella form) that many larger publishers will not publish anymore or have let lapse out-of-print and will not reprint because of the perceived limited market or return on the investment. We feel, as readers and as booksellers of some 20 years, that good books should transcend such corporate thoughts, and that good books will find a market only if you allow them the time to do so. Where we have felt the translation to be poor but the title important we have, in conjunction with the copyright holders, undertaken all new translations. The translators who are helping in this endeavor are among the leading and most poetically adept authorities in their field. In the new publishing world of the 21st century, time for a title is now measured in months instead of years. Our titles will be measured by their availability over the years.
City Lights

in San Francisco — here's what they say:
CITY LIGHTS PUBLISHERS: Since 1955, independent publishers of cutting-edge literature and books on compelling social and political issues.
CITY LIGHTS BOOKSTORE: Famed San Francisco bookstore is an intellectual Mecca and reader's pilgrimage, with the best that's published in a wide range of subject areas.
CITY LIGHTS FOUNDATION: A nonprofit educational and cultural organization with the goal of advancing literacy and the literary art.
261 Columbus Avenue, San Francisco CA 904133
Phone (415) 362 8193, Fax (415) 362 4921
Email to staff [ât] citylights.com
On the Internet at http://www.citylights.com/

is an online gallery and store featuring Handmade, Small Press and Unusual Books of Distinction. On the Internet at:
http://www.superlativebooks.com/
Mailing Address:
     PO Box 3003 Kokomo, IN 46904-3003 USA
Shipping Address:
     318 W. Jefferson St. Kokomo IN 46901-1865 USA
Toll Free (US): 1-877-772-3003 / Phone: +1-765-868-3003
email: info [ât] superlativebooks.com


The Grolier Book Shop

in Cambridge, Massachusetts.
Founded in 1927 by Adrian Gambet and Gordon Cairnie, the original shop stocked mainly private press books, some poetry, and a sampling of avant-garde literature. Frequented over the years by T.S. Eliot, e.e. cummings, Marianne Moore, Charles Olson, Allen Ginsberg, and Donald Hall, the literary tradition became well-established.
      In 1979, the owner, Louisa Solano, developed the store as a showcase for the works of poets. Sponsorship of autograph parties, the founding of The Intercollegiate Undergraduate Poetry Reading (now in its 11th year), the development of a reading series, the annual poetry festival, and the Grolier Poetry Prize Annual (the last three co-sponsored by the Ellen La Forge Memorial Poetry Foundation) bear witness to the mission of the Grolier to develop and further interest in poetry among a wider, more diversified audience.
6 Plympton Street, Cambridge Massachusetts 02138
Near the corner of Massachusetts Avenue, opposite Harvard Yard. Special orders invited — Tel (617) 547 4648

Email through this link: orders [ât] spdbooks.org,
or call by 1341 Seventh St, Berkeley, CA 94710-1490,
or phone 1-800-869-7553

at http://www.booksmith.com or at 1644 Haight St, San Francisco CA 94117, just across the street from Bruno's Zam Zam bar at 1633. Booksmith employee Thomas Gladysz (photo, below, by John Tranter, San Francisco 1991) also edits an Internet poetry magazine — check it out at the Booksmith Reader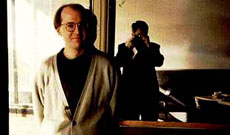 — they say they have the "lowest prices in the known universe". Try them and see... at http://www.books.com


Vancouver, Canada, at http://www.blacksheepbooks.com
...a small funky independent bookstore specializing in contemporary and alternative works of fiction, poetry, social criticism, and film. The website features selections from the work of featured poets and writers, news items related to literary issues, reviews, and a searchable catalogue of many of their titles. Prices quoted are in Canadian dollars.


in Portland, Oregon, at http://www.powells.com
... the largest independent new and used book store in the world (it occupies a whole city block, and is three stories high) — worth a look.


Specializing in the Beat Generation
& the San Francisco Renaissance
at http://www.emptymirrorbooks.com/links.html list dozens of sites relating to Kerouac, Michael McClure, the Naropa Institute, and other Beat inspirations.
Empty Mirror Books
P.O. Box 972, Mukilteo, WA 98275 USA
American and English Second-hand Bookshop
17, rue Monsieur le Prince
75006 Paris — Métro: Odéon
Tel 01 43 29 15 70, Fax 01 43 29 52 48
E.mail: sfbooks [a.t] easynet [d.o.t] fr


The Red Wheelbarrow Bookstore
Penelope Le Masson and Abigail Altman
Two venues in the Fourth:
22, rue St Paul — 75004 Paris France
Tel- (+33) 01 48 04 75 08
Open Monday through Saturday 10h00-19h00,
and Sunday afternoons
13, rue Charles V (children's books) 75004 Paris France
Tel- (+33) 01 42 77 42 17
Open Wednesday through Saturday 10h00-18h30,
and Sunday afternoons
      M° St Paul, Sully Morland — Fax- (+33) 01 42 72 85 27
      good.reading [ât] wanadoo.fr       or       red.wheelbarrow [ât] wanadoo.fr


http://sites.google.com/site/jacket-notes/Home/recent-books
American spoken with élan at the

Village Voice Bookshop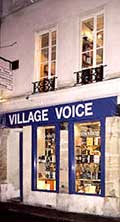 6 rue Princesse, Paris 75006
Tel. 33-1-46 33 36 47, Fax. 33-1 46.33.27.48
Métro: Mabillon or Saint Germain des Près;
They used to have an Internet site, but it's no longer there [November 2001].

The Village Voice Bookshop is ranked by The Bookseller, the British trade journal, as the best independent literary bookstore in Europe. It specializes in private and institutional orders, foreign orders, book and bibliographical search, in English-language and French titles, and guarantee immediate shipping.
      Read Katherine McNamara's informative and detailed interview with Odile Hellier, proprietor of the Village Voice bookshop, in Archipelago magazine. An excerpt: "If the bookseller has disappeared, and is only a salesperson, it means that there is no vision. It means that there is no knowledge. It means that, if you sell Gertrude Stein, you put Gertrude Stein at the same level as [John] Grisham: it makes no difference, a book is a product. Thus we have seen the leveling of the meaning of books."



Owner: M. George WHITMAN — a unique bookstore and private library situated across the river from Notre Dame, in the 5th arrondissement of Paris:
37, rue de la Bûcherie,
75005 PARIS (no telephone)
Open daily from noon until midnight. The Internet site has a guided tour: visit the three floors of books and literary history of the shop, with 45 photographs arranged so you can "walk" from room to room. The site is living and growing into a digital archive project of the forty plus years of Paris literary history which has passed through the shop's doors. On the Internet at
http://thinkparis.com/guides/shakespeare.cfm



Montparnasse, 136, rue de Rennes, 75006 PARIS, Tel: 01 49 54 30 00, Fax: 01 49 54 31 11 — Internet: http://www.fnac.fr/
FNAC — Salon du livre — Visitez le Café littéraire de la Fnac : Retrouvez toutes les interviews vidéo de James Ellroy, Günter Grass, Gao Xingjian et Bret Easton Ellis réalisées lors du Salon du livre 2001, sans oublier toutes les autres ! (Attention ce site nécessite l'utilisation du plug-in Flash disponible sur Macromedia.) Expression Libre /  Forums & Chats  /  Envoyez une e-carte  /  Services Internet /  Offres d'accès 9Online /  Ma messagerie  /  Culture plus /  L'écrit  /  Musique  /  Films & vidéo  /  Sorties & spectacles  /  Voyages  /  Enfants  /  Arts à voir  /  Images & photo /  Multimédia and so forth, all in French.



AaZbooks.com
This material is copyright © Jacket magazine 2006 — You are at this page: Bookstores

Copyright Notice:

Please respect the fact that all material in Jacket magazine is copyright © Jacket magazine and the individual authors and copyright owners 1997–2010; it is made available here without charge for personal use only, and it may not be stored, displayed, published, reproduced, or used for any other purpose.
The Internet address of this page is http://jacketmagazine.com/00/bookstores.shtml