We live not in the era when a painter put a mustache on the Mona Lisa but in the era when that famous gesture became a cliche -- a time when such "shocks" are routine. "But today there is no point in looking to imaginative new methods / Since all of them are in constant use," wrote John Ashbery in "Definition of Blue" (in The Double Dream of Spring, 1970). Today the spirit of irony and parody must involve our own sacred objects. That is one of the brilliant strokes in Kenneth Koch's book One Thousand Avant-Garde Plays (1988). The 112 short plays in the book exemplify the avant-garde impulse and mock it at the same time. There is an aura of cultural sexiness about being "avant-garde," though the term itself remains as slippery as ever. You can't define it, but you can demonstrate its possibilities over and over -- and that is Koch's mandate. Koch proposes, for example, six ways of turning Hamlet's "To be or not to be" soliloquy into an exemplary act of avant-garde theatre; he presents the same speech with six different sets of stage directions. In one case, the hero interrupts himself after the "sea of troubles" sentence -- he lights a cigarette, inhales, exhales, and walks offstage ("Smoking Hamlet"). In another, two actors go through the motions of the Little Red Riding Hood fairy tale while reciting Hamlet's speech ("Little Red Riding Hamlet"). In a third, a team of readers recites the speech one syllable at a time, changing their posture after every six syllables ("Team Hamlet"). The irreverence is not in regard to Hamlet but in regard to the avant-garde ideal that is seemingly embodied in these miniature verse dramas. My favorite play in the book is "After the Return of the Avant-Garde," which ends with this exchange:
 
"Which is more avant-garde -- a giraffe or an elephant?"
 
"A giraffe is more avant-garde, but an elephant is more surreal."
 



Why is there so much self-conscious artifice in postmodernist writing? Because you can't escape it. Once Pirandello let everyone in on the secret, the temptation to interrupt the play and introduce the author was irresistible. The modernist epiphany is the characters' recognition that they are in the end merely characters in a play. The postmodernist epiphany is the playwright's determination to provide two mutually exclusive endings to the drama, as Ashbery does in his play "The Compromise" (1955). In a modernist universe, the traveler penetrates to the heart of darkness and tells a lie to keep the reality of that darkness from a person whose illusions he does not want to shatter. In a postmodernist universe, the traveler arrives in Marlon Brando's hut where the great man has been reading Borges. Artifice doesn't bother to disguise itself. In Ashbery's one-act play "The Heroes" (1950), Theseus explains that he had penetrated to the heart of the maze only to find that the fabled Minotaur he came to conquer was nothing but a rusted unambitious piece of stage-machinery. What accounts for the popularity of the sestina in the postmodernist era? It is an article of the postmodernist faith that language has a mind and a will of its own, an autonomous existence full of meaning and mystery. Unwilling to wait for lightning to strike, the poet manufactures inspiration by linguistic invention -- by playing with words rather than by trying to exercise mastery and control over them. Writing a sestina is an excellent example. You write a sestina for the same reason you try a Surrealist procedure (e.g., "Death: Male or Female" as an automatic-writing assignment). The object in each case is to discover what you know (or what you don't know that you know). A word game tricked out as a mathematical structure, or vice versa, the sestina consists of thirty-nine lines, distributed over six six-line stanzas and a final triplet; six words, occurring in a prescribed order, conclude all thirty-nine lines of the poem. The poet has to spend so much time solving the formal puzzle -- how to get the six end-words (or teleutons) to occur and recur in the exact order required -- that there is little time left to worry about the coherence of the imagery or the logic of the argument. The censorious ego, being otherwise occupied, steps aside and lets the poet's unconscious shoot directly onto the page. That is one important reason this medieval form is more popular in the English speaking world today than anywhere ever before. In that case, how do you account for the popularity of the prose poem, which lacks line-breaks, let alone the complicated rules of composition in the sestina form? The prose poem was born of rebellion. Charles Baudelaire, who created the genre, overthrew at a stroke the tyranny of the Alexandrine line, which was more dominant in France than blank verse ever was in England. Baudelaire's prose poems are energized by the subversive spirit of infernal laughter.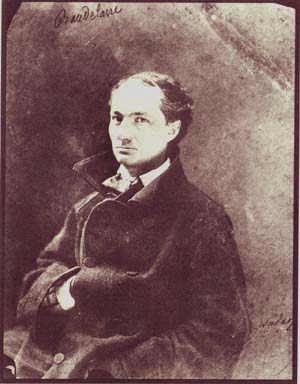 Charles Baudelaire, 1854, by Nadar (Gaspard Félix Tournachon). [Rimbaud was born in 1854. J.T.]
For poets ever since, the prose poem has afforded an opportunity to perpetrate a dark joke. This alone would endear the prose poem to the postmodernist poet. There is a level of self-conscious irony in many recent American examples. "In order to free poetry of its mannerism and ticks, the prose poem must not take itself too seriously," writes Charles Simic, an exponent of the form. "Impossible to write, illegitimate in the view of so many poets and critics, it must remain a pariah and an object of ridicule to survive." ¶ [see endnote 5] What makes laughter infernal? Samuel Beckett in Watt explained that there are three distinctive types of laughter. There is the bitter laugh, the hollow laugh, and the mirthless laugh. The bitter laugh is the ethical laugh; it laughs at that which is not good. The hollow laugh is the intellectual laugh; it laughs at that which is not true. But the supreme laugh is the mirthless laugh, for it dares to laugh at that which is unhappy. Guess which of the three is the laugh of postmodernism. Where will it end? A postmodernist trick is to pull the rug out from under the reader. The speaker at the close of his presentation, sneaking a look at his wristwatch, smiles enigmatically and says, "What I've just said isn't true." I am tempted to do something like that. To say that postmodernism, so useful in giving academics something to talk about, is a fiction. To argue that we are not post-anything. We are, miserably or splendidly, ourselves, living now, living here. What I've been calling postmodernism is really an extension of modernism, not a repudiation of it. "Postmodernism is a misnomer," writes Janet Malcolm. "The architects and urban planners laboring under its rubric haven't abandoned modernism but have continued to work serenely in its idiom." You could make the same argument with regard to art and literature. It could be that nothing in postmodernism is new: all the tendencies of postmodernism were already there, if only embryonically, in modernism. In The Waste Land, T. S. Eliot, the high priest of modernism, introduced the techniques of collage and fragmentation so dear to postmodernism. Even the tendency to pull the rug out from under the reader goes back to modernist works by Henry James and Joseph Conrad in which a lie or a belated revelation throws everything into doubt.
Well, maybe. But when I look at my own enduring critical preoccupations -- my fascination with hoaxes and fragments, with hard-boiled murder mysteries and forties flicks, with parodies and paranoia, and most of all with the poets of the New York School and their painter pals -- I know they suggest so strong an affinity with the postmodernist spirit that to deny it as a potent force could only seem disingenuous. The real question, as I see it, is whether the aesthetic point of view embodied in postmodernism can coexist with the moral point of view that makes ethical behavior possible. Kiekegaard in Either / Or suggests that the choice between the aesthetic and the ethical is absolute -- one must decide between them. But good pre-postmodernist that he is, Kierkegaard cloaks himself behind no fewer than three pseudonyms in Either / Or, and it is entirely possible for a reader of that book to convert "either / or" into "both / and." I would like to think that the devices, the attitude and tone of postmodernism can be used -- and used with a vengeance -- for moral as well as aesthetic ends. Susan Sontag in her "Notes on Camp" said that the artistic temper of our century is composed of homosexual aestheticism and Jewish moral earnestness in concert. That is well said. It remains a challenge to bring these forces together in some way that preserves their individual functions and transcends them in the lasting form of art.
---
Endnotes:

¶ 1 Jorge Luis Borges, "Prologue," The Garden of Forking Paths (1941), in Ficciones, ed. Anthony Kerrigan (New York: Grove, 1962), p. 15.
¶ 2 Walter Benjamin, "Unpacking My Library," in Illuminations, ed. Hannah Arendt, trans. Harry Zohn (New York: Schocken, 1969), p. 61.
¶ 3 Soren Kierkegaard, Either/Or, vol. 1, trans. David F. Swenson and Lillian Marvin Swenson (Princeton: Princeton University Press, 1971), p. 295.
¶ 4 Salman Rushdie, "Reservoir Frogs (Or Places Called Mama's)," The New Yorker, September 23, 1996, p. 104.
¶ 5 Charles Simic, "The Poetry of Village Idiots," in Verse, vol. 13, no. 1 (1996) p. 8.

This piece first appeared, in a different form, in the collection of essays The Big Question, published by the University of Michigan Press,
ISBN 0-472-06583-1 (paperback).
 
David Lehman is a poet and critic, and the series editor of the annual anthology The Best American Poetry. He divides his time between Ithaca, N.Y., and New York City.
His latest book of poems is Valentine Place (Scribner).
You can read his account of the famous Ern Malley Hoax in Jacket # 2.