vi.
 
the movement of history:
red flag, gold stars
on a t-shirt probably bought
at a stand near tiananmen
then thrown out. now
this homeless guy wears it.
the sign said we are moving.
 
political poetry, or wage slave
with a dictionary of antonyms?
either way we slide again
toward tax law
rules of loss, debt. hey,
i'm okay with that. you?
political poetry or carping from the sidelines?
if i don't write that
i can always write something else
i'll have whichever is later.
 
 
    American field couches.     ( prose )
 
Absolved peel ends at thumb and moves to dog for the man who sounds like sedaka. Again they will plug scuppers remaining the alter in shoals and short arms thrall for now; later, we accede to then. Unshelve the hinges -- we like attraction. Of course it doesn't fit. There is her suit and lines. Hey, look: nothing!
 
A sound of hopping took and took with touch and hon and three. It's a bargain porch a song until breaks burn. News without articles, new mold then a smell, chickens in long grass we go green and easy tempt of in. What you like, what you will pay. Tell me again the difference between collapse and dissolve or transcend. She offers, follows a face tilted upward in sun and guttered horizons holding mercy eggs she says. Please.
 
 
    "No end to stolen ID nightmare"
 
Time and weather information
is in the fridge, you have
a hippocampus and 100 flowers: bloom.
Shards swept in the dustbin
leave never enough for a hand
of tarot with bill. Who is the gardener?
Outside the cake shops the lite philosophers
debate the metaphysics of sugar
i.e. a girl's name and another.
 
Bored with neologisms, Phil wanted
to invent a new number,
threw away a pride
pond away the long air missing want.
Instead, we paint the curb red holding tight
to a blind and purgatory bliss.
or, the history of aesthetics:
change the key and let the locks.
Does the car horn go here?
Usual cities flow and bowl the lair
someone attributes bad weather
to a baby Jesus. Wethaired,
she's good at saying things
I know, frame too small
so song against the edge.
Who brought flowers?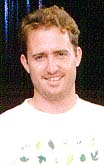 Bill Freind has work forthcoming
in Misc.Proj. , Kenning, and whatever
John Lowther is going to call his next journal.
He lives in Seattle.