What were the circumstances of the recording?
 
Jonathan Williams was poet-in-residence in Aspen where Mina was living in her old age. He was there for the summer of 1965. Some of the poets from Black Mountain College came to visit -- Blackburn and Creeley, along with Robert Vas Dias. They heard her read at a social gathering arranged by her daughters for people who might appreciate her work. And they did. So they came to interview her. She was charmed and delighted -- obviously very happy. On the tape we can hear Mina reading some of her own poems -- stumbling over the long words, laughing at them, saying "Wasn't I clever" or "Wasn't I wicked" in the middle of a poem. It's a very, very interesting document and the only one of its kind.
 
This interview will be published in a volume called Mina Loy -- Woman and Poet put out by the American National Poetry Foundation in Maine. They do a volume a year on poets like Pound and Moore and Loy -- that generation. It's being edited by Maeera Shreiber and Keith Tuma, two Mina Loy scholars, and includes critical essays, other poets' appreciations of her work, and this interview.
 
So there's that, the novel you mentioned, and a new edition of her poems . . .
 
The Lost Lunar Baedeker, edited by Roger L. Conover, her literary executor.
 
And then there's your Becoming Modern  -- so 1996 will be a big year for Mina Loy.
 
Yes, a very big year for Mina Loy. After all this time.
 
It will be interesting to see the response after the neglect of the fifties. It's too late for her.
 
It is too late for her, but it does help us to draw a larger, more varied and richer picture of that generation of Modernist writers. I hope it will cause something of a shift in the way we talk about not only the women poets of that period but the poets  of that period, and how we conceive of literary and artistic Modernism. I know that's a lot to hope for, but that's what I would like to see.
King's Cross, Sydney
December 12, 1995
 
Pam Brown is an Australian poet
whose work includes "Not Myrna, Mina."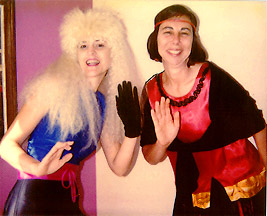 Carolyn Burke (right) with Betty Garland, Aspen, Colorado, Halloween 1989
Photo copyright © Carolyn Burke, 1989, 1998