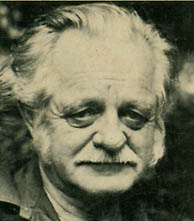 Yet, Rexroth was also known to be quite cantankerous and at times pretentious. By the time of his death he had alienated many who had seen him as a mentor.  Eliot Weinberger's "At the Death of Kenneth Rexroth," reprinted here, reveals how his death had all but been a blip to mainstream United States media.

That part of him has left us and the work remains. In recent months Rexroth tribute readings have occurred across the country that have included many of his former foes — including Robert Creeley.

As the piece by Anastasios Kozaitis suggests, many in the new generation actually long for the rash of a Rexroth in the often too polished and too small world of U.S. poetry.

Copper Canyon's publication of the Complete Poems pulls together many Rexroth poems that were hard to get or out of print. New Directions published a Collected Longer Poems and a Collected Shorter Poems in the 1960s. In addition to that work, the Copper Canyon volume includes all of Rexroth's poems that appeared after those volumes. The new volume also includes a section of early and uncollected work. This section includes one Rexroth's overtly political works, "Noretorp-Noretsyh," that originally appeared in the Evergreen Review:
In the Hungarian night
All the dead are speaking with one voice,
As we bicycle through the green
And sunspotted Californian
November. I can hear that voice
Clearer than the cry of the peacocks,
In the falling afternoon.
Although this "complete" work is over 750 pages, it really amounts to less than half of his poetry. Rexroth is perhaps most known for his translations of the Chinese, Japanese, Spanish, French, Greek and other poets. Indeed, his translations of the Chinese and Japanese are among the best selling books of poetry of their time and continue to sell well to this day.

One of the reasons why these books sell so well is that they are good poetry in American English — his philosophy of translation. The contributions by Weinberger, Stephen Bradbury and Mark Lamoureux in this tribute all deal with Rexroth the translator.  A Collected Translations would be a great companion volume to the Copper Canyon.

In his last years, the line between his translation and his own poetry had blurred. One of his last books was The Love Poems of Marichiko. Marichiko, he wrote, "is the pen name of a contemporary young woman who lives near the temple of Marishi-be in Kyoto." The poems became highly regarded in both Japan and the United States for their simple clarity and emotion:
Fires
Burn in my heart.
No smoke rises.
No one knows.
However, when he learned that he was up for a translation prize for these poems he admitted that he had written them himself. In this tribute, two former students of Rexroth, the novelist Lise Haines and the poet Christopher Sawyer-Laucanno share insight of the Rexroth who wrote the Marichiko poems.

Kenneth Rexroth started his career a cubist and ended it as a women poet from Japan!

Something for everyone.
— Kevin Gallagher