Endre Farkas
Four poems:

Detours
Here
The Waiting Room
I Have

Detours

I'm on my way to you.
The familiar road diverges
where, before, it had not.

Detours surprise.
The adrenaline takes you
to fear-forgotten roads

with no signs to warn
of closed bridges
or dead-end intersections

whose scarecrow arms offer
neither destinations nor distances
to anywhere familiar.

Curves and curses are solid
as sad bulldozers silent
by the abandoned roadside.

The crunching gravel I take for grinding teeth,
the dust spun, a metaphor for lost
the heat's mirage for laughter

and I remember
to get there
you take all sorts of roads.


Here

Here is where
we drop crumbs of ourselves
to find our way back from
the secret drawers of homes
we will never return to.

Here is where
we live, lost in memories
like the old on shopping mall
benches watching the world
like children lost in the mall.

Here is where
even if right, even if there is one
the explanation
doesn't make the ache go away.

Here is where
we come to be with family
long gone, longing for them
looking for them
in the labyrinth of lost stories.

Here is where
we see the rising steam
lie down like a laid-out corpse
and, one winter afternoon, ask
can we go home now?


The Waiting Room

The Waiting Room
is a deep breath.

Hold it
until every living cell
fills with the dead weight of waiting.

Hold it
until it bounces madly off the walls
of seared lungs.

Hold it
until it pounds on eardrums.

Hold it
until it stares out of horror-struck eyes.

And you have just begun to hold it.

The Waiting Room
is a Hell of held breaths.

filled with microbes of fear
swarming weakened immune systems
slumped in corners of couches
staring into staring.

And you have just begun to hold it.

The Waiting Room
is the breath of invading voices
parched, cracked, scorched lips,
moving in almost inaudible prayer.

And you have just begun to hold it.
And you have just begun to hold it.


I Have

I have waited
at the last bus station
oh-so-cold and oh-so-lonely,
like a bride by the altar
with a bouquet of forget-me-nots
and on the marriage pillow
a ring of eternal cities
where I, a stranger,
frightened by the glow of halos
by the streams of thirsty prayers,
knelt to dangerous curves.

I have walked
along the avenues
of rue des Rêves and rue du Parc
when all was quiet, when all was dark
and prayed all night for morning light
to stay away, to stay asleep
so I may hear you wake
and walk along my boulevards
and feel your hunger and your beauty
leap from shadows to devour me.

I have floated
in salty dead seas
on a raft of reeds and quiet,
and waited for an island or a bottle
to save me from my exiled self
to return me to the violence of living,
to appear like salvation
as the hunter's knife.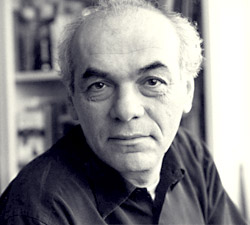 Endre Farkas was born in Hajdunanas, Hungary. He has lived in Montreal since 1956. He was a member of the Vehicule poets in the 1970s, founder of the Muses' Company press in 1980, one of the original founders of QSPELL and QWF, and a former president of the Quebec English Publishers' Association. He has published nine books of poetry, including In The Worshipful Company of Skinners (2003), PromeCards from Chile (2007) and Quotidian Fever: New & Selected Poems (2007).
Copyright Notice:

Please respect the fact that all material in Jacket magazine is copyright © Jacket magazine and the individual authors and copyright owners 1997–2010; it is made available here without charge for personal use only, and it may not be stored, displayed, published, reproduced, or used for any other purpose.
The Internet address of this page is http://jacketmagazine.com/34/c-farkas.shtml