Raymond Filip
Three poems:

Arm Swingers
The Big Dipper is a Hockey Stick
This Guitar Doesn't Scream

Arm Swingers

Arm swingers take their arms for a walk.
Arm swingers follow tail waggers.
Arm swingers got rhythm, nature's way to tone up that serotonin.
Arm swingers wish to dance forever with the spring in their steps.
Arm swingers know it don't mean a thing if it ain't got that elbow chord.
Arm swingers are finger snappers, mugger huggers, better balanced.
Arm swingers long to slap hands with laughers, sliders, whistlers.
Arm swingers aim high in the pleasure zone.
Arm swingers never ask for directions.
Arm swingers desire wings.
Arm swingers are Apollinaires of the air.
Arm swingers carry good cheer.


The Big Dipper is a Hockey Stick

The First Period began with the gods.
The Unknowables played a punishing game
For glory at the top. Too bad, the devils
Turned bragging rights into a religion.
Sudden death, injuries, brawls and falls
Eliminated major and minor deities
Over time, beyond miracle comebacks,
Leaving behind the wintery star fields.

Heroes took over and dominated the Second Period.
In the True North, frost giants, taller than myths,
Clashed, charging, spearing, roughing,
An eye for an eye, a concussion for a concussion.
Team spirit routed mammoth predators,
Panthers, coyotes, bruins, mighty ducks.
The Turtle Islanders, the Original Six, the Iroquois Nations,
Redwinged round stones over ponds and maple leafs
Where black hawks dared not fly.
Hundreds of hip bumpers, thrashers, wild as hurricanes,
Slashed and lashed short of murder, sunup to sundown.
At one with the stars and lightning of the cosmos,
Nameless and toothless legends passed ahead,
To visiting habs, battaway: "The Creator's Recreation."

The Third Period belongs to the humans
Who can skate.
Divine number nines:
Richard, Howe, Hull, Gretzky. . . .
Bigger, stronger, faster, richer!
Future considerations:
Women bashing men,
Checking those bodies
(No penalty for cross-dressing);
Recliner chairs for spectators,
Complete with liquor bar and heat-at-your-seat oven
To end those line-up's for warm beer and cold hot dogs;
Hockey Temples that will tower above banks and astrodomes;
Intergalactic leagues, hooligan heaven expanding with the universe
Until the next-scheduled dirty snowballs, killer comets and meteors,
Go whammo! Another avalanche victory. One more Ice-Age intermission.

Tonight, somewhere in the Southern Hemisphere,
A little boy falls asleep
With a hockey stick in his hands,
His pajamas the home jersey
Of a favorite idol.
He faces the stars,
And dreams.


This Guitar Doesn't Scream

Django Reinhardt
(A Jarred God Ninth)

Born into the air of a song, a mother married to the wind, a talent as trackless
as the breezes known only by ear and feel across North Africa to Liberchie,
Toulon to Porte de Choisy. The Manouche fire that inspires everywhere.
Two fingers like forked lightning, sleight-of-hand magic appearing as music.
What's a little paralysis? More improvisation! The only gypsy with a future.
Mon dieu, presence in absence. Beautician of sound in the smokey key of free.


Wes Montgomery
(Higher-Evolved Thumb)

It came natural. That octave thing. Nobody told me it was impossible. So I did it.
I just copied that cat Charlie Christian. Then more cats came along and copied me.
It's a natural thing. I had seven children to support. Boy! That food chain kept me awake
stuck to a welding job, or unloading boxcars, or lugging ice, then playing gigs all night.
People dug my warm tone. So the bucks got bigger, and the blisters got smaller.
Yeah, my hands will take thumbing tunes for a living any time. It's a natural thing.


Chet Atkins
(High Country)

Ten fingers from Tennessee that sound like twenty, y'all! This there gentleman with
his yakety axe, jazzin' up the agriculture, risin' up above the hayseeds in the hollows,
rockin' them ol' crocks with refinement. Notes as clean as a mountain stream, fresh
'n' ffft fast! And jeez, he could even make ya hear colors! Stretchin' ears from Nashville
ta New York (dah far east). Nope. Ain't never gonna say goodbye ta that thumbity-thump.
Too city for the country, too country for the city, too good for the world. Pick yer own.



Antonio Carlos Jobim
(Brazil Inside a Guitar)

The Blue Macaw in the carioca bar squawks Como esta? La! La! La! La! La! Boy from
Ipanema! I want 10%! Awk! Hidden in the palms at the beach, the tweet of a Golden Parakeet
woo-woo's the girls: Bikini! Bikini! Wheeet! Weeeeee! Ppppppp! Sunny syncopation across
the Brazilian nation. Ah-dah-ba-sea-doo! It's the waters of the Urubu, the rain forest singers.
Melodies stolen from piping Guans, Kites, Chacalacas: a samba sinfonia along the Amazonia.
But! The Desafinado bird slurs off key A-yo. E-yum. It's not me. It's the Captain BacarD!


Jimi Hendrix
(Alternate Take)

Mild thing. Inside. Hiding behind feedback. Electric tears. See. The Seattle chile. Strummer
of a pretend guitar: a broom, a straw friend. Hear. The soft chile. The stutterer of words.
The scribbler of poems. To replace the hurt. Pretend. The ponchos of a Cherokee grandmother.
Substitutes. For a dead. Unfit. Mother. Pretend. Find. The child who didn't want to die.
Johnny Allen. James Marshall. Jimmy James. "Jimi" for the masses. Rape a guitar for them.
More great balls of fire. A puberty rite. Find. The lost self. The end of anger. Peace. Pretend.


George Harrison
(Hari's Son)

A spirit who knew more chords and deities than the other Fab Four.
A skinny ego strapped to a Gretsch, bumped behind the elbows of Lennon and McCartney.
A Liverpool lad who diminished darkness with a beat, sunbursts of light from guitars
and gardens; music and karma and clouds as routes for the son of a bus driver, ahead of his time.
Now a body of ashes become ripples from the Ganges running on toward all rivers where
we see our reflections in the weeping oneness of the world, The Way, love one another. . . .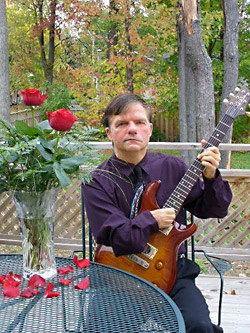 Raymond Filip was born in a DP camp in Lübeck, Germany in 1950. He has written five books of poetry, as well as a collection of short stories entitled After the Fireworks. (1989). His poems have been dramatized along with those of Czeslaw Milosz in an off-Broadway production in New York entitled Etched in Amber (1989), and have been included in The Penguin Treasury of Popular Canadian Poems and Songs (2002). In 1994, he won the A.M. Klein Poetry Prize for his book Flowers in Magnetic Fields. Backscatter: New and Selected Poems was published by Guernica Editions in 2001. A spoken-word CD entitled Alpha Ray will be released in 2008.
Copyright Notice:

Please respect the fact that all material in Jacket magazine is copyright © Jacket magazine and the individual authors and copyright owners 1997–2010; it is made available here without charge for personal use only, and it may not be stored, displayed, published, reproduced, or used for any other purpose.
The Internet address of this page is http://jacketmagazine.com/34/c-filip.shtml