Nathalie Stephens
from Touch of Affliction

from Je Nathanaël
from Touch of Affliction

We Are Accountable for What We Aren't Told

Your language like your country. I speak poorly.

I haven't deference for the past. Nor its beginnings. Our languages behave as poorly as do we. This talk of peace. The mouth's ecology. Devastation.

And I want to know : Who are we defending?

//

What do we learn?

Of futility. Of machines. Of discouragement. Of condemnation.



A country is four corners of earth draped over bone and as much silence as water can hold. Initiations to war.



Homeland is patrie and the sands are incensed by the crush of feet and the city groans from centuries of stone and our voices erode what sense to l'oubli. Forget it I say. Oublie. What everything we know. I am reading Saïd and the bones break in my feet. Like this walking into the century and dry earth underneath.



Let me explain.

I am ignorant of my enemies and my face has many origins.

…

Your language deliberately.

August 1988 : The Golfe de Gascogne collapses red tile two hands and a small room atop a flight of stairs. The mountains : proximity. The beach : sleet. Un baiser : reproachful. What dreamt what meant keep. A measure too full of landscape. Fistfully. You imagine sunswept fellatio feux d'artifice. Il n'en est rien.

Rien. What drowns in winter survives sleep. What wrists on a quai de gare bleed. What holds sound in a small tile again and over. Fisted. A city. Impossible to keep. J'ai. Je n'ai.



This is as I dreamt language. This is dream is séquelles is fine is fine is ask me anything from now on. Not chronology.

And what you will believe.



Simply : The city turns grey and disappears. The body wants récompense for the things it sees. It goes on seeing. Your language accounts for none of it. We are young. We are only witnesses if we are willing to speak. But what language will hold us? What temperament for fugitif?

//

L'abattoir or la place publique. Slaughter is someone's reverie. And we are wallowing in meat.



Place is manquement is not missing.

What we touch is aberration but we go on touching and what we turn over reddens in the sun and weakens in the rain and everything is bone and everything is dust and brick is water that is weatherworn so that we drown in masonry and trowel is layering and we bury ourselves willingly and we touch the facades of so many buildings with our fingers catching nails and our skin unbleeding the door posts the iron scaffoldings the misery and what trembles (ce qui tremble) is not pretty and nostalgia is idiocy is yearning is mediocrity is not pathos or figurative is this wall is how many missing and what have we done?


Plainly: I have counted my dead and they far outnumber me.

//


from Je Nathanaël

Scatalogue

Books don't show the way but insist on remaining. So how to leave the book and enter directly into the body ? We are jealous of one another's bodies yet we each have one. I would undress my tongue and dip it willingly into ice cold water would invite you to meet me where the body becomes transparent where lucidity is a function of the flesh where nothing is for sale and everything is given away. I would invent rude words for your mouth show you the true colour of blood. Love in the raw is life renewed. But of this write nothing down not a thing. Be wary of the heat that emanates from the unwritten page. Everything remains to be said so long as we have said nothing. Most importantly do not fear dirtying yourself. Love washes the body clean of perfection.


A Fuckable Text

What is a fuckable text and is it only fuckable in English ? Is there such thing as a literary hard-on ? Who wants Nathanaël ? I do I do. Only he doesn't exist. He is not kissing you. He leaves no fold on your mattress. He doesn't break your heart. The tiled floor is cold and your feet are bare. Nathanaël is long gone he was never here not even once. He is a queer boy a loveable boy maybe even a fuckable boy and we are all wet or hard turning pages imagining his breath. You cannot even mourn him because he is not dead. He is not dead because he is not alive. Nobody knows who Nathanaël is. Have you seen him ? I have only seen him from behind in a painting and not a very good one at that. I hear he likes to run in the rain and sleep with his eyes open.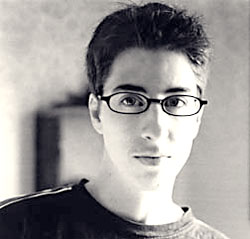 Nathalie Stephens (Nathanaël) writes l'entre-genre in English and French. She is the author of a dozen books, including The Sorrow And The Fast Of It (2007), ...s'arrête? Je (2007), Touch to Affliction (2006), Je Nathanaël (2003; 2006), and L'injure (2004), a finalist of the Prix Alain-Grandbois and the Prix Trillium. The essay of correspondence, L'absence au lieu (Claude Cahun et le livre inouvert) was published in 2007 by Nota Bene. Other work exists in Basque and Slovene translation with book-length translations in Bulgarian.

Acknowledgments: Touch of Affliction (Coach House, 2006); Je Nathanaël (BookThug, 2006).
Copyright Notice:

Please respect the fact that all material in Jacket magazine is copyright © Jacket magazine and the individual authors and copyright owners 1997–2010; it is made available here without charge for personal use only, and it may not be stored, displayed, published, reproduced, or used for any other purpose.
The Internet address of this page is http://jacketmagazine.com/34/c-stephens.shtml