Jen Crawford
sixteen

i

because you're made of milk it's no problem to walk through the desert. prickles sigh and snuggle into you in a contented sort of a fur.

above you, in the sky, tender seedlings continue in their sleep. it's like–warm clouds, they swallow something umbilically from the powder-

blue tanks that hum along on the ground, and become in that safety as tough as rubber dung, the perfect resile.


in this scene, you're anywhere, awake. you beedle above and around, touching and not touching, your vehicle

a thin, sweet latticey shell, quite flexible, luckily agile. only as a very light rain does the glittering

breath out of the dropped globes in the sand reach you, so we hope. it's more like

waking into a slight sweat, perfect for the day, & through the heat you see

the old wagon train wobbling across the bowl, stuffed with

your ancestral things–potplants, fungal diseases and the like–

hearing from it our weedy piccolo call, our celebration

that you found your own way

to the thought that you don't have to.


ii

bearing in mind that adornments come naturally to a place like this. little pink wildflowers

appear and satisfied so appear again, besides. some objects do want to sit close to many other objects,

making a room. you don't shirk from their ownership or their hopes for unnecessary arrangement–thing thing

thing thing–often just letting them fall owned, a swift sail down attention and age snakes (for example, now you're seventeen),

apparently carelessly. what better discussion of the open. and bravery, the quiet aqueducts

performing largely unapplauded — it is a lot, we know.

but take our hands, go on.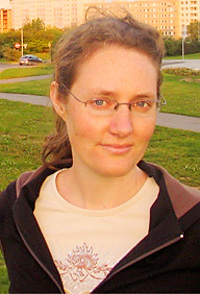 Jen Crawford's narrative sequence Admissions was published in 2000 by Five Islands Press. She holds a PhD from the University of Wollongong, and is currently teaching English and Creative Writing at the University of Auckland.

Copyright Notice:

Please respect the fact that all material in Jacket magazine is copyright © Jacket magazine and the individual authors and copyright owners 1997–2010; it is made available here without charge for personal use only, and it may not be stored, displayed, published, reproduced, or used for any other purpose.
The Internet address of this page is http://jacketmagazine.com/34/crawford-1.shtml