This piece is about 3 printed pages long. It is copyright © Paul Klinger and Jacket magazine 2008.
The Internet address of this page is http://jacketmagazine.com/35/dk-klinger.shtml

Back to the Dusie Kollektiv Chapbook Series Contents List
Paul Klinger:
Occasion in the Mosaic Distance
Author's Note: When I was working on Occasion in the Mosaic Distance, I wanted to make the printing of each copy something that I had to make adjustments for. So I cut up a bunch of sheet music I bought from a library sale and started making the cuts with some idea of how my type would print out over the music. What I got were a bunch of underlines and crossouts and blends and font clashes like you see in the eye doctor's office. It made the printing a lot of work. I had to stand over my printer and hand feed every sheet to make something interesting. The flat stuff I just put in a pile for future use. But I liked about three out of every ten sheets that were made this way. About midway through the printing, I started to see a kind of punctuation repeating itself, where musical notes would intersect some oversized character in my type and come out looking like a figure or become indecipherable.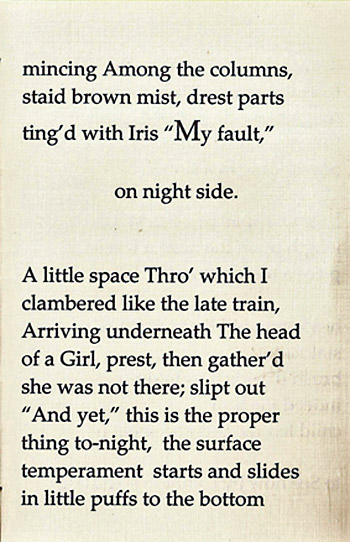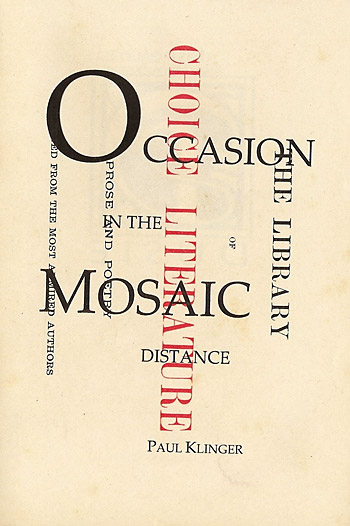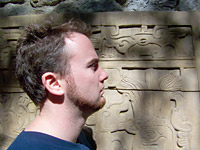 Paul Klinger lives in Austin, Texas with his brother. Recent work can be read at Eyeshot, Glitterpony, and String of Small Machines. His first book, FESCUE, is forthcoming from Dusie Press. Occasion in the Mosaic Distance is the second project he has made as part of the Dusie Collective.
Copyright Notice:

Please respect the fact that all material in Jacket magazine is copyright © Jacket magazine and the individual authors and copyright owners 1997–2010; it is made available here without charge for personal use only, and it may not be stored, displayed, published, reproduced, or used for any other purpose.