This piece is about 3 printed pages long. It is copyright © Christopher (Kit) Kelen and Jacket magazine 2008.
The Internet address of this page is http://jacketmagazine.com/35/kelen-kit-4p.shtml
Christopher (Kit) Kelen
Four poems after the Tang poet, Meng Jiao
thanks for the fire
(a note to my neighbour)

white house in green mountains
where the kind man lives

he gives me two dark
ingots of charcoal

better than rice and
better than silver

warmth of the fire
this charcoal gives

straightens the body
peels off the cold

sunrise and sunset
spring, summer bold

better than rice and
better than silver

warmth of the fire
this charcoal gives


old story about Lan Ke Mountain

before the two children finish their game
everything on earth will have passed

they'll be cloud borne
with their board and pieces

the woodcutter however finds his way home
hands full of air, he himself wind blown ash

only a stone bridge still stands
joins nothing to nothing

one day among immortals
ten thousand years down here


immortality pills

three or four characters
suddenly in stone
ten thousand years they'll last

a good thing
because the dead
have a hard time
getting things finished

the moon hangs slant
mourning for the house now empty

how long is a life?
night is longer

words to say
are stone


mourning poem

the oriole is full of tact
sings for those with something to wake for

with you gone
there's not much of spring for me

the sun out of season
mocks all inconstancy

when it's high enough
for birds to retire

then I might come from my nest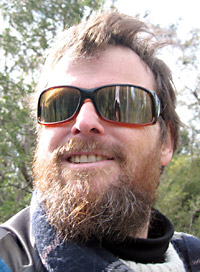 Christopher (Kit) Kelen's most recent volumes of poetry are Dredging the Delta (book of Macao poems and sketches), published in 2007 by Cinnamon Press (UK) and After Meng Jiao: Responses to the Tang Poet, published in 2008 by VAC (Chicago, IL). Kit Kelen has taught Literature and Creative Writing for the last eight years at the University of Macau in south China. He is the editor of the on-line journal Poetry Macao and poetry editor for the monthly lifestyle/current affairs journal Macao Closer.

Meng Jiao (751–814) was a poet of the late Tang. Unable to pass the examinations that would have given him a respectable official post, Meng lived a life of poverty as a poet, travelling much and becoming known as one of the great complainers in the Chinese tradition. More than five hundred of his poems survive.
Copyright Notice:

Please respect the fact that all material in Jacket magazine is copyright © Jacket magazine and the individual authors and copyright owners 1997–2010; it is made available here without charge for personal use only, and it may not be stored, displayed, published, reproduced, or used for any other purpose.