This piece is about 4 printed pages long. It is copyright © Amy King and Jacket magazine 2008.
The Internet address of this page is http://jacketmagazine.com/35/king-amy.shtml

You can read Alexander Dickow's review of I'm The Man Who Loves You by Amy King in Jacket 34.
Amy King: Four poems
The Arm of Eden
Where Bullfinches Go to Defy
Two if by Land, I Do
A Martyrdom Should Behave Us All
The Arm of Eden
Whenever crime becomes my personal lap dance,
a half holds out its private whole and
comforts between my thighs.
The music in my time may evil me
and jade my loins cranky, kick start my pants
regardless of where I have safely lain my body.
Any self will exist on this plane and no country
can prolong the inevitable decline
of our entire cohesive anti-country —
We are all happening at once on a collapsible line,
and this is no test,
just an effect of how we separate the elements
into perceptions: gravity, flesh, the second hand,
flotation, and a galaxy we elsewhere could share.
A guy with a limp is still a guy
pegged by giant pandas turning into giant paragraphs
on the subject of creative design,
a humming that negates itself upon closer inspection
under a heroine's eyes. The perpetual giggle
from a neighbor's gay man provokes
more animosity within one square inch
than prior behavioral rituals in restaurants, while
we also conduct a series of interviews to get
to the stuff of what's she made of and how
can I tap this resource, make life a cohabitation
leading after the kind of drama a person outgrows.



Where Bullfinches Go to Defy
Dashed in chlorine ligature, buildings where
I began meant I would end
with a rope on a tower in the center
of their dying, street-long hair, flagging us down.
I too belong to someone,
a twilight intervention stained by criss-cross
lattice on bleached street corners
where fractional people stay, in passing.
Pursuing that which comes from nothing
one might live the edge of happenstance,
however fenced with wooden spoons.
She had a dream about a film noir bartender
who agreed to shower with the window open
for the panopticon's mercy.
Sometimes a whistle like
"ankles" or "a piece of traffic" would pass
between their words, their plumage
opening on automatic: a burnt shoe
for each hand slaps hard brackets
until everyone knows their crates and cues
that bewitch the chains of command.
My experience with this concept:
streaming windowglass, a sophisticate
peers through permission
reflected against my provincial body organ,
sometimes a watershed, sometimes an opera,
all portrait, generally improving, with every name.



Two if by Land, I Do
Do you want revision, air
without clouds, do you want some
time to, do you think of sun's flesh,
Do you want sinking like an anchor or
Do you want what I want,
Soap for shoulder bone,
Do you want cleansing to begin,
Do you want gelatinous microbes
to torment your undone sin,
Do you want a shapely wooden leg
in a home far away
from your prescriptive land,
Do you want like everyone wants
to lie between
self expression & smashing dishes
or the raccoon beside the freezer,
Do you believe this the easiest
way to give back what's given:
growth among the weeds,
connoisseurs of criminal beauty,
enamel licking teeth,
a metal tasting tongue to speak
these words that might be said, or do
you the material fact of body eat too?



A Martyrdom Should Behave Us All
The Jesus sightings burnt us down to the ground
so these should be such pretty words.
Trouble in paradise feels good to set so free.
We who are biographical
are forced to eat atomic bombs that grab at danger
going off in the distance. I make believe
the bird and the bee are cruel to me
for not belonging to them. In the periphery though,
the lawn's solitude
is a breeze that would have us speak
with poets, if only the first few minutes encountered.
Still, my crucifixion lacks an open window
to become the author of my own pre-destiny.
Now open the handkerchief for the passing rabbit
of God's authority. Angels, in the scene, will migrate
to your left jacket pocket where the rest of magic
is stashed: just ask me how much I've leaked today;
I'll tell you fables of a town that misses its idiot.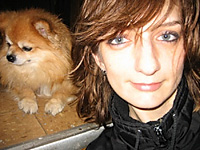 Amy King is the author of I'm the Man Who Loves You and Antidotes for an Alibi, both from BlazeVOX Books, and The People Instruments (Pavement Saw Press). She is the editor-in-chief for the literary arts journal MiPOesias and the editor of the Buffalo Poetics List. She also teaches English and Creative Writing at SUNY Nassau Community College and is currently editing an anthology, The Urban Poetic, forthcoming from Factory School. Please visit http://www.amyking.org/ for more.
Copyright Notice:

Please respect the fact that all material in Jacket magazine is copyright © Jacket magazine and the individual authors and copyright owners 1997–2010; it is made available here without charge for personal use only, and it may not be stored, displayed, published, reproduced, or used for any other purpose.