This piece is about 14 printed pages long. It is copyright © Kristin Dykstra and Jacket magazine 2008.
The Internet address of this page is http://jacketmagazine.com/35/perez-overview.shtml
Kristin Dykstra
"Coño acere, todo se vuelve agua!":
On Omar Pérez, b. Havana, 1964
Omar Pérez grew up in the city where he was born and earned a degree in English Language and Literature from the University of Havana in 1987. In his early twenties he was already becoming an active participant in the city's varied cultural scenes. Since then, his poetry and essays have routinely appeared in anthologies of new Cuban writing from the island's capital city, where he lives today.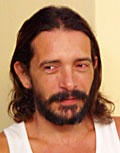 In the late 1980s Pérez worked as a journalist and cultural critic for El caimán barbudo, moving on to become a columnist and editor for the magazine La naranja dulce from 1989 to 1990. He was writing his own poetry at this point and drew on a variety of his experiences with publication to edit an alternative poetry magazine, Mantis, from 1994 to 1996. Unión published his first book of poetry, Algo de lo Sagrado (Something of the Sacred), in 1996. The book drew positive attention from fellow writers in the city, who already knew of Pérez from readings and other public appearances. Algo de lo sagrado continues to be recognized as an important contribution to contemporary island poetry.[*] While many of its lines offer conversational moments, the poetry as a whole challenges the reader with forms of difficulty and resistance, well reflecting the mood of many writers of the period.
The philosophical overtones of his earlier work take a stronger turn into Zen Buddhism in the late '90s. Pérez followed his successful first book with the markedly different poems of Oíste hablar del gato de pelea? (Heard about the Fighting Cat?), released by Letras Cubanas in 1999. He was subsequently ordained as a monk and continues to draw on the Zen so visibly surfaced in the 1999 collection. While it differs in many respects from Algo, Oíste hablar del gato de pelea? demonstrates a weaving of discourses that characterizes Pérez' writing in general.
That weaving necessarily comes into some of our conversations about ways of translating and talking about his poetry, either because its crosscurrents affect my choices in English or because readers may understand certain translated poems better (or perhaps only) with some introductory cultural context. I'll briefly sketch some of those registers of language as they appear in selected poems from Pérez' 1999 collection and the multilingual poetry manuscript that he is presently completing, entitled Lingua Franca. These include nationalist speech; music as lyric, rhythm, and performance; elements of translation; transnational issues; Cuban cultural history and representation of race; and inspiration from contemporary culture, such as activity in the community of Alamar. By working across these registers in his recent poetry, Pérez contributes to ongoing discussions of cultural identity on the island–even though he expresses suspicion of claims for poetry that emphasize intellect too much over artistry.[†]
Furthermore, their anchoring details give rise to the poetry's flight from the pressures of context. Gustaf Sobin's description of constraints and freedoms in poetry suggests the need to acknowledge those pressures without flattening the poems under them. Sobin writes, "The more anchored my imagery and the more carefully perceived my verbal landscape, the freer I feel to expand, extrapolate, and–in so doing–create a movement, a momentum which–curiously enough–will release the poem, finally, from that very landscape."[‡] Such motion liberates Pérez' poems from the anchors I discuss.



Oíste hablar del gato de pelea?
Many poems from the 1999 collection dwell on the possibility of enlightenment and on processes and stages of meditation. The poem "Kosen" is dedicated to a master important to Pérez, who tells Kent Johnson, "I believe the arrival of Zen Buddhism in Cuba, with master Kosen Thibaut, to be as important as Martí's birth or the 1959 revolution." Zen discourse works among other voices in contemplative, often sparse lines of this book.
The poem "Como su nombre Índica" ("As her name Indicates") follows a short prose introduction to open Oíste hablar del gato de pelea? This piece immediately invokes the presence of a Cuban nation, though indirectly, because it riffs off the island's national anthem without explaining that action for the reader. The lyrics of the song were composed prior to Cuba's actual independence from Spain by Perucho Figueredo, following an 1868 triumph by Cuban independence fighters at Bayamo. The battle took place several decades before the Spanish American War would finally put an end to the Spanish presence–and introduce that of the United States, which effaced Cuba from its own name for the war in English, unless one follows those scholars who choose to name it as the Spanish Cuban American War. The anthem's phrase "os contempla orgullosa" ("she looks to you with pride") personifies the island of Cuba, who looks to local patriots to take action. Also essential to the moves of Pérez' poem is a second line from the song, which he references as the poem closes. Figuereda's verse urges patriots not to fear death in battle, "Que morir por la patria es vivir" ("Because to die for the fatherland is to live"). The phrase and its connotations of martyrdom acquired a long historical power for Cuba, its nationalistic languages, and its poetry through the death of poet, journalist, essayist and leader José Martí in battle in the 1890s. Instead of completing the traditional patriotic validation of martyrdom in his own poem, Pérez disrupts its logic, ending by making space for silence and the validation of nothingness.
Whereas it is the lyrics of the national anthem that I've emphasized here, another layer of "language" that appears in Oíste hablar del gato de pelea? pertains to music through overt references to popular forms related to dance, such as mambo and guaguancó. More subtly, musical reference extends into the rhythms underlying many of the poems, an aspect of the writing that is more visibly highlighted in this second book than in the first, even as rhythm has never been missing from Pérez' approaches to poetry.
Pérez' surroundings provide him with exposure to Afro-Cuban influences, long important to the island's literary and musical traditions. For example, he draws on experience with drumming to create the rhythms of recent poetry collections. Other than "a very few basic routines" he learned from two drummers, Pérez emphasizes that he picked up his drumming techniques informally: from "watching senior drummers play, then playing with them, and finally trying to revive the whole experience on your own, all alone or with friends also interested in learning," with whom he would later create what he calls "a sort of drummer's trio."[§] The drumming he has learned is, in his own words,
a specific way of playing the Cuban drum (whether the leather-head conga or tumbadora, or the cajón which is fully made with wood) that we learned in bembés, a sort of religious feast in the house of Higinia Olivares, Mimí, who eventually would become our madrina, or religious godmother. Later on, in the house of the Tata Lázaro Simms–who would also become my padrino, religious godfather — I would learn a few things of Palo rhythms. (email 23 Nov. 2007)
As early as the '80s, Pérez had participated in interdisciplinary and experimental cultural projects, blending poetry with art and theater. Drumming entered his overall lexicon for artistic and social expression:
I was becoming more involved with theatre and various ways to use music in it, whether as background to actors' actions or as a theatrical action in its own right. Later on, we used these experiences in workshops with mentally ill individuals or "problematic" children because the drum, and singing along with it, has very effective "therapeutic" results. I've also played in bands, or with orchestras, though far from considering myself a musician I see this as possible developments of the poetical experience as such. Nowadays, this has lead to deeper involvement in the work with dancers and the art of improvisation in an interactive frame, very much based on the workshop, that we call Cabaret of Unforeseen Repairments. (23 Nov. 2007)
Pérez has performed poems from ¿Oiste hablar el gato de pelea? enhanced by the simple percussive tool of the pencil, which he taps on available objects (table tops, beer bottles) while reading the words. For all the simplicity of this move, it is impressive for live audiences. Music, reference to dance, and his flexible performance serve to remind us of the presence of the body, even as the poems present a sharp intellect.
Pérez worked through several other projects in the years after completing ¿Oiste hablar el gato de pelea?. He turned from poetry to the essay for his book La perseverancia de un hombre oscuro, with which he won Cuba's National Critics' Prize for that genre in 2000. This led to an opportunity to work as an editor for the essay section of the publishing house Letras Cubanas through 2001. Meanwhile Pérez completed a third collection of poetry, Canciones y letanías, which was published by Extramuros in 2002. As the term "canciones" in the book title suggests, four songs appear amongst the poems ("actual" songs, he specifies, rather than poems referring to song in a metaphorical sense), extending his crosspollinations with music. Musical elements resurface in more recent work as well, including drafts currently in progress.



Lingua Franca
Translation also returns throughout Pérez' writing career, not only as a way of periodically earning an income but as a point of access to literatures from around the world and a subject of reflection in itself. Over the years he has translated works by Shakespeare, Donne, Blake, Thomas, Creeley, Komunyakaa and many others. He studied Italian at the Universitá per Stranieri di Siena and has translated a collection of contemporary Italian narratives, which was published in 1997. While living in Amsterdam he learned some Dutch, as well as gaining an awareness of how English is used around the European Union. He is now living in Havana again but regularly uses his English in our emailed discussions of his poetry, illustrated by the comments included in this essay and his interview with Kent Johnson.
In addition to practicing translations in these straightforward and practical senses, Pérez has pushed multilingualism further, drawing on his experiences of cultures in transit and cohabitation as literary concepts. In his current poetry manuscript, Lingua Franca, Pérez dwells on the properties of mixed languages. He includes poems composed in his second languages, as well as building internally bilingual and multilingual pieces. A short but important poem in the collection, "Media lengua," refers to his interest in language that is commonly considered inappropriate or low-class. The collection as a whole draws upon languages as they are used in many different settings, and Pérez asserts the value of their shared presences. The languages in play include Spanish, English, Italian and Dutch, and more.
For all their proliferation, the multiplying languages are not chosen arbitrarily or derived only from the poet's travels abroad. For example, Pérez begins to incorporate African terms commonly used in Cuban speech into the poetry of Lingua Franca. Here readers may see reference to precursors from regional literary history as well as reference to contemporary interdisciplinary performance. He also draws on a specific term from Cuban history, "bozal," in the process of creating his own riffs on dialogues about difference and fusion.
Participants in the Afro-Cubanist movement of the 1920s and 1930s turned their attention to African-influenced culture on the island.[**] Artists and writers of white, black and mixed heritages have drawn from that legacy to make a variety of claims about Cuban culture and identity ever since, many of them pursuing ways of talking about blends and fusions on the island. Nicolás Guillén is one of the most famous poets associated with twentieth-century explorations of African import, as in his 1931 Sóngoro cosongo. In the introduction to that book, Guillén describes both his poems and Cuban identity as mulatto.
Some Afro-Cubanist experiment worked with "bozal" expression, a style of speech originating with slaves who drew African terms and influences into the flow of Cuban Spanish. The idea of a bozal style had previously been picked up in the nineteenth-century theater and used in minstrel-style shows, such as comic theater that offered parodies of bozal language as a low-class or primitive dialect left over from slavery, thus emphasizing black inferiority. Consequently black Cuban intellectuals have expressed discomfort with some types of reference to language difference associated with bozal, as in 1939 when Alberto Arredondo argued that the depiction of black Cubans using dialect had the effect of linking them with cultural regression, a representation that he saw as a dangerous falsehood about the reality of black Cuban life and progress (Arnedo-Gómez 44). Bozal has also been adopted and framed in much more respectful terms by those interested in African retentions and influences. It is thought that the island's oral tradition and the practice of Palo Monte have offered two sites where an African lexical core has been retained over time in more accurate forms than through the negatively loaded imitations of popular theater (García 19—20). Some of Cuba's musicians are thought to have drawn on those more traditional sources for their own performances, such as the twentieth-century son composer Arsenio Rodríguez, who incorporated words and phrases (such as proverbs) from Congo into his lyrics.
The line that I've taken from Pérez for the title of this commentary makes use of the term "acere" (also spelled "asere"), a very common term in Cuban Spanish. Alan West-Durán, pointing to its usage in the often multilingual phrasings created by contemporary Cuban rappers, notes specifically that "asere" is "friend or brother in the Abakuá variant of Efik."[††] He adds that whereas the use of African terms may have markedly resistant and radical connotations in other Caribbean societies, this is not necessarily the case in Cuba: "One could argue that Cuban Spanish has already incorporated a host of African words, but neither their use nor preponderance points to a destabilizing or counter-hegemonic expression" (145).
In the poem "Media lengua," a poem which points to reflection on language as the heart of Lingua franca, Pérez takes bozal as one of the jumping-off points toward his sense of what a truly radical and powerful language might look like. First, he foregrounds the idea of mixed languages: "Vulgata, mezzatinta, 'designating a period / of a language intermediate between periods...," he writes, practicing the overt blending of languages even as he refers to it (4—5). He renames this intermediate language both "bozal" and "radical," linking the central concept for his poetic language experiments to Cuban cultural histories and related debates about speech and social standing. Here, though, his treatment of bozal moves away from a specific conversation about the between-spaces of African and Spanish traditions in Cuba. It opens out to explore the between-spaces in a transnational zone mapped through the poet's own lived coordinates — navigating, in his own words to Johnson, "between, among and around categories of living."
For Pérez, the intermediary and everyday nature of mixed language supports an ideal essential for the writing of poetry. He makes use of the pragmatic aspects of blending to locate the radical possibility of language in its grounded yet elusive moments: "the language of truth, i.e. poetry, or good morning when you mean it."[‡‡]
Meanwhile, another contemporary context for Pérez linking poetry, music, and dance exists at Alamar, one of the island locations where he has said that he saw some of the most important cultural experimentation happening in recent years. As do many artists, writers, and critics of Cuban culture, Pérez refuses to claim the existence of a single school or group dominating the diverse present-day island scene. He finds it most accurate to say that activity at Alamar is "an alternative, it's serious and fun, non sectarian and popular," concluding with a deliberately simple "I like it" (1 Jan 2008).
A vast housing project district outside Havana, Alamar was planned in 1970 to provide housing for the homeless as well as for people living in slum conditions.[§§] The initial process of populating Alamar meant dislocation and relocation for its residents, the majority of whom were arriving from marginalized communities. The majority were also black. Like housing projects constructed elsewhere (Sujatha Fernandes suggests a comparison to Chicago's Cabrini Green [87]), Alamar's large and impersonal structures made it necessary for residents to construct some sense of community and personal connection within their new built environment. That drive to create community is seen as one of the strong forces behind Cuban hip hop at the end of the century.
Another strong force motivating cultural expression in Alamar in the '90s and new century was the austerity and restructuring of Cuba's Special Period, which hit Alamar residents hard. Young, black Cubans drew on transnational musical resources, particularly hip-hop emerging from other countries (in Alamar some could even tune in to radio stations from Miami), to create locally based work expressing awareness of political and social issues. While music has been one important venue for that expression, other forms of performance and literary activity have also resulted from the energies at Alamar. In English translation one can now see, for example, short fiction by Alamar's Yohamna Depestre, a former storyteller for the group Omni-Zona Franca. Her short tale "Abikú" is told by a murderer. The story portrays the shared, measured, and oppressive spaces of a very small home in rhythmic prose.[***]
Fernandes has shown that "during the 1990s and the early twenty-first century, "the arts have taken on a vital role in formulating, articulating, and making sense of everyday life" (2). The arts provide Cubans with spaces for debate about "socialism and democracy, legality and illegality, tourism, emigration, and issues of racial and sexual discrimination" (2). While some of this cultural expression is critical of the Cuban state, it also provides a site for reflection on a wide range of transnational issues and, in some cases, offers a new medium for embracing revolutionary commitments and expressing the hope for reform. West-Durán finds, for example, that "Cuban rap has been vigorous in attacking racism, but for the most part has done so within the egalitarian claims of the revolution" and by making connections to black Atlantic paradigms (147).
It is in a similarly broad context for artistic production where Pérez can be situated most productively. Because I have spent some time commenting on Alamar, it must be noted that Pérez is not a hip-hop artist or rapper, nor would he describe himself as a black or mixed-race Cuban, nor does he focus on transnational African diasporic culture as such. Instead the cultural activity there reinforces his interest in interdisciplinary art and its range of possibility. In his poetic career he has expressed critical and even dissident points of view, but like many of his contemporaries, he has also made it clear that he disagrees with many of the most critical statements about Cuba's state and society circulating outside the island. Pérez has stated that he believes there is room for critical expression on the island, for example, contradicting those who believe it to be suppressed and largely nonexistent. One of the most useful aspects of his interview with Johnson is the context Pérez offers for understanding his positions, such as comparisons between life in Havana and Amsterdam.
In the end, he reserves the most real and ideal forms of truth for linguistic spaces not contained by political rhetoric. The hope of arriving at these poetic zones animates his writing. Meanwhile, like the rap and hiphop artists discussed by West-Durán and Fernandes, Pérez engages existing ways of understanding hybridity "in" Cuba–as a local space always subject to transnational connections — while striking out to perform his own new combinations, occasionally poking fun at himself in the process.
As noted earlier in this commentary, picking out specific contexts addressed by this poet requires acknowledging his abandonment of them, since Pérez clearly uses poetry as a space for resisting the pressure of rational and public discourses even while he taps into them. His multilingual experimentation in Lingua Franca registers contexts of tourism and emigration, for example by drawing on his experience of temporary residence in Europe and the languages he adopted there.
"Boatparty / Barcachela" offers a brief but interesting example of language switches in ambiguous context. Switches in the original render translation an ever-complicating enterprise. In my translation, the reader will see the term "aguardiente." As an English-only alternative one might use "firewater," a broad term often offered as a translation for various kinds of alcohol from Latin America. However, I've selected the Spanish, but not because it was Pérez' own original term, which I'll explain momentarily. Cuban aguardiente is derived from sugarcane. This specificity matters because some readers may hear layers of history packed into the image, a great tension, even as others will focus on opposing energy that also plays a role in the poem, e.g. in the exaggeratedly relaxed flow of the party and the waters. Sugarcane plays a prominent role in the island's history–particularly following the Haitian Revolution, which led to the tremendous expansion of the sugar industry into Cuba in the early nineteenth century, and which therefore led to the accompanying expansion of slavery, strengthening local African presences and traditions. If, as in Pérez' poem, "everything flows nothing changes," it is worth noting that at the present moment of economic strain and heightened tourism in Cuba, tensions remain around the sales and packaging of sugar, alcohol, race, history, and partying. The tensions can flare at points of intersection between island insiders and outsiders, particularly around the popular destination city of Havana. Meanwhile, in U.S. English, the word "firewater" is more likely to call up loose and perhaps kitschy associations with films or TV shows about cowboys and Indians, leaving the island's history more or less invisible but indirectly raising the specter of a differently problematic American history. Regardless of this contrast between Spanish and English connotations, the word used by Pérez reads "malafo" in his original and not-entirely-Spanish poem, another moment using multilingualism to evoke African history and presence. In the translation I use "aguardiente" in order to lay out a word that may not be entirely unfamiliar to many English-speaking readers (since aguardiente is sold under that name in the U.S.) but which also marks its difference even within flows of water and language and apparent purity, thus evoking some sense of Pérez' multilingual mix.
In the alternating energies that speak difference at marked borders yet proceed to flow across them, Pérez puts his finger on lived contradictions. As I discuss elsewhere, he has reflected openly on the value of inhabiting contradiction as a creative "method."[†††] The insistence on contradiction as method and reality takes us to the meeting ground between "freedom" and "discipline" in his interview with Johnson, resonating on several levels.
In Lingua Franca, Pérez applies this method to his focus on contradictory yet lived experiences of language. As in Pérez' earlier books, Zen influences also remain present throughout the hybrid collecting acts of Lingua Franca (often playfully so). So do overtly nationalist subjects, such as the überfamous Cuban patriots José Martí and Antonio Maceo, who continue to surge out of the late nineteenth century and (re)populate the present. Whereas some of his references reach toward popular culture in the grassroots sense of seeking the voice of the pueblo pueblo (or "people people," as Juan Flores has noted, raising the need to ask which people are under discussion, versus adopting definitions of the "popular" produced through culture industries), Pérez also registers the faces of megamarketed global pop culture, seen here when Michael Jackson and Ruud Gullit gate-crash a poem dedicated to a Cuban icon in "Santa Bárbara."[‡‡‡]
Santa Bárbara dominates her own poem despite the entry of the musician and the athlete, her guests. Pérez works details of her story into the poem from its beginning to its end. The Catholic saint was martyred in Nicomedia, today's Izmit, Turkey. According to a popular version of her legend, the virgin princess Barbara's father locked her in a tower, where she refused to renounce Christianity or follow orders to marry a chieftain. Her father, who decapitated her, was struck by lightning. Consequently the saint's followers now link Santa Bárbara to lightning, and they dedicate prayers to her during thunderstorms. In furtherance of those explosive associations, she is the patron saint of artillery and has been associated with arsenals. In Cuba, Catholic figures serve additional roles as the public faces of African deities, part of the long survival of African cultures under and through conditions of oppression. Santería remains influential today, and through its vocabularies Santa Bárbara is a manifestation of Changó, the orisha of thunder, lightning, electricity, (male) sexuality, and drumming. His Catholic female version wears a gold crown and red cloak, recognizing her royalty. She holds a Holy Grail and a sword referencing her decapitation.
Pérez blends the overtly plural sources described above into poems with grace and humor. The pieces in Lingua Franca come to be always partly "about" the movements and flows of language, as the collection's title itself suggests. "Todo se vuelve agua" ("Everything turns to water") opens with informal English lessons and offers imagery of flow friendly to Zen reflections. The line, if read in a certain tone, can give voice to a bitter commentary on loss and frustration. Pérez himself sees the phrase differently, as "an expression of wonder though there's also some panic to it."[§§§] The poem concludes with an idiomatic expression that would seem to involve a sleepy shrimp, if the Spanish were taken literally, but which actually serves as an injunction to keep up with the speed of the running languages.[****]
A suggestive companion to his poem is Red Pine's reflection on translation and the movements of language, which Pérez has read and cited: "We speak of language, as if it was a fixed phenomenon, and we teach it and learn it, as if it was carved in stone. But it is more like water, because we are more like water. Language is at the surface of the much deeper flux that is our riverine minds. Thus, if we approach translation by focusing on language alone, we mistake the waves for the river, the tracks for the journey."[††††]
Another organizing concept working within the flows of this newest poetry is the exercise of the mind. Lingua Franca offers an airing of different layers of a mind, each asserting its claim to speak for a while, each asserting its right to come back later. Personified, two of those minds openly dialogue with each other in "El canto como arte marcial" ("The canto as a martial art"). Shaped to emphasize the presence of the two minds, this poem puts a meditative, somewhat monkish, and relatively free voice into playful competition with the rhyming and more spatially contained sonneteer.
In "The canto as a martial art" I've departed the most from literal meanings of Pérez' language in order to capture the rhythm and rhyme patterns of his dueling speakers. The most extreme departures involve my uses of "phosphoresce" and "nirvana." In the original poem, the sonneteer's first sequence includes lines intricately weaving and shifting a, b, l and o sounds, such as "baobab: laborar lontananza / la verdad: / lupanares de arroz. / Vanidade vanidades." These sounds create the echo and flow that characterize the sonneteer's moves. In the English I set up a series of echoes turning on "quest," "phosphoresce," "truthfulness" and "vanitesse," interwoven with the contrasting echoes of the "o" in "soldier," "hope" and "scope," as well as the pairing of "paradise" with "rice." In the sonneteer's second sequence, nirvana is not referenced in the original; rather, that line ends by locating the sonnet near a much more everyday "ventana" ("window"), which sets up the upcoming rhyme with "La Habana." I've recreated both Pérez' rhyme and his closing emphasis on the physical location of the match taking place between the two mental voices. To come out "criollo" in Havana is to come out a person of mixed cultures, a birth consistent with mixed features of the manuscript as a whole. (It must also be noted that the term "criollo" can be understood to place limits on mixing even as it evokes crosscultural histories and lifeways: "criollo" is often used to refer to those Latin Americans of relatively whiter, more Hispanic appearance. Its early uses in the colonial era applied to children born in Spanish America to peninsular parents.)
"Las manos piadosas," rendered as "The hands that are devout" to preserve Pérez' rhythm, quietly pulls many strands of my commentary into one very short piece. The poem proffers meditation and social conscience. It also works with very specific rhythmic patterns of Afro-Cuban origin, which Pérez identifies as "the Palo, the rumba, and the so called clave cubana" (23 Nov. 2007). Whereas he notes that other poems in Lingua Franca "may have in a more implicit way a rhythmic undercurrent," this poem "shows the trick" of its hybrid working through the explicit musical references. Like "The canto as a martial art," its visual elements reinforce other aspects of the poem. Reasserting the presence of the performer's body amongst the poems that make the mind incarnate, this poem comes in a body that itself looks rather like a drum.
 — K.D.
Bloomington, IL
November 2007–January 2008
---
Notes
[*] Factory School published a bilingual edition in New York in 2007.
[†] See "Interview with Omar Pérez," by Kent Johnson, for examples. There Pérez describes a Cuban tradition of treating poets more as intellectuals than as artists. Since interdisciplinary art practices greatly interest him, this aspect of the interview suggests to me that his reservations about "intellect" may be interpreted as a claim to art, rather than a rejection of the mind. If so, the gesture to claim the arts creates a more inclusive definition of how "intellectual work" can and does happen in poetry. Elsewhere I have written about Pérez' many ways of engaging cultural dialogues and traditions; it would make little sense to ignore that active sort of "intellect" in his work.
[‡] Foster, Edward. "Interview with Gustaf Sobin." The World in Time and Space: Towards a History of Innovative American Poetry in Our Time. Ed. Edward Foster and Joseph Donahue. Jersey City, NY: Talisman House, 2001/2002. 19.
[§] "Re: saludos & essay draft," email to the author, 23 November 2007.
[**] My comments on Afro-Cubanism and Guillén are influenced by Miguel Arnedo-Gómez' Writing Rumba: The Afrocubanista Movement in Poetry (Charlottesville: University of Virginia Press, 2006). David García's Arsenio Rodríguez and the Transnational Flows of Latin Popular Music (Philadelphia: Temple UP, 2006) deals with bozal on 19—20.
[††] "Rap's Diasporic Dialogues: Cuba's Redefinition of Blackness." In Cuba Transnational, ed. Damián J. Fernández. Gainesville: University Press of Florida, 2005. 121—150. 145.
[‡‡] "Re: new version: saludos & essay draft." Email to the author (attachment). 1 Jan 2008.
[§§] Material on Alamar is taken from Sujatha Fernandes' Cuba Represent: Cuban Arts, State Power, and the Making of New Revolutionary Cultures (Durham: Duke UP, 2006), esp. 86—92.
[***] In Havana Noir (NY: Akashic, 2007), ed. Achy Obejas. Tr. Obejas. 353—355. More on Depestre with her own comments on rhythm and rap can be found online (in Spanish) at La Habana Elegante: http://www.habanaelegante.com/Winter2006/Angel.html
[†††] See essay in Something of the Sacred / Algo de lo sagrado (NY: Factory School, 2007) and "Translator's Notes," an overview of contexts and content of a 2001 essay by Pérez, in Origin ~ Longhouse Sixth Series (No. 4 [2007]: 143—149). In addition to addressing the use of contradiction, these essays also examine expressions of hybridity in Pérez' writing. Some of those expressions  — particularly based in his work with Zen as a poet, philosopher, and monk – move away from more common anchors for conversations about transculturation in the region, a point related to the commentary here.
[‡‡‡] Flores, Juan. From Bomba to Hip-Hop: Puerto Rican Culture and Latino Identity. NY: Columbia UP, 2000. 24.
[§§§] "Re: today's draft." Email to the author 22 January 2008. While "todo se vuelve agua" may sound like a popular saying, Pérez composed the line.
[****] The original reads "[. . .] camarón / que se duerme / se lo lleva el agua del idioma." Forthcoming in Mandorla 11 (2008) along with the originals of "Barcachela" and the poems noted here featuring Martí and Maceo.
[††††] Pérez has "Dancing with the Dead: Language, Poetry, and the Art of Translation" in a handmade booklet from Longhouse. He refers to this edition in the Johnson interview. See http://www.longhousepoetry.com/redpine.html.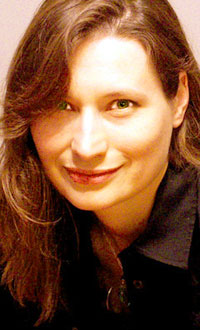 Kristin Dykstra: Books from Factory School featuring Kristin Dykstra's translations and criticism are Something of the Sacred / Algo de lo sagrado (poetry by Omar Pérez, 2007) and an updated edition of La detención del tiempo / Time's Arrest (poetry by Reina María Rodríguez, 2005). Previously she co-translated Violet Island and Other Poems (Green Integer, 2004). Another book by Rodríguez, La foto del invernadero (1998), is forthcoming in a bilingual edition from Green Integer as The Winter Garden Photograph; a critical article about the book appears in Mosaic: A Journal for the Interdisciplinary Study of Literature. Her translations of poetry by Ángel Escobar are also forthcoming. Dykstra co-edits the cross-cultural, multilingual journal Mandorla: New Writing from the Americas / Nueva escritura de las Américas (www.litline.org/Mandorla).
Copyright Notice:

Please respect the fact that all material in Jacket magazine is copyright © Jacket magazine and the individual authors and copyright owners 1997–2010; it is made available here without charge for personal use only, and it may not be stored, displayed, published, reproduced, or used for any other purpose.