This piece is about 4 printed pages long. It is copyright © Jason Stumpf and Jacket magazine 2008.
The Internet address of this page is http://jacketmagazine.com/35/stumpf-lyric.shtml
Jason Stumpf
Of Lyric Poetry
1.

The secret of poetry is cruelty.[1]

For without cruelty, there would be no beauty.[2]

True beauty is truly seldom.[3]

If you want the truth, you have to close yourself.[4]

I am telling you these things / because you want to know. [5]

Dying / is an art [6]

All art is pain [7]

Pain comes from the darkness / And we call it wisdom. [8]

The non-action of the wise man is not inaction. [9]

Poetry is not a luxury. [10]

Luxury, then, is a way of / being ignorant [11]

I, being poor, have only my dreams; [12]

dreams do not exist; / flesh exists. [13]

the imagination to enter / the skin of another [14]

love and the imagination / are of a piece [15]

Something tells me that one piece contrived to stay / In the boy's pocket. [16]


2.

I would like to decorate this silence [17]

And the silence will set out / Tireless traveler / Like the beam of a lightless star [18]

The star dissolving in evening [19]

(My selves dissolving, old whore petticoats) — [20]

You become a self that fills the four corners of night. [21]

It was autumn / by the time I got around the corner [22]

It would be time for winter now [23]

And I would bring down the little birds. [24]

And no birds sing. [25]

They clothed me in the clothes of death, / And taught me to sing the notes of woe. [26]

Death, and death again, and all the wars to come. [27]

Paused before the little war begins. [28]


3.

You begin this way: [29]

But all the things that I begin I leave before I'm through, — [30]

...nothing / ever disappears. But changes. [31]

What does not change / is the will to change. [32]

It can never be satisfied, the mind, never. [33]



---
[1] John Anderson, "The Secret of Poetry"
[2] Paul Hoover, "Poetics"
[3] Mary Jo Bang, "You Were You Are Elegy"
[4] Louise Glück, "The Untrustworthy Speaker"
[5] Kristin Prevellat, "Dear George Bush"
[6] Sylvia Plath, "Lady Lazarus"
[7] Robert Hayden, "The Tattooed Man"
[8] Randall Jarrell, "90 North"
[9] Chuang Tzu, "Action and Non-Action"
[10] Audre Lorde, "Poetry is Not a Luxury"
[11] Amiri Baraka, "Political Poem"
[12] W.B. Yeats, He wishes for the Cloths of Heaven"
[13] Federico Garcia Lorca, "City That Does Not Sleep" translated by Robert Bly
[14] Frank Bidart, "Curse"
[15] William Carlos Williams, "Asphodel, That Greeny Flower"
[16] James Merrill, "Lost in Translation"
[17] Linda Gregg, "Winter Love"
[18] W.S. Merwin, "For the Anniversary of My Death"
[19] Archibald MacLeish, "Ancestral"
[20] Sylvia Plath, "Fever 103"
[21] Wallace Stevens, "A Rabbit as King of the Ghosts"
[22] Frank O'Hara, "Poem" ["The eager note on my door said, 'Call me,'"]
[23] John Ashbery, "Vetiver"
[24] Robert Duncan, "My Mother Would Be a Falconress"
[25] John Keats, "La Belle Dame Sans Merci"
[26] William Blake, "The Chimney Sweeper: A little black thing among the snow"
[27] Weldon Kees, "The Party"
[28] Lucie Brock-Broido, "Leaflet on Wooing"
[29] Margaret Atwood, "You Begin"
[30] Edna St. Vincent Millay, "Ashes of Life"
[31] Jean Valentine, "Actuarial File"
[32] Charles Olson, "The Kingfishers"
[33] Wallace Stevens, "The Well Dressed Man with a Beard"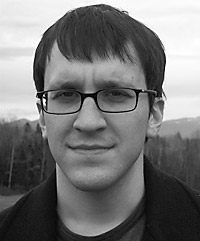 Jason Stumpf's recent work has appeared in Harp & Altar, In Posse, and elsewhere. He is the translator of Pura López-Colomé's Aurora (Shearsman Books) and Luis Felipe Fabre's The Moon ain't nothing but a broken dish (forthcoming from Achiote Press).
Copyright Notice:

Please respect the fact that all material in Jacket magazine is copyright © Jacket magazine and the individual authors and copyright owners 1997–2010; it is made available here without charge for personal use only, and it may not be stored, displayed, published, reproduced, or used for any other purpose.