This piece is about 2 printed pages long. It is copyright © Matthew Tierney and Jacket magazine 2008.
The Internet address of this page is http://jacketmagazine.com/35/tierney2p.shtml
Matthew Tierney: Two poems
Batt & Roll; Perpetual Motion Machine


Batt & Roll

A to B, points in between, the grey
length of cloth, two metres at least,
falls floor to floor from scaffolding

near the roof, above the scuttlebutt,
ground life fulfilling its promise,
strife, gruff men sharing a butt

on scaffolding near the roof, huddled
against office brick when the wind
scarfs by, A to B, points in between,

carrying a whiff of traffic, exhaustion,
as the afternoon punches the horizon,
withdraws over the scuttlebutt,

ground life hunches into collars,
crosses on green, boards streetcars,
in their shoulders the promise, strife

of the homeward thought, rivering
its way down from gruff men
sharing a laugh, unaware of

their lapse, the grey length of cloth
unwinding into traffic, exhaustion
like a scarf.


Perpetual Motion Machine

The sun a sprung

sprocket. Sky atilt;
new buds squeak
through. Moon's
a movable pulley
of infant-mewling

alley cats. Sense
coils from ignorance,
effect begets cause;
outside our windows
the core falls: fast

into Newton's laws.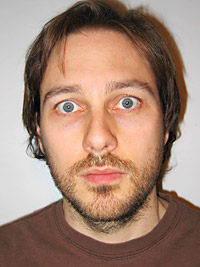 Matthew Tierney's first poetry collection is Full Speed through the Morning Dark, published by Wolsak & Wynn (Hamilton). The book is based on his travels around Asia and the UK, including a journey on the Trans-Mongolian Express. A second manuscript won Ontario's K.M. Hunter Award for Literature. He lives in Toronto, and can be found online at http://www.matthewtierney.ca/
Copyright Notice:

Please respect the fact that all material in Jacket magazine is copyright © Jacket magazine and the individual authors and copyright owners 1997–2010; it is made available here without charge for personal use only, and it may not be stored, displayed, published, reproduced, or used for any other purpose.