This piece is about 3 printed pages long. It is copyright © Ouyang Yu and John Kinsella and Jacket magazine 2008.
The Internet address of this page is http://jacketmagazine.com/35/yu-tb-kinsella.shtml
Ouyang Yu
Two poems, translated by John Kinsella
A Trans-version of Ouyang Yu's Poem 《小人》

Minuscule

Against the background of a large world
he's gigantic in his smallness, modest
but never paltry, shimmering point
of singularity: she loves him but can't
declare his virtues as loudly
as he'd like, but his eardrums
are tiny, so even her whisper
is huge in his ears, blown
out of proportion like an amoeba
through the lens of a microscope,
swimming in an ocean,
forcing against surface tension
of a drop in the eye, cohesion
of a diminutive but determined
dust mote.


                                                              — Translated by John Kinsella


《小人》

                    欧?昱

他往下看着?个小人
小到用机枪不可?点射的地步
小到??分?出?型和眼睛的?度
他?体会到?个人的企图放弃
他甚??与他合一
就像一句完整的?
?排版?切成不完整的数段
?他?求?新归一
他听??个小人的心?
小得像一个??的心
小得像微尘
在?:?种生活
其实几千年前在别的地方就有?
只是你把他彻底
小化了


A Trans-version of Ouyang Yu's《激情一种》

Ardour

Also, I divide along the line,
want to arrive swiftly
with light shining through to a depth we cohabitate —
plimsoll, lateral, fish lines to keep
us upright in water cold
as heat, refulgent
and opaque; through it all
I dart, I lengthen my stroke, slice
through turbulence with my fins wide wide
awake.


                                                              — Translated by John Kinsella


《激情一种》

                    欧?昱

?时,一种激情犹如创痛
电击了他的?体
他不由?主地激动?动悸动?动乃??动浮动
在另一个?体之上
他体会了一条?
临死前的所有?现
仿佛从?明中?望了
?根?穿?体的?线的中断
然后把嘴中涌出的所有唾液
收回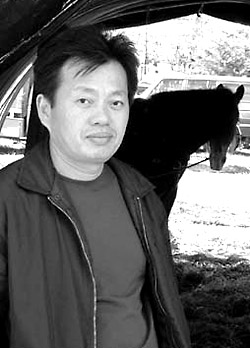 Ouyang Yu writes poetry and fiction and is now living and teaching in China, temporarily. His book, On the Smell of an Oily Rag: speaking English, thinking Chinese and living Australian, was published by Wakefield Press, Adelaide 1n 2008.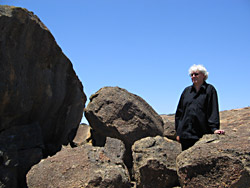 John Kinsella's Disclosed Poetics: beyond landscape and lyricism was published by Manchester University Press in 2007, and his Contrary Rhetoric: Lectures on Landscape and Language, is due out shortly with Fremantle Press. His new volume of poetry Shades of the Sublime and Beautiful is just out with Fremantle Press in Australia and Picador in the UK.
Copyright Notice:

Please respect the fact that all material in Jacket magazine is copyright © Jacket magazine and the individual authors and copyright owners 1997–2010; it is made available here without charge for personal use only, and it may not be stored, displayed, published, reproduced, or used for any other purpose.