This piece is about 12 printed pages long. It is copyright © Basil King and Jacket magazine 2008.See our [»»] Copyright notice. The Internet address of this page is http://jacketmagazine.com/36/king-blackburn.shtml

See the Paul Blackburn feature in Jacket 12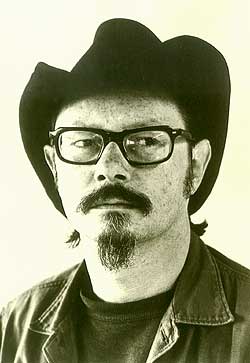 Basil King
Basil King: Learning to Draw/A History:
14 Eyes — Desire
on Paul Blackburn

This piece was first published in Talisman magazine.
It is reprinted here with permission and with thanks.


To begin: Paul had close friendships with Joel Oppenheimer and Robert Creeley, and for a brief time in the 1950s he was the New York distributor of Black Mountain Review. Pound was Paul's mentor. It was at Pound's suggestion that Paul embraced the Troubadours. Paul wrote and visited Pound in St. Elizabeth's; he also visited Pound in Italy after his release. Pound wasn't talking to anybody. But he spoke to Paul and told him he had made a mistake and that he was sorry for it.
Pause
I was a student at Black Mountain College visiting New York City. It was either 1953 or 54 and Joel Oppenheimer took me to meet Paul Blackburn. Paul was still living with his first wife Willy (Winifred Grey). I can't remember where they lived or a thing that was said. Willy sat glaring at the three of us the whole time Joel and I were there. And I don't think I saw Paul again until I returned from San Francisco to the city in 1959. In 1961 Martha and I moved to 2nd Avenue. The apartment building was between 3rd and 4th Streets and at that time Paul and his second wife Sara were living on 7th Street, two doors down from McSorley's Tavern. Between readings, McSorley's, 2nd Avenue and my studio, which was on Delancey Street, I'd see Paul three to four times a week.
Paul Blackburn would meet me on 2nd Avenue, cowboy hat, eyeglasses, a pint of brandy, a smile, a giggle. When you went on a picnic with him he'd know the names of the wildflowers. When you walked through midtown, he'd know the bars and I would know that this walk would be re-lived in pictorial detail in his journal.
Pause
Back in the spring of 1970 Paul was considering the teaching job at Cortland. We sat in his apartment for hours going over the pros and cons. Either way he wanted his decision to be a practical one. If he took the job he and his new young family, Joan Miller and their infant Carlos, would have some security. It would also mean they would have to leave the city. Paul was free-lancing as a proofreader at the time.
Paul constantly organized readings, recorded the readings and promoted the poets, and sometimes promoted painters but never himself. He was the itinerant, the man who was always working for something other than himself. This changed when he got to Cortland. After he started teaching and before his cancer was diagnosed I visited Paul and Joan. It was the happiest, the steadiest I ever saw him. We talked about the drawings I was doing for his translations of Peire Vidal.
"Piere Vidal (c. 1175- 1205) was from Toulouse, the son of a furrier, and Paul says he sang better than any man in the world. He also says Vidal was one of the maddest fellows that ever lived, for he believed as truth whatever he wanted or whatever happened to please him.

"Because [Paul Blackburn, 1926—1971] had the gifts and desire, he became one and all of them, as with genius and learning he gave their poems his own voice and new life in a new language."

                    — George Economou, from his 1972
                    introduction to Paul's Peire Vidal.



Pause
For Paul, Joan, and their baby Carlos a showering a flux of well-being carried Cavalcanti and Dante up the stairs. It was a time of change, of soft edges and of students, a faculty that was not hostile. The house wasn't large but it was pleasant, and it had a back yard.
Paul said, "Draw me on a horse." And after a number of attempts I stopped. I'd begin and it would go well and then I'd cry. The horse became the vehicle that was taking him away. I was being selfish but I couldn't do it. In fact I wasn't able to complete the drawings that are in the book until after his death.
The troubadour cried "Mercy, mercy" but mercy does not come.
Pause
First the Poem

Then, the Theory

Paul was a weed lover.
We need Paul Blackburn. On the subway to Coney Island he thrives on reading Pound aloud. Splash! Catch a fish but it isn't a Codfish it doesn't have a name but it is a fish.
And it said
you think you can
take advantage of me
well you can but it
won't get you anything
more than what you've
taken. Because what you
think you want is not
what I'v what I've got to give.
What I've got to give is weeds. Weeds insist they grow amongst the needy, amongst the preferred, the upstanding, the beautiful, and the prosperous. Weeds, grass, clover between grasses, triptychs that reach out and condemn child abuse.



Pause
White on white, on white. Do you appreciate the Unicorn Tapestry? Paul did. By the fence surrounding the milk-white unicorn, there are carnations and a butterfly. What appears to be blood on the unicorn's body is juice dripping from pomegranates in the tree above. A wild orchid, a lily, and a small green frog fertilize a faith that marriage is lasting.
That his first two marriages had failed daunted him.
Pause
Paul was abused by his maternal grandmother; she whipped him. That Paul was able to keep his sense of wonder still amazes me.
If you knew the day you were born that your life was temporary would you be brave and want to live knowing no matter what you did the outcome would be the same? It's a question that can never be answered because no matter what you answer if you are alive you are responsible and if you chose immediate death I have identified the cause of your demise.
For example, Charles Bukowski was a scorched man. Bukowski's father's beatings literally beat the poetry out of him. He survived by telling and writing stories that are true social commentaries. And that's why they are so popular. But his poems are not poems. They are stories, narratives with an intended conclusion. It's not that he is a coward, far from it. But Bukowski knows he must not get too far inside of himself; it's too dangerous. He is no fool, he knows that poetry opens the seal and you can never be too sure once that seal is removed that what you find will protect you.
Pause
Paul's poems like change in his pocket are creatures of his invention, they gesture, "There is more." Paul had an aversion to aristocracy and I think that if this isn't understood we miss understanding how Paul connected his contradictions. Be it the Troubadours and their ladies or Lorca whose love of men initiates his ardor, language hurled itself against Paul's thighs and he reacted. As a thief breathes before committing the robbery Paul steals from the men that he translates. What else is a poet to do but respond to other poets their visions. As Martha King said: "Paul wants his meat," and as he pursues it history became meat's equivalent. History lives as a new face and a new body amongst us as Paul climbs the six flights of stairs to Gilbert Sorrentino's apartment on Tompkin's Square.
In a review for Parnassus (Spring-Summer 1976), poet Gilbert Sorrentino argues that The Journals represents a pinnacle, not a relaxation, of Blackburn's art: "That the poems seem often the thought of a moment, a brilliant or witty or dark response to still-smoking news, is the result of his carefully invented and released voice, a voice that we hear singing, virtuoso."
Be Rich. Get Rich. Be Rich. Get Rich.
"Stuart Errol Ungar (September 8, 1953–November 22, 1998) was a professional poker and gin rummy player, considered to be the best in history at both games. He is the only three-time winner of the World Series of Poker Main Event tournament. He is also the only person to win Amarillo Slim's Super Bowl of Poker three times, the world's second most prestigious poker title during its time."
Pause
Childhood
Stuey Ungar was born to Jewish parents and raised on Manhattan's Lower East Side. His father, Isadore ("Ido") Ungar, was a loan shark who ran a bar/ social club that doubled as a gambling establishment, exposing Stuey to gambling at a young age. Stuey began playing tournament  gin at 9 or 10 and quickly made a name for himself.
In 1968, Ido died of a heart attack in his mistress's arms. With his mother virtually incapacitated by illness, Stuey drifted around the New York gambling scene until age 18, when he was befriended by Victor Romano, alleged Genovese family member. Romano, whose memory was so sharp he learned to recite the spelling and definition of every word in the dictionary during his jail time, shared the same interest in calculating gambling odds that Stuey did. The two became so close that Romano acted as a father figure.
Stuey Ungar was infamous for routinely criticizing aloud the play of opponents he felt were beneath him. However, his relationship with Romano gave him protection from various gamblers who did not take Stuey's crass attitude and assassin-like playing style kindly.
By age 14, he was regularly playing and beating the best players in New York. At 15, he dropped out of school when a big time bookie staked him to a gin rummy tournament. Stuey won the $10,000 first prize without even losing a hand, a record still held in the card rooms of New York City. A week later, after giving his parents $1,000, he lost the rest on horses at Aqueduct. It was a sign of things to come.
Feed Me — I am starving

Feed Me — I am frightened

Feed Me —

Feed Me
Stuey moved to Miami and in 1976 he reached Las Vegas. He won enormous sums of money and lost them betting on the horses and sports events. Somehow he found the money to enter a $50,000 tournament. His bravado got the better of him and on the last two hands he forecast the losing player's cards - correctly. This was another bad career move as it meant other players feared his skills. As a result, he could no longer find any games outside the tournaments.
It wasn't long before he decided to try his luck at blackjack. One night at Caesars Palace he won $83,000 but the manager stopped the play. Stuey retaliated by correctly forecasting the last 18 cards left in the single-deck shoe. That was the beginning of the end for single deck blackjack tables. They were removed from Caesars and later from other casinos, and Stuey's picture was posted in the security rooms of dozens of casinos.
Pause
By 1990 Stuey was addicted to drugs.
In 1997, 16 years after his first win, he made his final tournament appearance. He needed the help of a friend to pay his entry fee. Fittingly just as he won in his first try he also won in his last, taking home the $1 million first prize. Two months later, after paying off gambling debts and suffering heavy losses on horse and sports wagers, Stuey was broke again.
Feed Me — I am starving

Feed Me — I am frightened

Feed Me —

Feed Me
On November 22nd, 1998, in a cheap downtown hotel in Las Vagas he was dead. The Clark County Coroner's office ruled Stuey's death accidental based on the results of toxicology tests that showed a mixture of narcotics and pain killers triggered a heart condition that killed him. Clark County Coroner Ron Flud said, "The heart condition developed over a period of time. The attack was brought on by his life-style."
Feed Me — I am starving

Feed Me — I am frightened

Feed Me —

Feed Me
From the time he was a little boy the seal was broken. Numbers, figures, money didn't interest him. He wasn't interested in accumulating wealth, power. Marriage, children, a home he thought he wanted — but he didn't. Love, like owning a house and paying your bills, confused him. Numbers, a deck of cards with the joker discarded mines the face cards and the four aces, Black Jack, 21. You have reached your majority and now it's your turn to deal.
No visible contradictions ride the multiples. Rain, thunder and lightning, a patch of yellow, a ghost carpets paradise. The house of cards forfeits the truth.                 
Once you start the purpose is not to stop either the despair or the thrill of winning.
Like a severed
weed
the weather renounces
what was once omitted
was once
illegal
now frames
oblivion
a math known to all
needs more than
what has been taken
psalms psalms desire



Pause
Knock, knock. It was 1968. I opened the studio door. There was Paul, cowboy hat, eyeglasses, a pint of brandy, a smile, and that giggle that always seemed to have come from the bottom of his bowels. He didn't say anything. He took one look at the painting I was working on. It was an arch, an important image for me. Said something under his breath and left. Some time later there was another knock. It was Paul. He handed me a large envelope that contained a photograph of another arch that looked just like the arch I was painting. The Zabriski Arch is at Bard College and Paul had taken the photograph on one of his visits to Robert Kelly. My painting is lost. But I have Paul's photograph. It hangs on a wall in our living room.
I also have another photograph. In this one Joan Miller stands on a wall with her left hand on Paul Blackburn's shoulder. He stands on the ground next to her. They both look at the camera.
By the fence surrounding the milk-white unicorn, there are carnations and a butterfly. What appears to be blood on the unicorn's body is juice dripping from pomegranates in the tree above. A wild orchid, a lily, and a small green frog fertilize a faith that marriage is lasting. That his first two marriages had failed daunted him. Paul was not a man given to excuses, white on white, on white. Do you appreciate the Unicorn Tapestry?
Pause
The Joker has sat by my side for so many years that I can't remember the first time he sat down next to me. He has told me that he was the last surviving card of the Tarot, that he had sat at the feet of Charles VI of France, and that in 1392 the king had ordered the first three games of cards, the first known Tarots, to be painted in the West. He told me that King René's sister Maria married Charles VI of France in 1404. He tells  me of Margaret of Anjou, King René's daughter — how at the age of 16 she married King Henry VI of England. He was weak-minded and was unable to protect her — and how Margaret lost crown and possessions in the changing fortunes of the War of the Roses. In 1471, near Tewksbury, the Lancasters were decisively beaten. Margaret lost her son and her husband. She then spent five years in the Tower, only to be sold by Edward IV to Louis XI, to whom she had to cede the legacy of her father, King René, as a show of gratitude for her liberation. And the Joker tells me this as he gossips with diplomacy and humor.
The King of Sicily and Duke of Anjou (1409—1480) was called Good King René. He fought by the side of Joan of Arc, and when he was defeated at the Battle of Bulignéville, Duke Philip took him prisoner and incarcerated him in his fortress at Dijon. It was said that at Dijon René became the pupil of the Dutch painter Jan van Eyck. Van Eyck could have been his master, could have taught the king color and design. This extraordinary man, King of Sicily, Duke of Anjou, muted his colors, and wrote his autobiography.
No one knows for certain if René of Anjou painted the illuminations for his Book of Love. But we do know he was an aesthete who spared nothing for his pleasures and self-satisfactions.
The night scene in the Book of Love's portfolio is amazing; the artist, whoever he or she was (Hubert and Jan van Eyck had a sister and we know she painted) those figures in the night I have never seen equaled.
No one knows and the mystery continues because not all medieval miniatures were painted by monks. Most miniatures were painted by itinerant craftsmen. The limner would draw in the motif. Then the colorist would follow with his apprentices. The gold leafier and his apprentices worked. It took many stages and many craftspeople to complete one miniature. Every one of these people would send a poster ahead of their arrival, giving the town the dates and times that they would be available. Sometimes they stayed for two days and other times they would stay for more than a week. It depended on how much work was available. This process was continued by itinerant artists all the way through the nineteenth century.
Pause
After Paul died I went back to the photograph — to Joan's stance and the delicacy of her left hand, her face and the complement her clothes gave her body. In the photo, Joan is young. Paul is older. But doesn't look that much older. His beret, turtleneck, khaki pants and shirt cover him like a uniform.
I painted Joan partially clothed. Having been exposed to sickness and death for the second time in her young life (her father had died earlier), nothing complements her body. Her left hand remains delicate, her face shows hurt and anger, a bitchiness. When Paul lay dying he asked for poems to be read to him. The great painter Turner as he lay dying asked for a crayon. White on white. The empty canvas rewards those who have patience. But the machine is impatient. Oil not desire moves the machine.
Hart Crane wrote in 1929: "For unless poetry can absorb the machine, i.e., acclimatize it as naturally and casually as trees, cattle, galleons, castles, and all other human associations of the past, then poetry has failed of its full contemporary function."
Paul is dead. But the photograph of Paul and Joan isn't. From it I translated what I knew of them. Joan said she knew that look on her face and she didn't like it. And why should she? She is with Paul and he is dead — and she has become a body traversed. Will she change the painting? Will she paint "Joan and Paul"? Will she smile and wear clothes? Will the fence disappear and in its place will there be buildings, romance, a rainbow? A Paul who is alive? A Paul who reads his poem aloud?
Pause
Excerpted from: THE JOURNALS: MAY, 1971
Carl is not coming to the reading . He has paper to correct

Marcia is not coming to the reading . She has a new baby

Joan is not coming to the reading . Carlos T. wants to

        play with the new baby & won't sleep

Walter is not coming to the reading because he thinks Carl/

   will be there

   besides, Diane arrived today for a visit, and she/

   was at the reading in Milwaukee yesterday

Gerth is not coming to the reading because he's behind/

         time as usual and thinks 9 o'clock is too late .

It's my reading . I take Marcia's mother to the reading .

A pleasant suprise, Mary and Ed are at the reading .

        no one else records it .

I read until 10.30  .    It's a good reading.
Pause
Paul said poetry never failed him and he told me before he died that I had a long poem to write.
Pause
If Paul wanted a woman it was inconceivable to him that she wouldn't want him. And if she didn't he was crushed. This was all part of Paul's insistence, his belief that everything should be available.
No. He isn't going to burn your house down, break plates, smash windows or scream at your children. He might phone you, and read you a poem. He might stop you on the street, and read you a poem. He might take the A train and say this to the passengers:
"On the matter of song: I believe there must be a return toward the musical structure of poetry, just as there must be, for certain people at least, a return to warmth within a relationship."
The air that fills our lungs exposes us to the origins of our dilemmas. Paul heralded these daily fragments. He never dismissed them. He would have understood why I painted Joan partially clothed. Having been exposed to sickness and death for the second time in her young life (her father had died earlier), nothing complements her body. Her left hand remains delicate, her face shows hurt and anger, a bitchiness. Paul is dead. As friendly as we were with each other I know very little about him. He had secrets. Paul's lawyer didn't know and Joan didn't know but after he died it was discovered he had money in a Swiss bank.
Paul is smiling. He just got a letter.
Paul is smiling. He is drinking brandy.
Paul is smiling. He's just bought himself a new cowboy hat.
Paul is smiling. He is carrying a bunch of flowers.
Paul is smiling. He's smoking a Picayune.
Paul is smiling. He's just read a new poem.
Will Joan smile and wear clothes? Will the fence disappear and in its place will there be buildings, romance, a rainbow? A Paul who is alive? A Paul who reads his poems aloud?
To be precise, Paul deferred to precision as an act of generosity. He wanted to deplete jealousy of its powers. Wanted poetry to be not only in the bookstores. He wanted greed annihilated.
Copyright Notice:

Please respect the fact that all material in Jacket magazine is copyright © Jacket magazine and the individual authors and copyright owners 1997–2010; it is made available here without charge for personal use only, and it may not be stored, displayed, published, reproduced, or used for any other purpose.