This piece is about 3 printed pages long. It is copyright © John Muckle and Jacket magazine 2008.See our [»»] Copyright notice. The Internet address of this page is http://jacketmagazine.com/36/muckle-2-poems.shtml
John Muckle
Two poems: I Should Be So Lucky / On Ebury Bridge Road


I Should Be So Lucky

Walking across the end of the South Acton estate
Twenty years ago, I heard that song, Kylie
Spilling out of a window, pumping
Up youth again, when I was young enough
To feel it, lucky in love, and these low
Flats and houses with mattresses
Flopping out of the first floor windows, each
Iron frame ticked out in brilliant white, neat council
Colours, and below in the longish grass
Abandoned multi-coloured trikes made of
Polyethylene, clipped together with love;
Their riders grown up now, sullen or happy
Depending on their parentage or brain chemistry.
Beautiful memories, and Kylie was there
And at home I'd put on Raw Like Sushi
And carve the top off a Fray Bentos steak and kidney
And stick it in the oven, gas mark seven,
Oblivious to irony, to everything else
That would one day come back to haunt me, who cares
A mood of quiet beauty gathering
At the dusty corners of a not-entirely-forgotten room
Empty, it seems, in memory, and myself alone
In it, although I wasn't always, but
Definitely alone in my head, this sort of stuff
Unshareable, then as now, with anyone, at least
Anyone you happened to meet in the bars
And workplaces of Londinium. The girl of my dreams
With a real head on her shoulders, like Kylie's
Business brain, but directed to my benefit
Elusive, then, and now just an absurd series of memories.
What was I tracking on Bollo Bridge Lane
Under the railway bridge, in the shadows of the towers?
I looked up at the great tiers of their balconies
Staggering backwards into the blueness of the sky:
The eighth wonder. Like the hanging gardens of Babylon
Better, somehow, than ours, although octagonal pigeon wires
Started on the fourth floor just the same
But they already had an intercom-protected door
And kids on skateboards banged out, crashing down the ramps
Theirs to inhabit, mine to witness daily,
A warmth thing, a glass pressed to the neighbour's wall
Sounds ticking away behind the pigeon wires
And the glass started moving, spelling out words.


On Ebury Bridge Road

A streamer from off the maypole of Victoria coach station
others to the ferry trains, to that street of bijoux shops, and
Ebury Bridge Road, the courtyards of the balconied estate
of council flats where a woman I once knew used to live,
my old girlfriend's older sister and her brood, a pair of tall
teenagers already out in the mystery world of clubs

of people you had to ignore if they didn't like you, and also
a newborn baby girl whose dirty nappy she asked me to
change, which I quickly did, as honoured as I was meant to be
carefully wiping her clean before she got me, again, to
install a flowery roller blind at her smallest window. What
good are these pretty white boys you always bring me, Lola?

Next job: to carry the tan suitcases of a Nigerian diplomat
to his black cab, brushing fufu from my fingers, and for this
she praised me earnestly, because this was how she might
obtain what she needed, a few comforts, a reprieve for her man.
I remember doing the African swoop dancing at a flat party,
her neighbour from St. Kitts: a tiny green blot on her wall.

Fela Kuti came over here on a tour sometime in the early eighties,
at a press conference cut the throat of one of his followers,
buried him there and then in a nearby London garden plot,
and the credulous press to come back next week for the resurrection
and the Metropolitan police announced solemnly: as far as
we're concerned, nobody died. This time they were right–a miracle.

He sprang from the grave, as good as new, as good as voodoo
and I often hoped our chickens would come home to roost.
Angelheart, remember how I once broke into a boarded up house for you.
We carried on for years in pain, trying to beat the odds,
reduced to a zonked silence, my pale jellyfish excuses
never good enough. Nothing to relate to but a cross-threaded screw.

Now I know you didn't love me, nor did she, your sisterhood
spoiled by unassuageable rivalry, and our love was just the same, you
always trying to override and rule me, always playing to win.
What did he have in those cases? Carrying them for a hundred yards
raised up blistered slave-welts on my curled, broken palms.
Presents for his wife, he said. Holy books, pink-flecked tombstones.

Standing in the doorway of a pub I saw her stride by once
in her full office rig, her eyes flashing, in animated talking mode
and I stepped back into the shadows until they went past
into my past, what an astonishing-looking woman, false visions
you cannot help but be in awe of and so it spirals on to the grave,
the pull of death and delusion, and you have to pull away.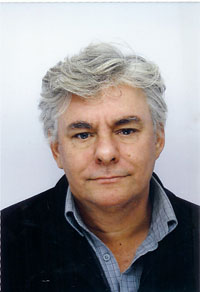 John Muckle was brought up in the village of Cobham, Surrey, but has spent most of his adult life in Essex and London. His most recent books are Cyclomotors (illustrated novella) and Firewriting and other poems (Shearsman Books, 2005).
Copyright Notice:

Please respect the fact that all material in Jacket magazine is copyright © Jacket magazine and the individual authors and copyright owners 1997–2010; it is made available here without charge for personal use only, and it may not be stored, displayed, published, reproduced, or used for any other purpose.