This piece is about 2 printed pages long. It is copyright © Sergey Gandlevsky and Philip Metres and Jacket magazine 2008. See our [»»] Copyright notice. The Internet address of this page is http://jacketmagazine.com/36/rus-gandlevsky-trb-metres.shtml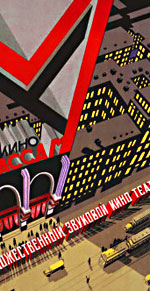 Back to the Russian poetry Contents list
Sergey Gandlevsky
Philip Metres



To Peter Vail

The gypsy woman jerks her long skirt
And tumbles into the train station, hoisting a baby.
You sit, an artist of the word,
On your fourth glass of vodka, not even tipsy.

The burning swill makes all of your works
Seem even more vivid.
Take the example of Tiutchev's co-workers:
Be quiet or something, just hide.

Squinting sidelong at the drink, the prophetess chatters,
Yet this tongue contains
Very little news, when you'd prefer
To amuse yourself in a smoking berth on the train.

Some pop music drones, a light bulb flickers,
And the café cashier yawns,
Thinking it's probably time, she figures,
To close up and count the drawer.

Strange people rustle along the train rails.
The dispatcher calls out the stations,
And you slump, like Menshikov in exile.
It's time to get a move on.
Sergey Gandlevsky (born 1952) was an important underground poet in the 1970s and 80s and continues to write today. A graduate of Moscow State University, he later took small jobs as school teacher, tourist guide, security guard, etc. He was a member of the 1970s group of poets "Moscow Time," long with Aleksey Tsvetkov, Alexander Soprovsky, and Bakhyt Kenzheev. Gandlevsky began publishing his poems in the 1980s and today is one of the most published contemporary Russian poets. He received the anti-Booker Prize in 1996. He has many books including a bilingual edition of his poems, A Kindred Orphanhood: Selected Poems of Sergey Gandlevsky (Zephyr Press).
Copyright Notice:

Please respect the fact that all material in Jacket magazine is copyright © Jacket magazine and the individual authors and copyright owners 1997–2010; it is made available here without charge for personal use only, and it may not be stored, displayed, published, reproduced, or used for any other purpose.