This piece is about 7 printed pages long. It is copyright © Natalya Kluchareva and Peter Golub and Jacket magazine 2008. See our [»»] Copyright notice. The Internet address of this page is http://jacketmagazine.com/36/rus-kluchareva-trb-golub.shtml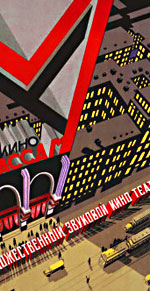 Back to the Russian poetry Contents list
Natalya Kluchareva
Tr. Peter Golub


* * *

Laying in the field
I thought:
"I've been killed near Rjhev"
it was rusty

but there was no bullet in the body
and the field was near Tula

and I had a word
similar
to chrysanthemum petals

and it closed

and it was apparently God

and it was horrifying


Morning. Pilots. Dog.

the dog growls
from a bucket
from the inside
of this astonishing
morning

the noise
reflects
in the low sky
and returns
back
like a river
full of milk

and all of us
I
the bucket
and the dog
live
from the
inside

balls
for ping-pong
where the polar pilots
fly
into the white shadows
white noise
white on-and-on-ness
Kazimir's square
Velimir's root
of all the words
of all the colors

So,
dog

the dog
this morning
growls
at
itself


Lutetia

1

it's my night, sleeping
Lutetia breaths
my name has dissolved like a spice
in boiling wine
dissolved
a window in the ocean
from the garrets ark
where I am nameless and drunk
fucking shit housed
nameless as a bard
like a bum that snarls couplets
on Hell Street.
about Juliet's garters
and other garden variety progeny
my shadow
sits like a wingless bird
on the palace's needles
the possessed capital
the thief's apparition
hung near the south gates
and gallic wind linger in the eye-socket
the poet sings
ballads
lost my shadow
on Hell St.
I sing
that Lutetia
roman's wanton child
sleeps with me naked and tender
in a pile of stannic poems


2.

the dissolute girl
in meticulous braids
Lutetia sleeps a cigarette falls
into a pile of papyrus
yellow and ancient
the bemused night
ablaze
with courtesan's eyes and other
Parisian
deities
Paris a jest
with whom Orpheus leaves
underground
along the stem
of the night trestle
a Lutetian fairy
and hell


3

devilishly grey
dog on the haystack
Lucifer's city
the Roman orphan
in the Ides of March
a dry lily
earth stillborn
stain glass
mirage
wind's gesture
junk
cornices along Hell St.
the percussion of hail
and meteor shower
the key to perfection
occurred
a symphony of stone gestures
from above
choirs
dripped
an a cappella
Lutetia sang
to the ancient teachers
pellucid ephebe
a dragon on her torso
dancing on the wire
under the firmament
Lucy radiated
in the heavens
a satanic nymph
a gymnast
a eulogy
a swallow
swollen lymph
she splashed falling into Tartarus
with a refrain
Lutetia sleeps
Lucifer falls back into hell
Lutetia sleeps
leaves fall


* * *

God gave you a girl
Iridescent
So where'd you put her?
She is still falling

In whichever well you dropped her in,
In a faded dress,
In an empty fog,

Holding on to the rope swing,
Tied to seventh heaven

A swinging pendulum
From there to here
From here to there

Her face obscured,
No matter how you turn.

You rub your eyes,
And notice blood.

That's your dream
You wounded it,
Broke the milk hands,
Of the flier
Ground the silence into farina.

She still never turned around.

Dripped blood,
On your face,
Go, wash up,
Kneel to the well,

Remember, what they call
Your God given,
Iridescent.

A pendulum
There–here
Here–there

Memory pines
The name looms.
The white braids bounce.
Fog.
Fog.


* * *

I fall from a streetcar
Named desire
You fall out of me
Like snow over Leta
Summer from a calendar
We fall
Out of each other's hands

I draw a circle
And quit crossing boundaries
You draw a cross
And stick it on sorrow
On me
On summer

I forget the word. I repeat myself
What's "sorrow?" "me?" "summer?"
Who'd you cross?
Who got your sign?
Who got that I-sign from Your-hands?
Where'd we drop snow's baby teeth.

I look, see: silence,
Myth, storm, paradise, the umpteenth of
Marchember.

—————— I think, I was called "You"
—————— I think, I was called "Come Here"
—————— I think, it seemed

Orpheus! I wanna to go: into my desires, into you, back to myself,
Pick me up from Nowhere.
Like from daycare or the dry cleaners,
Orpheus! Return into me again,
Like a river with Greek names,
Like the unconscious or childhood, Orpheus.

But you can't sing
And your name is different
—————————— Different voices call
the meadow's poles

——————— I think, you were called "I"
——————— I think, I called you
——————— I think, it just seemed that way to you


Young White Pioneers

they play in a deserted park
white pioneers,   
blowing into the cracked bugles
alabaster's call
letters aren't heard,
leaves fall on the pioneer's shoulders,
and then snow,
they completely disappear,
cross a boundary,
white pioneers,
ancient idols
uncanny call letters

"Look," says Alice,
"It's prince Alexei,
he wasn't killed,
but accepted into the pioneers,
as soon as they tied that neckerchief
the blood stopped,
didn't leave the body,
but he still didn't grow,
there stands a pioneer.

and we began
to carefully peer into each white face.
and recognized each one.
and that prince
that Godynov killed,
and even Boris and Gleb,
the boy who had the borzoi set on him
the other from The Christmas Tree

and even the most recent children,
shot at the schools.
they were all here,
amid the black trees,
a troupe of dead pioneers
the unit of young martyrs,

I'll never
understand,
these dead children–God's hesitation
(sent them on their assignment,
then changed his mind and called them back),

how can He hesitate,
that is,
I will hesitate with Him,
and the cable will snap under the feet,
of the incredulous rope walker
sending him flying  
with his girl,
who he coaxed out onto the cable.

I jerked, turning from the abyss,
from the gargoyle's stare
and saw a gloomy pioneer girl
on top of a small peeling pedestal.
She turned and stretched out toward me.

Alice, how many times have you died?
she looks at her open hand,
counts, gives up, shrugs,
jumps to the ground,
follows a path,
gets lost amid the black trunks,
look, she says,
it's you,
right over there, in the fountain,
all disheveled, a smile ear to ear,
look,
she drags me by the hand.

I take her in my arms and run.
clutch her to my chest,
like the horseman in The Forest King
(no, it's too frightening, I won't read this tale),
I run,
the white pioneers throw themselves at me,
the black forest hits me across the shoulders,
a melting snowman
smirks from a fountain.
I run.
having left the park,
I part my clutched hands,
and old wet leaves fall to the ground,
frozen branches,
handfuls of damp grass.
also, something with a metallic sound.
I rummage in the debris,
and find a merit badge.
Forever.
       Forever ready.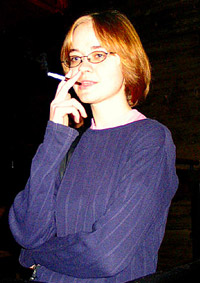 Natalya Kluchareva (b. 1981, Perm) lives in Yaroslavl, where she graduated from Yaroslavl Pedagogical University with a degree in philology. She helps edit the journal Classic Game. She was short-listed for the Debut Prize (2002), and her book of poems White Pioneers was published in 2006. English translations of her work have appeared in the poetry journal Rhino.
Copyright Notice:

Please respect the fact that all material in Jacket magazine is copyright © Jacket magazine and the individual authors and copyright owners 1997–2010; it is made available here without charge for personal use only, and it may not be stored, displayed, published, reproduced, or used for any other purpose.