This piece is about 3 printed pages long. It is copyright © Ilya Kukulin and Matvei Yankelevich and Jacket magazine 2008. See our [»»] Copyright notice. The Internet address of this page is http://jacketmagazine.com/36/rus-kukulin-trb-yankelevich.shtml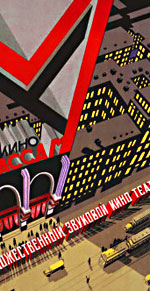 Back to the Russian poetry Contents list
Ilya Kukulin
Tr. Matvei Yankelevich


* * *

When I am asked what I'm wearing,
I answer: not much like a skeleton,
nor like a tree with the head of my father,
More like matzoh reduced to naught.
A symbalon! But not in order to coincide.
The roof's blown off and looking into the distance.
The matzoh doesn't want to resemble a tree.
What I'm wearing, I don't remember.

* * *

If I were paid more,
I'd write better.
If I were paid less,
I'd writer poorer.
But for now I'm paid an even
three-hundred forty-two rubles,
and I write about the same
as what's written down right here.


The Ancient Greek Math Student Blues

Random numbers oh random numbers
you make me feel so high
Random numbers oh random numbers
you send me up in sky
'Cuz you've got a hidden meaning somewhere so deep inside 
Mama, I'm a pythagorean
Mama, I'm a pythagorean
every night I'm gone to the club
in Delphi
Tomorrow oh tomorrow
we'll break the Orpheans in three
Tomorrow oh tomorrow
we'll break the Orpheans in three
When they're hanging out all night shooting the breeze 
We've got their number
oh we're gonna knock 'em around
We've got their number
oh we're gonna take them down
I'm fascinated by numbers they're driving me out of my mind 
Mama, I'm a pythagorean
Mama, I'm a pythagorean
every night I'm gone to the club
in Delphi
Oh the number twenty-seven
I'm gonna sew it on my cloak
Oh the number twenty-seven
red thread and flowers on my cloak
Two-hundred and forty-seven is what my girl Chloe's gonna sew 
At Chrisopraktos's from the Ciclades
We'll eat bread and olives and sheep's cheese
At Chrisopraktos's of the Ciclades
his bread and olives and his sheep's cheese
And I'll get a bouquet of seven colors to give to my Chloe 
Mama, I'm a pythagorean
Mama, I'm a pythagorean
every night I'm gone to the club
in Delphi
Mama, I'm a pythagorean
Mama, I'm a pythagorean
every night I'm gone to the club
in Delphi
Mama, I'm a pythagorean
Mama, I'm a pythagorean
Play on my monochord! I'll play a song on you
the day after tomorrow night at the club
in Delphi
in Delphi
in Delphi

Trans. Matvei Yankelevich
Translation(s) originally commissioned by CEC Artslink on the occasion of the author's visit to the US as a participant in their Open World program.


Ilya Kukulin(b. 1969) is a literary critic, poet, and philologist. He holds a graduate degree in philology from the Russian State University for the Humanities. He helps edit the online journal Text Only, and the print journal New Literary Observer.
Copyright Notice:

Please respect the fact that all material in Jacket magazine is copyright © Jacket magazine and the individual authors and copyright owners 1997–2010; it is made available here without charge for personal use only, and it may not be stored, displayed, published, reproduced, or used for any other purpose.