This piece is about 6 printed pages long. It is copyright © Oleg Pashchenko and Peter Golub and Sibelan Forrester and Jacket magazine 2008. See our [»»] Copyright notice. The Internet address of this page is http://jacketmagazine.com/36/rus-pashchenko-trb-golub-forrester.shtml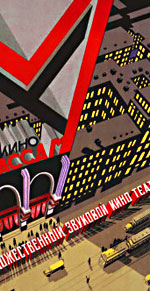 Back to the Russian poetry Contents list
Oleg Pashchenko
Tr. Peter Golub and Sibelan Forrester


Graphic Novel

— Would you be so kind, dear Fatherovich,
as to show us, what's in your bag?
What will you bring after the sunset
to burn on the roaring sanitation fires?

— Mostly embarrassing memories. My "father"
complex which percolated into mother earth.
A bad break,
I basically had to walk off.
An old, broken, derelict mirror.
That I, apparently, will someday also die. The helpless
fear of being late for a meeting the hands dividing
on the dial. Victimology. No one
needs any of this, besides Fire and Smoke.

— Bravo Bravo, Fatherovich, magnifique!
Now tell us, what's in that envelope,
which beats in your fingers like a desperate
butterfly? What's in there, the guys want to know?

— O, that's the saturation and focus of all color,
a wet night on May Street.
It's a May night, and I am like a drowned man in it,
there is a crooked pocket mirror, shiny and new.
There is fury and its contrast, there's satiety and depth.
A paradoxical linguistic thing.
Fury and its contrast, the crooked new.
Trans. Peter Golub
from "Dedications for Yana Vishnevskaya"

I already said, didn't I, didn't I say there isn't any left
that was the last I said and so
we'll live through the summer very quickly
we quickly lick the spittle off our lovers' lips
and throw quick smiling glances somewhere
insouciant like a new testament
and say it's the last one I said already
and leave already having smeared
or no not really
the story
and like a clock our little life machine
lubes smeared the mechanisms tuned
we do the summer quickly I've said it is the last
and all in all our side has won
that's right our side won


***

and these are the best
of human nights
moscow city is tightly shaded
it is a mesh in two tight directions
it flickers having confused the streets
and this...
and over the stretched asphalt or
over the city map your small and feminine
unclenched fist, open, moist
palm down and cool and pitiful
as if a black santa claus
ran across your path and winked from right to left
and this...
the vanished shade
halfway down the road
in the disintegrating mesh beyond recall
on the map of the city before dawn
and this...
and this is better than the nights of men
and this is in the presence of a living god
Trans. Peter Golub
To My House

1.

to not depart with those you love
live according to love, preparing for sleep
cover the eyes only with love
with wet eyelids, to love more
(forgive me, I am young) my love

my house
to love a lot and not depart with
those you love–like you should not go out
without a knife (forgive me,
I am young) my love
my house


2.

to exist in you, emptiness is in
your pernicious dreams, like with this small heart
quivering inside your fused ribs
my house, an awkward darkness, cramped
walls, shadows from the ceilings, sleep–tomorrow
wake me up, my love, my house,
on the singed dawn; my house and I go from it,
taking windows from my eyes, like the glasses
of a stray–I go out in a black bandage
to the objection of my eyes, I leave the house.
(in the morning this is how the window opens
to the yard) morning morning
early light and love; with a quivering heart,
tumid erect, heart on a spring,
sliding down the left cup, light — everything weighted
balanced, alone
I leave as a quiet mob, with my heart
under my belt, and go outside from
the dark inside you, my house,
my love.
Trans. Peter Golub
The Prayer of Words: An Added Lullaby

the work day grew tired
soot whitened like burnt smoke
trembling the wearied cool slow
mail I called the pigeon I called the dove
sent my sweet a letter and now
an empty cage in the back but there is still a song
when suddenly the best one steps across my throat
having recognized me by my name

then that which isn't left of me will go
to the patronymic of who is left sleep my son
my dear my cradled

we're with you my little drop of blood
there is a future still behind your back we'll live
with the left the paper my dear
the tired work day soot whitened
like the condition of this space
an unclean page: paragraph the fucking end defector
Trans. Peter Golub
Forty-One

When I, bent over, walked past the next gate,
a honeysuckle twig lifted the film from my eyes.

And right away, y'know, I stopped envying
all those there voices in my head
that didn't invite me
to their pointless party
with alcohol and undecipherable conversations,
and now they were all retorting and quarreling
and they all slashed each other.
Just black streams among the tables.

That day I was opting for all black,
feeling no shame for passing as a blacklover.
"Blackcook," for example, a whole pint,
and I ate some "Black Prince" veal
with black pepper, olives and sloes.

And a thousand-starred "black stork"
joined me at my table, but didn't sit for long.
And I was all in a black free b/c.

After the meal I saw the Master of the Enterprise,
he caked me with laughter, amused me
with a resounding snowfall, he profitably lit me
with northern light.

And I was thinking, I'm just a good guy who has money.
But it was The Entirety of All Conditions.
Trans. Sibelan Forrester
How Shall All Pass

How shall all pass? I don't think that
things will work out for me the way
they should work out given what they were
supposed to work out from. Nothing
will work out for me? hardly. More likely, it

will jump out unpredictably from
a some-crooked alley crosswise,
from the bright-white left rightward
a persontrack-laying juggernaut,
and will show me on every channel
in a skysize color television,
a flaming panel eyeful,

and, catching sight of me, the most, probably, unlikely
animals in the world
will eat me up and thank me,
and right after the end
if the weather program
the clew's ascent will start.
Trans. Sibelan Forrester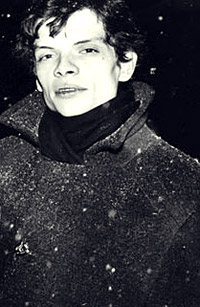 Oleg Pashchenko (b. 1971) has a graduate degree in mathematics from Moscow State University. He works as a web designer, and is one of the members of the famous design group ArtLebedev. His book A Nodular Letter was published in 2002. His site is located here.
Copyright Notice:

Please respect the fact that all material in Jacket magazine is copyright © Jacket magazine and the individual authors and copyright owners 1997–2010; it is made available here without charge for personal use only, and it may not be stored, displayed, published, reproduced, or used for any other purpose.